Chargers vs. Broncos: 10 Ways Denver Can Upset San Diego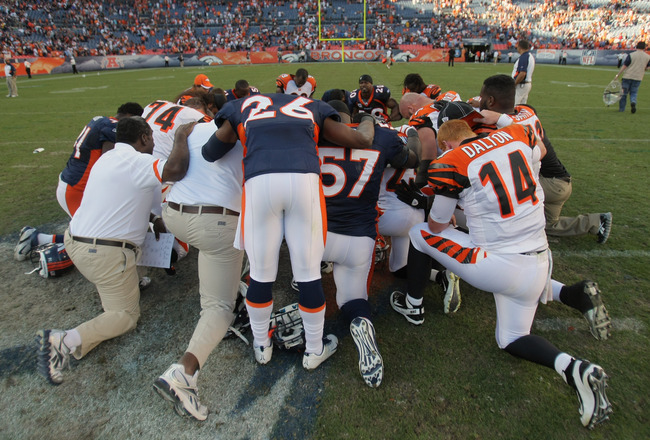 Doug Pensinger/Getty Images
The Denver Broncos will be heavy underdogs when they host the San Diego Chargers this Sunday at Sports Authority Field at Mile High. The Broncos are off to a 1-3 start and are coming off a 49-23 trouncing at the hands of the Green Bay Packers and Aaron Rodgers, who had a career day. San Diego, although typically sluggish out of the gate, is 3-1 and still possesses an offense with enough dynamic weapons to raise eyebrows across the league.
Furthermore, history also sides with the visitors this Sunday. The last time the Broncos defeated the Chargers was September of 2008 when the Broncos escaped with a one-point win. Prior to that, one must go all the way back to 2005 to find the last Broncos victory over the Bolts.
Still, this is the NFL, and as the cliche goes: any team can win on any given Sunday. Especially at home. Already, this has happened several times this season: the Buffalo Bills defeated their arch nemesis New England Patriots—intercepting Tom Brady four times, the hapless Chiefs were victorious last week and the much maligned Bengals have already won twice.
In that same spirit of hope and possibility (and maybe some orange-colored glasses), the following slides examine 10 ways in which the Denver Broncos can defeat the San Diego Chargers this Sunday on their home turf.
Win with Defense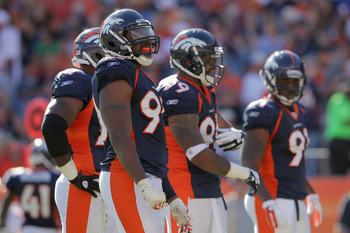 Doug Pensinger/Getty Images
As implausible as it sounds, especially coming off of a performance where they allowed Aaron Rodgers to throw for a career-high 408 yards, score five touchdowns and yielded a total of 43 points, the Broncos must rely on their defense this Sunday.
Although much scrutinized for overall ineffectiveness, the Broncos have been getting a decent pass rush all year thanks to a now-healthy Elvis Dumerville and wonder-rookie Von Miller. However, the guts of the Broncos' defense will have to bone up and play tough up the middle, especially against a multifaceted Chargers attack.
The Broncos will need big contributions from their linebacking core of D.J. Williams, Joe Mays and Wesley Woodyard, and a strong showing from their secondary.
Champ Bailey Must Play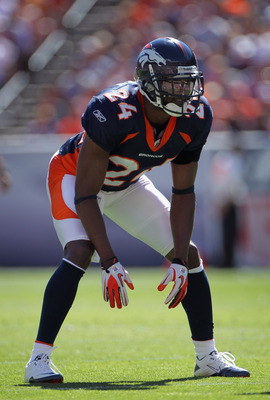 Doug Pensinger/Getty Images
In that same vein, one huge boost must come from the return of Champ Bailey, who has missed the previous three weeks with an ailing hamstring. There was a possibility of his return last week against Green Bay, but a game-time decision was made to hold Bailey out one more week to allow the injury to heal completely.
Hopefully that move worked, as the Broncos' secondary was exposed without him and the Packers and Rodgers moved the ball through the air at will. It was readily apparent that Bailey is an invaluable asset to this defense, and he has stated that he is bound and determined to play this week.
Getting Bailey back will relieve pressure on a secondary that has been stretched too thin in recent weeks, and he will need to be at 100 percent to shut down the Chargers' aerial attack of Philip Rivers and Vincent Jackson
Win with Special Teams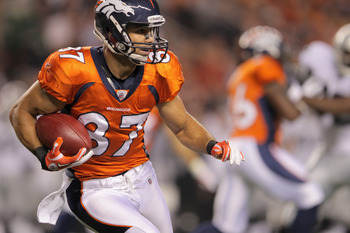 Doug Pensinger/Getty Images
It's no secret that the San Diego Chargers have struggled on special teams the past couple of seasons. Several of their losses last year came as a direct result of poor special teams play, and this may be an area the Denver Broncos can exploit on Sunday.
True, the Broncos' special teams play has been hit-or-miss thus far in 2011 as well. At times, they have seemed to have collective mental lapses, and they have fallen prey to fake punts and a surprise onside kick. At other times, they have looked very sharp on special teams, running a punt back for a touchdown and pinning opponents deep in their own territory.
With Eric Decker (who had the punt-return TD) emerging as an offensive threat, he is seeing less and less time on special teams. Therefore, the special teams unit must be extra vigilant on Sunday. They must be alert and execute to quickly change the game and take advantage of the Chargers.
Get Eric Decker in the End Zone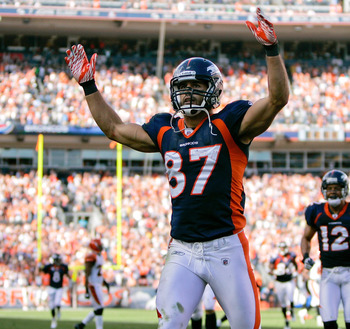 Justin Edmonds/Getty Images
If there has been a lone bright spot offensively for the Denver Broncos, it has been the emergence of second-year player Eric Decker. The young wideout is demonstrating that he has a nose for the end zone, as he has scored five touchdowns in the first four games.
This trend must continue if the Broncos are to have a chance to beat the Chargers on Sunday. Opposite Brandon Lloyd, Decker has become a factor that defenses must account for, and the increased focus on No. 87 will open up the field elsewhere for the Broncos.
Decker has been a pleasant surprise thus far and must continue to shine on Sunday.
Win the Field Possession Battle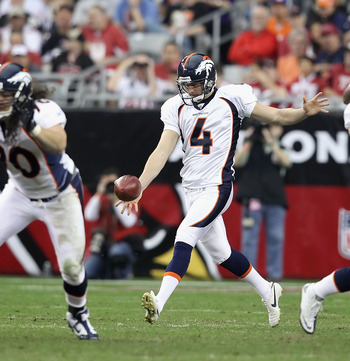 Christian Petersen/Getty Images
It's a telling sign when the punter is a team's MVP, but Britton Colquitt is making a strong case to be just that. Certainly, he's been given excessive field time due to the Broncos' inefficiency on offense, but he is a special teams weapon nonetheless.
Colquitt, who comes from a long line of NFL punters, has the ability to strike booming punts, and he can flip the field with one kick. He is averaging 49.6 yards per punt. However, he is also very skilled directionally and can virtually pinpoint his punt placement.
Using Colquitt as an asset, the Broncos could be able to win the battle for field position all day long, and it is imperative that they do so. They must force Rivers and company to go the length of the field and prevent them any opportunities for easy scores.
Kyle Orton Must Manage the Game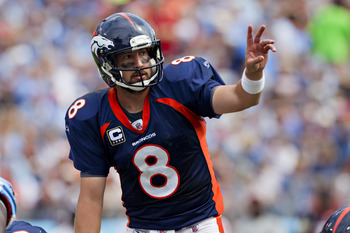 Wesley Hitt/Getty Images
The collective summation of Kyle Orton's skill set at quarterback is that he can "manage the game." It's almost a PC way to say that he does not have the ability to stretch the field vertically (which he doesn't), and that he can't put a team on his back and win the game single-handedly. Even more directly, it has been said of Orton that he "won't lose the game for you, but he won't win it for you, either."
Unfortunately, in recent weeks, that hasn't necessarily been the case. Orton's mistakes have directly contributed to the the Broncos losing games. Sure, the losses aren't solely Orton's fault alone—there has been abundant blame to go around: lackluster defense, unenthusiastic run game, mental lapses on special teams and mindless penalties.
But when Orton has blundered, it has come at key moments when the Broncos had the opportunity to take the lead and/or win the game. Instead, they have regressed. Examples include: interceptions late in the game on decisive drives, fumbling in the red zone with no defender within a 25-yard radius, pick-sixes deep in Broncos' territory and the inability to punch the ball into the end zone—even coming away with no points at all after taking possession on the opponent's 13-yard line.
Orton has to be better. Plain and simple. If "managing the game" is his M.O., then it's time he step up and do it and stop making costly mistakes in critical game situations. Otherwise, the steadfast faith that coach Fox has shown in Orton being "the quarterback who gives the Broncos the best chance to win" may begin to change.
Keep It Close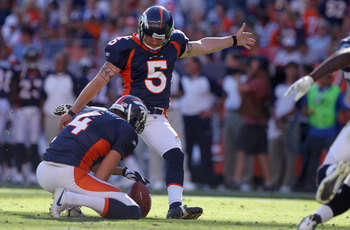 Doug Pensinger/Getty Images
It sounds obvious, but the Broncos must do all they can to keep the score close. With the exception of last week's blowout, the Broncos have been in every game thus far. The game differentials of the other contests have all been three points or less.
Especially against San Diego's high-powered offense, the Broncos cannot allow this game to become a track meet. They need to be within three points at halftime and not go down more than one score in the second half or else they could be in trouble.
Best case scenario: They need to keep it close and hang around, and possibly give kicker Matt Prater a chance to win the game at the end.
Run the Ball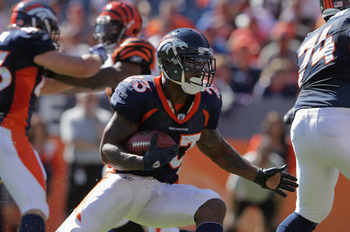 Doug Pensinger/Getty Images
The Broncos' running attack has been the topic of much scrutiny lately. Knowshon Moreno has not become the feature back people were excepting when he was drafted in the first round two years ago. Hampered by injuries lately, he has had even less of a chance to prove his detractors wrong.
Willis McGahee has been a welcomed addition to the running corps, but there is some question whether he can be more than a short-yardage back at this point in his career. Like it or not, he may have to be as the Broncos get very thin at running back after that.
Fullback Spenser Larson is a hard-nosed player, and some have been clamoring to get him some more touches. But at most he is a change-of-pace player, not necessarily capable of taking the full rushing load on his shoulders.
The good news is that Moreno should be back to full strength Sunday (hopefully), and the Broncos must figure out a way to establish the run—whether by committee or by an individual stepping up to be the man.
Stop the Run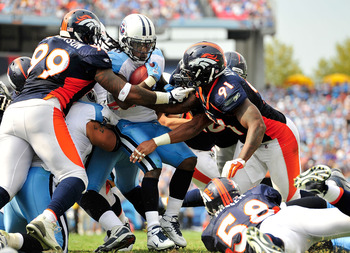 Grant Halverson/Getty Images
It's not hard to see, stopping the run has been an area of weakness for Denver's defense for the past several seasons. Darren McFadden torched the Broncos in Week 1, running wild for 156 yards from scrimmage.
However, on occasion they have risen to the challenge. For instance, in Week 3 against Tennessee, the Broncos held the explosive Chris Johnson in check, allowing him just 21 yards and the entire Titans team just 38 rushing yards.
In order to have a chance against the Chargers, the Broncos must put up similar numbers on defense and find a way to shut down Ryan Mathews and Mike Tolbert. If those backs are allowed to run free, it could turn into a long day for the blue and orange.
Play Tim Tebow (?)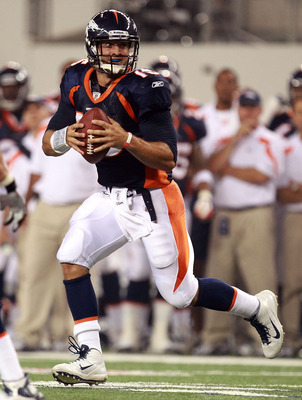 Ronald Martinez/Getty Images
Not to fuel the fire, but if all else fails, the Broncos do happen to have the winningest college football quarterback of all time on the bench. Perhaps—if nothing else is working—the Broncos should see what he can do (as in run the offense, not just gimmick plays from "the Tebow Package").
In fact, the last time Denver played the Chargers, Tim Tebow was the starting quarterback. True, the Broncos came up short in that game, but they took San Diego right to the wire before falling 33-28. At any rate, the Tebow-maniacs will be calling for him to play right from the kickoff, and should the Broncos continue to be ineffective, there are worse moves coach Fox could make.
Regardless, the Broncos have a tough matchup this Sunday. It's never fun to be big-time home-dogs. Still, they line up and play the games for a reason, and it's never certain what can happen within the white lines. If the Broncos are able to realize these 10 aspects, there is a good chance they will come out on top this week, and keep their hopes alive in the AFC West.
Keep Reading

Denver Broncos: Like this team?