NFL Predictions Week 5: Buffalo Bills and 3 Offenses That Will Explode
October 6, 2011
John Grieshop/Getty Images
I'm not sure that you can convince me that the old adage of "defense wins championships" holds true in today's NFL. A great defense is a big help, but ultimately, you have to be able to put up points to be successful in this league.
At the very least, a good offense can win you a ton of games. More than at any other point in this league's history, teams are winning shootouts more and more.
The following are three teams that, for one week at least, will get a stellar performance from their offense.
Buffalo Bills
The Bills' game against the Philadelphia Eagles this week will be a tough one to be sure. The Eagles have talent all over their roster, and they are determined to get their season turned around. I'm not sure that the Bills will win the game, but at the very least, they will put up a ton of points in this one.
The code has been cracked to moving the ball against the Eagles. You have to hit them right in the mouth with your power running game. Normally, this would be a huge problem for the Bills, a team not known for a good running game, but this year is different. Fred Jackson has been a workhorse for them.
Throwing deep on the perimeter is still difficult, as the Eagles' secondary is top-notch, so Stevie Johnson might not be in top form, but things should go well for Jackson and the Bills' underneath receivers like David Nelson. 
New Orleans Saints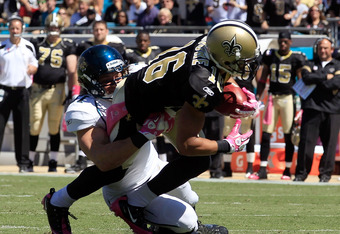 Sam Greenwood/Getty Images
Big games for the Saints' offense are more of an expectation at this point. It doesn't matter how good their opponent is or how big the game is. They just put up points.
They should have no trouble piling up yards and points this week against the Carolina Panthers, a team that does not boast a particularly talented or effective defense. They have given up at least 28 points to every team they have faced this year, with the exception of the Jacksonville Jaguars.
The Saints lean on the passing game, led by Drew Brees, and that won't change this week. The Panthers have struggled against teams that lean on the pass like the Packers and Cardinals, and after this week, you will be able to add the Saints to that list.
Carolina Panthers
You know it's going to be a shootout when both teams in a given game are on a list like this. The Saints-Panthers game this week fits that bill. The Saints won't be the only high-powered offense on the field in that game this Sunday.
Cam Newton has had a huge impact on this offense already. He has taken what was a mediocre offense in just the recent past and turned it into a formidable offense. He has had big games where he has thrown for big yardage and games where he has dialed it down to let the running game shine. Both can be effective strategies for the Panthers.
The Saints' defense being being subpar will help a lot. The Saints' way of trying to win shootouts plays right into the hands of the Panthers, who will be able to keep up with them for the most part.