2011 MLB Playoffs: A Sneak Peak at Tonight's Pitcher/Hitter Matchups
October 6, 2011
Chris Trotman/Getty Images
There is one game in the docket tonight. The New York Yankees and Detroit Tigers are battling it out to see who gets to play the Texas Rangers in the ALCS. There are any number of ways to analyze this game, so I will look at how the hitters have done against the pitchers hurling tonight.
I rarely plug anything, but baseball information systems have terrific applications for your smart phone. One of them is called "The Bill James Daily Matchups." It provides a quick look at how every hitter in baseball has hit against every pitcher. One of the options is to take a look at that days starter.
Ivan Nova has only current Tigers 33 times, so we probably aren't going to get much of a read off individual players. Current Tigers are a hitting a paltry .185 off of Nova, but they have drawn six walks. This gives them a respectable .333 OBP. Remarkably, none of the hits off of Nova went for extra bases, so the Tigers are scuffling into this game with a .518 OPS against Nova.
Doug Fister on the other hand was torched in Game 2 and has a very lackluster record against the Yankees. Current Yankees are hitting .328 against him with a .386 OBP. Furthermore, both Nick Swisher and Mark Teixeira have homered off of him.
If the games go to the bullpens it should also go in the Yankees favor. Current Tigers are hitting .183 against Mariano Rivera (not that this is unusual). What's more remarkable is that he has surrendered only one home run and two walks in 84 plate appearances against players currently on the Tigers.
David Robertson doesn't have quite the experience that Rivera has, but he has been almost as successful. The Tigers are hitting .227 against him with two walks and no extra base hits. This means they have a .518 OPS against him. Good luck there.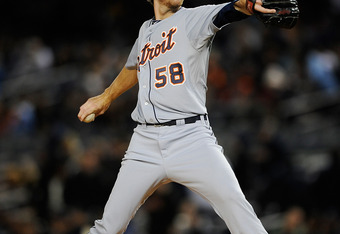 Patrick McDermott/Getty Images
Cory Wade has had limited exposure against the Tigers. That exposure has not been good as he has surrendered one home run in 11 at bats. However, Rafael Soriano has held them to a .200 batting average and only three walks in 43 plate appearances. Despite his struggles, he might be a good option.
Boone Logan and Sergio Mitre have had their ups and downs against the Tigers, so look for them to stay on the bench. So, when we add it all up we see that the Yankees have a significant advantage with the starting pitching and three relievers that have a track record of success against the Tigers.
The Tigers are not as fortunate. Al Alburquerque has surrendered only one home run this year and it was to Robinson Cano. The Yankees have only a .300 OBP against him though, so he is still a viable option.
Joaquin Benoit is the key guy in this game. The Yankees have a career .188 average against him in more than 100 plate appearances. Unfortunately, four of those hits have gone deep, so the Yankees can get to him. Nick Swisher loves Benoit as he has three career home runs against him. Still, they have mustered only a .274 OBP against him, so it is feast or famine.
Phil Coke has the exact opposite problem as he has a .407 OBP against him, but he has done a good job of keeping the ball in the park. In fact, he hasn't surrendered any extra base hits, so the .699 OPS against is not bad.
We have not seen much of David Pauley in the series, but we might get to see him tonight. The Yankees are hitting .244 against him with one home run against him. More importantly, he has walked only two batters, so he does a good job of keeping men off the base.
Daniel Schlereth shouldn't see the light of day, so that leaves Jose Valverde. Nick Swisher and Andruw Jones have taken him deep, but he has a .227 batting average against, but he is susceptible to the walk. The Yankees have a .358 OBP against him and when you count those two home runs (in 53 plate appearances) you see there is a chance the Yankees can get to him.
The Final Analysis
A number of things are working in the Yankees favor tonight. They have home field advantage and they have more playoff experience. The most important thing is that the starting pitching match up seems to favor them. Ivan Nova has been lights out against most teams and the Tigers are no exception
However, if Doug Fister can keep the Tigers in the game through the sixth inning then both teams have enough quality relievers to make it interesting. The first few innings will tell the tale. I'm not a betting man, but if I were I would bet pretty heavily on the Yankees. Everything seems to point their direction at this point.