2011 MLB Playoffs: Should the Cardinals Re-Sign Albert Pujols?
October 6, 2011
Jamie Squire/Getty Images
The St. Louis Cardinals evened the series with the Philadelphia Phillies on Wednesday night. The series will return to Philadelphia on Friday night. Certainly, it is anyone's ballgame, but based on the pitching matchup and the fact that it is being played in Philadelphia, the Phillies are favored.
Writers for the St. Louis Dispatch and bloggers in Cardinals country are definitely going to play up the last game in Busch Stadium. Albert Pujols is a once-in-a-generation baseball player. As the MLB commercial said, "You can tell your kids when you saw Albert Pujols do everything." 
He hits for average, he hits for power, he can swipe a base when he needs to and he is the best fielder at his position most seasons. Heck, he even started a game at third base this season. The decision may seem easy, but when you are talking about the kind of money they are talking about, nothing is easy.
Just the Facts
Between 2003 and 2009, Albert Pujols had at least eight wins above replacement per season. To put this in perspective, Matt Kemp was the only National League player to eclipse that total this season with 8.7 WAR. So, Albert Pujols could easily have won seven consecutive MVP awards.
2010 was still very good, with 7.5 WAR. However, Pujols fell off the map for him when he was limited to 5.1 WAR. Of course, that still put him just out of the top 10 for WAR among NL position players. So, we can hardly call it a bad season, but for Pujols, it was a bit alarming.
The truth is that you never know the path of a player until he starts to decline. When Pujols was in his prime, it looked like he would hit 800 home runs and drive in 2500 runs. Of course, we probably knew that wouldn't happen, but it is hard to accept your favorite player as somehow less than what you choose to remember.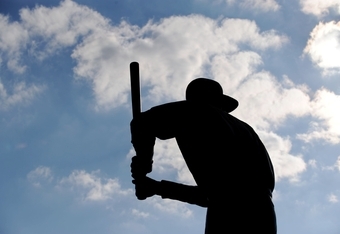 Ronald Martinez/Getty Images
As for a contract, Pujols wants at least eight seasons and more than $20 million a season. Fangraphs has him worth $22 million this season with the 5.1 WAR.
Now comes the moment of truth. Albert Pujols will turn 32 in January. Is he going to bounce back, or will he continue to decline? Moreover, how long will he continue to be Albert Pujols?
The Economic Intangibles
There is very little way to argue that Albert Pujols is worth 200 million dollars in pure baseball terms. I'd dare say no player is worth that in the current economic structure of the sport. This doesn't mean that no one is worth $200 million. When you are talking about a $200 million player, you are talking about someone that transcends strict value accommodations.
The first thing that comes to mind is the residual effect of having the star on your team. How many fans buy tickets just to see that player? How many fans buy tickets away from your park? How many fans buy jerseys, hats, t-shirts and other items in the gift shop? Of course, since baseball doesn't open its books, we don't know how much each team gets from these kinds of sales.
Those are dollars and cents that can be added up. What cannot be counted is the amount of credibility that comes from keeping a player like that for his whole career. Fans from multiple generations can lodge debates about who the best Cardinal was. You have Rogers Hornsby from the turn of the century. You have Stan Musial from the post-war era. Now, you have Pujols. You can't put a price tag on credibility, but the Cardinals will have to do it.
A symbiotic relationship
The oddity here is that the Cardinals need Pujols and Pujols needs the Cardinals. A 500th or 600th home run in another uniform will be meaningless. His 1500th RBI in another uniform will be meaningless. Getting his 2000th hit, 2500th hit or 3000th hit in another uniform will be meaningless. Sure, it will get ESPN coverage, but numerous journeymen have done that. The superstars that stay get the best coverage.
Furthermore, no other team would be able to recoup that kind of coin like the Cardinals could. The Cards have all the intangibles, and the other teams have virtually none. Pujols would give a team instant credibility, but that credibility wanes if a team doesn't win. The Cardinals keep it win, lose or draw.
The Final Analysis
Unfortunately, there is a price tag on these things, and the Cardinals are the only ones that know what they truly can afford. Credibility has a price, and there is also a point where it becomes too much. Either you bleed way too much cash or you can't afford to put a team around him. Matt Holliday and Chris Carpenter are already locked up long-term. Lance Berkman is inked through next season now.
I hate to put any kind of price tag, but anything beyond eight years and 200 million will be hard for them to justify. Having Albert Pujols return to the Cardinals is the best thing for baseball and the best thing for the city of St. Louis. The rest of us get to sit back and watch how this situation plays out.