Antonio Smith: With 4 Sacks Is He the Most Disruptive 3-4 DE in the Game?
October 5, 2011
Bob Levey/Getty Images
Antonio Smith is having a fantastic start to his season.  He is currently tied for fifth in the NFL with four sacks through the first four games.  While that is very good for any player (including Mario Williams, who is also at four sacks on the season), what makes Smith's accomplishment even more impressive is the fact that he is doing it as a 3-4 defensive end. 
The defensive end in a 3-4 typically lines up in what is known as a five technique, which is essentially straight up over the offensive tackle or on the tackle's inside shoulder.  This will change a little with each defensive coordinator and even more so within the course of a game, due to different packages or different offensive formations. 
However, the five technique is generally considered to be the hardest position to rush the passer from because he is neither close enough to the quarterback to be able to get their quickly, nor is he in enough space that he can use pure speed on the outside to get to the quarterback like an outside-linebacker. 
Despite the natural disadvantages that come along with his position, Smith has been able to create chaos for quarterbacks at an alarming rate.  There is only one other 3-4 defensive end in the top 25 in sacks, and my bet is Dave Tollefson has had his best day in the NFL last week when he sacked Kevin Kolb twice. 
Smith, on the other hand, has one sack in each of the four games he has played in this year.  That means that it is not simply a good matchup for him, a schematic advantage, or the fact that the other team is behind by four scores in the second quarter and thus has to throw the ball some ridiculous amount of times. 
He sacked a veteran Kerry Collins, Chad Henne, Drew Brees (who is probably a top three quarterback with a very good line) and Ben Roethilsburger, who might be the hardest quarterback to tackle in the last decade.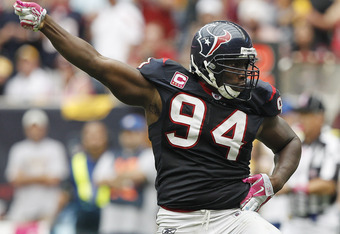 Bob Levey/Getty Images
The fact that there are not more 3-4 defensive ends that have as many sacks shouldn't be surprising.  They have almost never garnered many sacks.  If you look back at the elite players at the position, their sack numbers are never what define them. Richard Seymour, who played DE in New England, had a high water mark of eight sacks and averaged five throughout his Pro-Bowl years with the Patriots. 
Another of the classic 3-4 defensive ends was  Aaron Smith of the Pittsburgh Steelers.  He also never had more than eight sacks and averaged about four sacks per season.  In more modern times, Haloti Ngata is probably the best around, but he has never had more than 5.5 sacks and averages under three per season. 
One of the most prolific sack artists from the position is Darnell Docket (whom Smith played with when Arizona made their Super Bowl run).  Dockett had nine sacks in 2007, but his career average is less than half of that.
If Smith can even go at half the rate that he has established thus far, he will be a surefire Pro-Bowler, and the Texan's defense will be something to be truly reckoned with.  The Texans will have Smith locked up for another two years as well, so this could be the beginning of a very good defense along with J.J. Watt, Mario Williams, DeMeco Ryans, Brian Cushing, Daniel Manning and Johnathan Joseph. 
Texans fans have a lot to look forward to.