Has Fredi Gonzalez Become a Lame Duck Manager?
October 6, 2011
Rob Carr/Getty Images
Much has been written recently about the Atlanta Braves historic collapse this September. 
Blame has been dealt to every corner of the organization, and rightly so.  The Braves were in virtual cruise control early in the month, yet they were left hanging their collective heads after blowing an 8 1/2 game wild card lead that culminated in a 13th inning loss to the hated division rival the Philadelphia Phillies.
No single man has drawn more ire for the meltdown than first season skipper Fredi Gonzalez.  The Braves were blessed with future Hall of Famer Bobby Cox from the GM position from 1985-89, and from the dugout as manager for the next 20 years.  Questioned at times from a fickle Atlanta fan base, Cox was judged by some not by his 14-consecutive Division Championships, but by his singular World Championship during that same period.
Fredi Gonzalez entered in 2011 with both suffocating shoes to fill and the keys to a storied franchise.  Suffice it to say that Gonzalez both suffocated and wrecked the franchise this season.
To be fair, the entire blame for the epic collapse cannot be shouldered by Gonzalez alone. 
Derek Lowe, all 15-million dollars of him, was utterly worthless when it counted.  The Braves bats went silent during the playoff push.  Former hitting coach Larry Parrish was unable to sustain the successful 2010 campaigns of Jason Heyward and Martin Prado.  All-Star catcher Brian McCann was not the same hitter after suffering an oblique injury midway through the season.  
The Braves young bullpen trio of Eric O'Flaherty, Jonny Venters, and Craig Kimbrel were overworked for much of the season and faded down the stretch.  Injuries to seasoned starters Jair Jurrjens and Tommy Hanson forced Gonzalez to insert rookies, albeit top prospects, into the rotation.  The list goes on...
Gonzalez, however, should rightly shoulder much of the blame. 
The Atlanta Braves of 2011 were simply a better team than the 2010 team that made the playoffs.  Down the stretch, the Braves played scared baseball.  Afraid to make a mistake, the young Braves lacked veteran leadership and crumbled under the pressure. 
Gonzalez does not have the benefit of the monster payroll that accompanied the Braves of the '90's and their freewheeling owner, Ted Turner.  Turner's Braves were his hobby, his chance to relax from the daily grind of managing multiple cable T.V. ventures. 
The Braves have Ted Turner to thank for their wide-reaching fan base via nightly games on TBS.  Consequently, Fredi Gonzalez now has Ted Turner to thank or blame, for the monumental expectations that Braves fans currently have for their storied franchise. 
After 14-straight Division titles during the 1990's-2000's, but a lone World Series Championship, Braves fans both hope for the best but expect the worst.  Fans have no problem cheering, chopping and what-not, but are very quick to revert to a "here we go again" attitude when the Braves falter.
While Atlantans braced for the worst, Fredi Gonzalez was mostly positive down the stretch.  Faced with adversity, Gonzalez stuck to the formula that gave the Braves their 8 1/2 game lead.  They played station-to-station baseball, relying on the big hit, strong defense and steady pitching to win ballgames.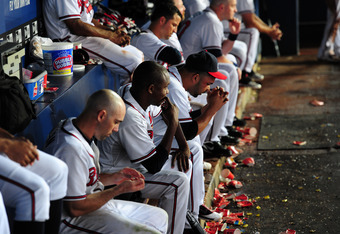 Scott Cunningham/Getty Images
Risks were taken few and far between.  There was no hit and run.  Steals were minimal.  Bunting, both sacrifice and squeeze, was thrown to the side.  Braves players bunted so infrequently that they were largely ineffective when called upon to do so.  There can be no greater fury from a true Braves fan than at million-dollar athlete that cannot bunt a baseball.
Situational hitting was a thing of the past.  If a Brave were to strike gold and advance a runner to third with less than two outs, the next batter would normally strike out, rendering the threat silent. 
The Braves of 2011 were supposed to be a team of pitching, defense, and the three-run homer.  When the three-run homer fell silent, Gonzalez's Braves had no answer.
Mostly frustrating was the lack of tutelage for the younger players who struggled, such as Heyward and Prado.  Both players offensive statistics slipped from 2010 to 2011.  Gonzalez did the right thing and benched Jason Heyward for a period.  Jose Constanza, a career minor leaguer, was summoned to fill in. 
The Braves flourished with Constanza in the lineup.  Gonzalez still opted for Heyward as a defensive substitute in later innings, and the results were promising.  Inexplicably during September, Constanza was largely unseen as a starter.
Teams that are built on pitching and defense generally coincide with teams that are built for speed.  Speed begets defense, since faster players are able to chase down balls that slower players simply can't get to. 
Jason Heyward is more of a power hitter than a contact hitter, so naturally his impact in a lineup built for speed would be from a power standpoint.  Heyward suffered through a horrendous sophomore slump in 2011, and all of his offensive numbers dipped dramatically, including power.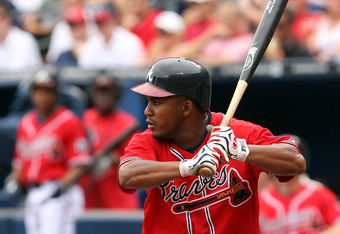 Joe Murphy/Getty Images
Jose Constanza added a different element to the lineup, and it showed in the all important category of wins and losses.  When Constanza vanished from the lineup, so did the Braves postseason chances. 
Braves GM Frank Wren proved at the trade deadline that he believes in the pitching/defense formula for success, by acquiring Michael Bourn from the Houston Astros at the trade deadline.  Bourn proved to be a formidable threat both on the basepaths and in the field, and filled a huge hole for the Braves at the leadoff spot.  Bourn was missing an RBI guy, a player to drive him in–and that's where the Braves faltered. 
The Braves could add an RBI threat in the offseason by signing a big name free agent such as Albert Pujols or Prince Fielder.  However, both men are first basemen and the Braves have a budding superstar at first in Freddie Freeman. 
A more sensible addition that fits Wren's formula is free agent Jose Reyes from the division rival New York Mets.  Reyes is a leadoff switch hitter by trade, but the thought of both Reyes and Bourn at the top of the Braves lineup would add excitement to the lineup and energize a weary fan base.  Reyes would fill a void in the batting order and at shortstop, and allow the rest of the lineup to move to a more comfortable position. 
Wren has been completely forthcoming with both fans and media about the Braves September struggles, as evidenced by his interview with Dave O' Brien of the Atlanta Journal Constitution.  It seems very clear that Wren is ultimately the one calling the shots and is willing to make himself accountable.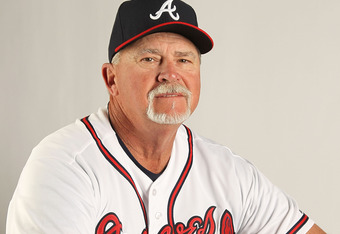 Mike Ehrmann/Getty Images
However, while defending his manager, Wren also trumped him by dismissing hitting coach Larry Parrish a day after Gonzalez announced that his entire coaching staff would return for the 2012 season.  By doing so, Wren re-affirmed that if he is accountable for the team's successes and failures, so are the people that work for him. 
Gonzalez has to hear the proverbial footsteps with this move by his GM.  Wren made it very clear that he will not drown on a sinking ship, and will make the necessary moves to ensure a winning franchise.  Gonzalez now must hold himself accountable and those underneath him.
Wren will not tolerate another season of underachievement. 
Even if the Braves pass on Jose Reyes due to the cumbersome salaries of Derek Lowe and Chipper Jones, prospect Tyler Pastornicky is progressing ahead of schedule and may be ready for the upcoming season.   
Pastornicky's salary would alleviate some payroll by forcing Wren to trade Alex Gonzalez.  Wren could then use the extra cash to add some pop in the middle of the lineup.
Based on this information, Fredi Gonzalez is not a lame duck manager...yet.  However, he has learned that his leash will become shorter if he continues to make decisions that are detrimental to the ballclub. 
Gonzalez must manage the bullpen better, and protect the young, talented arms that the Braves have to offer.  He must continue to develop young talent that is the staple of the Braves organization.  He must give his team an identity, and allow it to thrive under his tutelage.  He must be willing to make a tough decision and send an aging pitcher to the bullpen if need be.  He must cut his losses and move on if a coach isn't performing and adjusting.
Fredi Gonzalez must, in short, manage the ballclub that Frank Wren puts in his stead.  If not, Wren has made it abundantly clear that he will find someone who will.