Boston Red Sox Meltdown: Who's to Blame for This Epic Collapse?
October 5, 2011
Historically, nobody has ever done what the Red Sox did in the regular season. Taking a nine-game lead into September, then going 7-20 in the month to blow it all and miss the playoffs, an epic collapse to say the least.
Now that the dust has settled a little bit and people are starting to realize that this is reality and not just a nightmare, questions are starting to be asked. Questions like, who is to blame? The "letting go" of Terry Francona was part one of what looks to be a busy offseason in Beantown. 
The fans of Red Sox Nation are like no other fanbase in sports. When something like this happens, they look for answers. The most logical thing to them is to fire the manager; it's obviously his fault.
Or how about the general manager? I mean, he brought these guys in, right? Somebody must be reprimanded and held responsible.
Terry Francona and Theo Epstein were undoubtedly on the hot seat after this season, and after meetings with the owners, Francona told them, "There needs to be a different voice."
There were a lot of factors at play here. The Red Sox would never make excuses, but it's hard to win when you're not healthy. The rash of injuries played a major role. JD Drew missed 60 games, Kevin Youkilis missed time throughout the year and had his season ended early due to a sports hernia, but the biggest and possibly most impacting injury was the loss of pitcher Clay Buchholz.
Nonetheless, there is no point in speculating here. The blame should be placed directly on the players themselves. In the end, they play the games; they are responsible for their actions on and off the field. They should be performing and they dictate wins or losses for the club.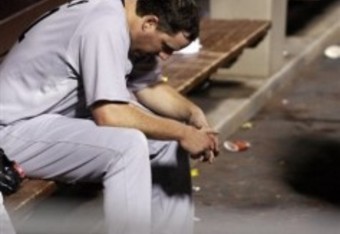 John Lackey had a remarkably bad season, finishing 12-12 with a bloated 6.41 ERA. Had he pitched for a number of other teams with that kind of ERA, there is no way he even wins 12. Carl Crawford finished the year with a career low in batting average, and other than his rookie year, has never been worse in stolen bases, triples and runs scored. Not to mention playing a less than stellar left field all season long.
Jon Lester, Josh Beckett, Lackey and the rest of the pitching staff set a franchise record for ERA in the month of September, and it wasn't a good record, 5.82. You can't put the ERA on Terry Francona; that is not a fair assessment.
As far as Theo Epstein goes, how can you blame that guy? In the offseason, he brought in two All-Stars that were sent in to bring a large bang into the offense line-up, not to mention they were both Gold Glove caliber defenders in the past as well. 
One of the two held up his end of the bargain; Adrian Gonzalez is fighting for the AL MVP. Crawford, however, was quite the bust. In the end, the players control how hard they want it, they control the effort they put into it, and wins and losses come on the diamond, not on the bench or in the GM suite.
The big issue that came up was the drinking in the clubhouse by pitchers on their off days. To me, it's about clubhouse control. Sure, Francona could have put an end to this, but in the end, these guys are adults and know what's going on. If this was affecting morale or bringing poor performance on the field, they should be the ones to control themselves. The ownership was not pleased when they heard about this, and you can't tell me that other clubs don't do this as well. If the Sox had made the playoffs, undoubtedly, this rumor would not have surfaced, and since it has, it is put on the head of Terry Francona.
With Francona gone, he leaves behind a huge legacy and could arguably be the best manager in Red Sox history. He ended the dreadful curse that haunted Boston for 86 years by winning two world championships, trails only Joe Cronin in career wins by a Red Sox manager and is one of only four managers to manage 1,000 games in a Red Sox uniform. Impressive to say the least.
It goes without saying that Francona will be missed, and to whoever comes to Boston behind Francona, good luck.