Jermaine Gresham: Is Cincinnati Bengals TE Quietly One of the NFL's Best?
October 5, 2011
Streeter Lecka/Getty Images
In 2010, his rookie season, Cincinnati Bengals' TE Jermaine Gresham caught 52 passes for 471 yards and scored four TDs.
And that was when Cincy had WRs Chad Ochocinco and Terrell Owens lined up outside, along with a frustrated QB in Carson Palmer under center.
This season however, Gresham has picked up right where he left off by compiling 187 yards on 16 receptions, as well as scoring twice.
For one, those are some solid numbers through four games, especially being on a 2-2 team that has a history of off-the-field issues.
However, nothing appears to be getting in Jermaine's way or derailing his productivity.
What's even more impressive is that this season he must take over a leadership position, as the Bengals have a rookie QB at the helm in Andy Dalton, along with a rookie WR in A.J. Green.
Both have an excellent amount of potential, and could very well get the Cincinnati offense on pace with their defense.
That said, Gresham has a lot of responsibility to take, being that he's the veteran, even though it's only his second year.
He'll most certainly continue being Dalton's outlet/safety net on broken plays, in addition to being the No. 2 target.
Also, more importantly, Gresham needs to consistently be the dominant target when the Bengals are in the red zone.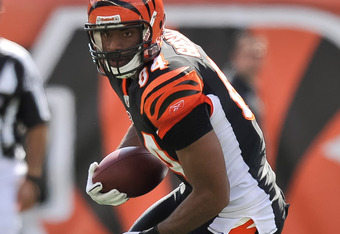 Jamie Sabau/Getty Images
Both of his TDs this year have come inside the 20-yard line, and with Green as a fade threat, that only leaves the underneath routes open, because Jermaine won't be able to be covered by opposing LBs.
And in the long run, if Cincinnati really wants to take advantage of his 6'5" 260-pound frame, they must also use him as a sixth offensive lineman.
RB Cedric Benson has amassed 348 yards and scored two TDs this season.
For that to keep up, Gresham must be used as a blocking TE, because having an established running game is what wins championships.
In addition, that will only make him a more reputable TE as his career progresses, and he'll emerge as a team leader a lot faster than anticipated.
But, since he plays in a small market, he won't receive nearly as much exposure as Antonio Gates or Tony Gonzalez.
Nonetheless, to bluntly answer the question; is Jermaine Gresham quietly becoming one of the NFL's best TEs?
Yes, and if opposing defenses don't recognize it soon, he could begin putting up Shannon Sharpe-esque numbers as QB Andy Dalton develops.
Be sure to check out John on Bleacher Report.
And, you can follow him on Twitter @ Sportswriter27.