MLB Playoffs 2011: Colby Lewis, Mike Napoli and the Best Pitcher/Hitter Combos
October 5, 2011
Mike Ehrmann/Getty Images
With clutch wins provided from unlikely heroes on Tuesday night (A.J. Burnett for the Yankees and Paul Goldschmidt for the D-backs), we'll have to wait a little bit longer to whittle down the playoff remainders to four teams.
However, this buys us a more time to take a look at the best remaining pitcher/hitter combinations for the seven remaining teams. We'll start with the National League first (hey, it's the oldest league).
Clearly, coming into their NLDS matchup with the Milwaukee Brewers, it seemed pretty simple to pick out their best pitcher. It was supposed to be 21-game winner Ian Kennedy, right? And when it comes to production from the batter's box, it was a no-doubter that Justin Upton and his 31-homer regular season would set the pace offensively.
Well, thus far, both have been out-shined by lesser known names. 
Best Pitcher: Josh Collmenter. Thus far, he has Arizona's only win and impressed while earning it. He's 1-0 with a 1.29 ERA, a 0.57 WHIP with six strikeouts and two BBs over seven innings.  
Best Hitter: Paul Goldschmidt. The rookie had a fine regular season, but his grand slam off of the formidable Shaun Marcum essentially provided the spark to ignite their much-needed victory. Thus far, Goldschmidt is batting .375 with two home runs and six RBI. 
Milwaukee Brewers
Ryan Braun was a no-brainer, ho-hum, lock for best hitter heading into the playoffs. I mean we all knew it'd be him or Prince Fielder.
Fielder hasn't disappointed by any stretch—he's batting .375 with a home run and three RBI. But Braun has been even better. The "sexy" pick for best pitcher of course was Zach Greinke. He's been out-performed by Yovani Gallardo.
Best Pitcher: Yovani Gallardo. He's 1-0 with a 1.13 ERA, 0.63 WHIP and nine strikeouts with only one BB over eight innings.
Best Hitter: Ryan Braun. He's batting .545 with a .585 OBP with one homer and three RBI.
Nothing really too out of the ordinary here. Offensively, the Phillies are getting some key contributions from some long-tenured veterans. And the pitching is only worth noting due to the surprising ineffectiveness of Cliff Lee in his first start.
Best Pitcher: Although roughed up for three runs in his first start, Roy Halladay still knows the right prescription for winning. He's 1-0, with a 0.50 WHIP, eight strikeouts, just one walk and has held the Cardinals to a .111 batting average.
Best Hitter: The Phillies are going old-school with this one, as Jimmy Rollins has stepped it up big time at the dish for Philadelphia. Rollins is feasting on the Cardinals' pitching, batting .585 with a ridiculous .615 OBP.
St. Louis Cardinals
The Cardinals pretty much got the short end of the stick in terms of headlines. Their comeback into the postseason was just as miraculous as Tampa Bay's, and if anything, was even more impressive.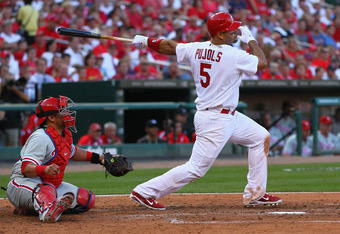 Dilip Vishwanat/Getty Images
The Rays capitalized on the Red Sox's collapse with clutch hitting, while the Cardinals snuck-in to October without their ace (Adam Wainwright lost for the whole season due to Tommy John surgery).
Best Pitcher: Jaime Garcia has pitched much better than Chris Carpenter thus far. Despite being 0-1, he's posted a respectable 3.86 ERA with a nice 1.14 WHIP. 
Best Hitter: (Yawn) Albert Pujols, of course. This guy is just awesome.  He's batting .538 with a .571 OBP. He has yet to go yard, but with that compact, repeatable swing, it's just a matter of time.
And now on to the American League, the only league that has had a playoff fatality thus far, the Tampa Bay Rays.
It's worth noting that Justin Verlander and C.C. Sabathia were put in a rather precarious Mother Nature-induced predicament. That can mess with your psyche, not to mention your daily routine.  
Best Pitcher: Mr. Heterochromatic, himself: Max Scherzer. He's got front-of-the-rotation "stuff," and it showed as he is 1-0 with a 1.00 WHIP with five strikeouts. Not to worry, Verlander will most likely dazzle in his next start, should he be given the opportunity.
Best Hitter: It feels weird not typing "Miguel Cabrera" here. Thus far though, it's been Delmon Young as the star hitter for the Tigers.  He's batting .267 with two home runs. Look for Cabrera, this year's AL batting champion at .344, to have a big Game 5 against the Yankees on Thursday.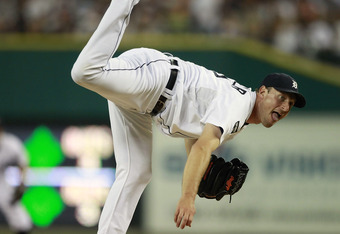 Leon Halip/Getty Images
Despite my obvious disdain for the Bronx Bombers, I'd be a fool not to recognize the talent they have top-to-bottoom in their lineup. Their starting rotation, well...it's probably one of the weaker ones they've featured in the last several years, but is most definitely good enough to make a title run.
Best Pitcher: With apologies to Ivan Nova, who has had a fine postseason (and outstanding regular season), the Yanks' best pitcher has clearly been A.J. Burnett. Typing in his name here feels as strange as excluding Cabrera's from the Tigers.
It's true though. The erratic Burnett was put in a position not suited for his recent struggles: Had he lost, the Yanks were done. But he pitched very well, improving to 1-0 with a 1.59 ERA. Sure, he walked four, but he got the win and that's all that matters.
Best Hitter: Brett Gardner. In my opinion, this dude is a game changer. Sure, Granderson's the MVP and Cano is bound to heat up, but with that speed and knack for getting on base, Gardner's my pick here. He's batting .385 with a .429 OBP and team-high five RBI. Most likely, the Yankees would be ousted were it not for his offensive contributions thus far.
The Texas Rangers are finally starting to get some respect from the national media. It seemed like nearly every major medium was hailing them as World Series contenders last week.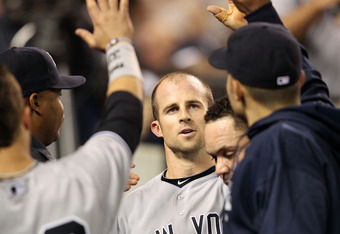 Leon Halip/Getty Images
Then their ace got bombed, 9-0, and the favorite topic was how the Tampa Bay Rays were "the team of destiny." Not so, the Rangers persevered. And pitching was a crucial component to their ALDS success against the scrappy, pitching-rich Rays.
Best Pitcher: Really, aside from C.J. Wilson, every starter was in the mix for this honor. You have Derek Holland, the "trash-stached" 24-year-old starter turned stopper, that evened the series with a solid outing on Saturday.  Matt Harrison, who was recently introduced to the wonderful world of reading, was crucial in Tuesday's clincher.  
But, for my money, it was the lone rotational right-hander—Colby Lewis aka "Colbyashi"—who gets the nod here. He put the series back in the Rangers' control, with his one-hitter that led to the Rangers' 4-3 win on Monday.
Lewis is 1-0 with a 1.50 ERA, blink-and-you'll-miss-it WHIP of 0.50, .053 batting average against and six strikeouts for good measure.
Best Hitter: Adrian Beltre is a no-doubter for most impressive single-game performance. When you hit three home runs in a postseason game, something that has now only been done seven times by six players (some dude named Babe Ruth did it twice, I'll have to look up his stats, he must've been pretty good) you know you're locked in.
Look for Beltre to continue his offensive onslaught against either the Tigers or Yankees.
For my money though, the team's best hitter has been Mike Napoli.  With the Rangers trailing 3-0 in Game 2, having been shut out 12 straight postseason innings, it was Napoli that delivered the clutch hit off of Rays ace James Shields. And he did it to a background of "NAP-O-LI! NAP-O-LI!" chants.
Overall, he's batting .357 with five RBI and one home run in the postseason.
So, there you have it.
Those are my picks for best pitcher/hitter combos remaining in the 2011 MLB Playoffs. Feel free to drop your own in my comment box—I'll gladly chat it up with you.
Follow Timothy on Twitter @TMurrayHowell—he follows back, but not in a creepy way. Or hit him up on Facebook—you know you have an account.