Fantasy Football Week 5: Cam Newton and 5 Players Who Will Explode
October 5, 2011
Scott Cunningham/Getty Images
Has the direction of the NFL season and its effect on your fantasy football team sent your brain into a tailspin?
Is your head ready to explode when thinking about which players to start in the upcoming week?
Well, here's five players outside of the elite you need to start if you have them on your roster.
Cam Newton (Quarterback – Carolina Panthers):
Someone in your league has picked up, and is potentially starting, Cam Newton already. Hopefully that person is you.
Will Newton continue to see such results in the NFL for the whole season? Probably not, but it won't be the New Orleans Saints that stop the rookie from Auburn. Newton will amass tons of yards and likely combine for more than two TDs through the air and on the ground.
Fantasy owners need to get the most out of Newton before defenses learn how to slow him down.
Josh Freeman (Quarterback – Tampa Bay Buccaneers):
Josh Freeman was a popular late-round pick of some fantasy owners this summer. However, Freeman hasn't been necessarily keeping up with huge QB performances in the league this far.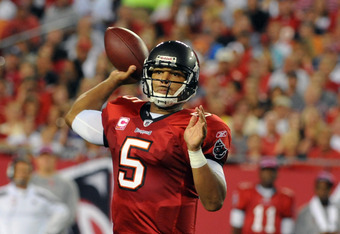 Al Messerschmidt/Getty Images
Freeman racked up some points against the Colts and has yet another shoddy pass defense to go up against in Week 5 with the San Francisco 49ers. The Niners are 3-1, but have allowed almost 300 yards per game through the air.
Expect Freeman to have his best day of the season against San Fran. 
Fred Jackson (Running Back – Buffalo Bills):
Any running back in the league must be licking their lips going into a game against the Philadelphia Eagles. The Eagles linebackers are struggling to bring down anybody, and most runs are ending in the secondary.
Jackson continues to be the workhorse for the Bills, earning every yard he gains. Jackson will see his fair share of chances to break a run loose. He'll surely have one or two long runs against the Eagles.
Jimmy Graham (Tight End – New Orleans Saints):
Jimmy Graham has burst onto the scene as one of the elite tight ends in the NFL.
He has the ultimate distributor in Drew Brees as his quarterback, but Graham is seeing the ball consistently in the Saints offensive scheme. Graham set career highs in receptions and yards last week with 10 catches for 132 yards.
With the Carolina Panthers next up, expect another monstrous game for Graham.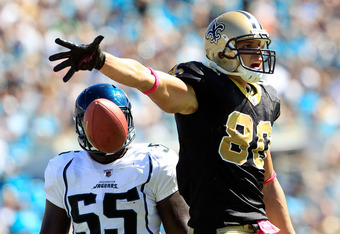 Sam Greenwood/Getty Images
Steve Smith (Wide Receiver – Carolina Panthers):
Thanks to Cam Newton, Steve Smith has returned to fantasy football legitimacy. A horrible disappointment for a couple seasons, Smith lost the trust of many owners worldwide.
Newton's ability to extend the play with his legs has allowed Smith to run longer routes with more success. When the defense thinks they have Newton dead to rights, he launches a bomb off his back foot that finds Smith.
Fast, short receivers seem to need mobile quarterbacks to have the greatest success in the league. Speed from multiple positions on your offenses is a death sentence for the defense.
This game is a gold mine this week, so start Smith too.