2011 MLB Playoffs: How ROV demonstrates the Rangers dominance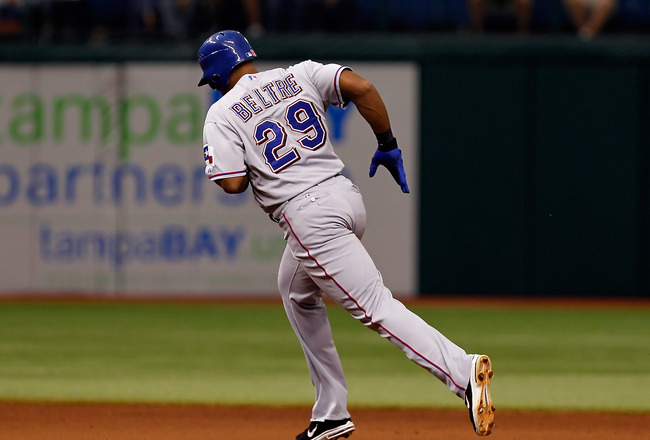 Adrian Beltre single-handedly beat the Rays in game 4, but he isn't alone
J. Meric/Getty Images
Some of you may be familiar with "real offensive value" (ROV) from some of my earlier pieces. However, in order to catch everyone up to speed, we'll discuss it some first. ROV is a statistic that measures everything a hitter does offensively. The great thing about it is that it condenses everything down into a statistic that looks and acts like batting average.
It is calculated by adding batting average and secondary average together, and then averaging them together. Everyone knows about batting average, but few may know about secondary average. Essentially, SEC takes everything a player does outside of batting average to determine what I would call hidden value. Power, patience and base running are the key components of the formula.
Secondary Average = total bases - hits + walks + stolen bases - caught steal / at bats
Mike Napoli: 395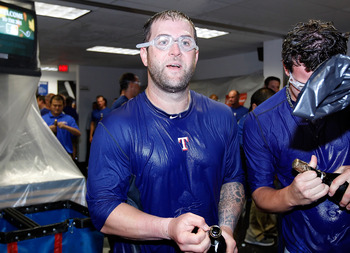 Mike Napoli has somehow flown under the radar this season.
J. Meric/Getty Images
AVG: .316
SEC: .474
ROV: .395
That isn't a typo folks. His .474 secondary average is off the charts. Batting average and ROV are virtually the same in how you interpret them. A .300 ROV usually makes you an all-star performer. So, what does a .395 ROV make you?
Mitch Moreland: .249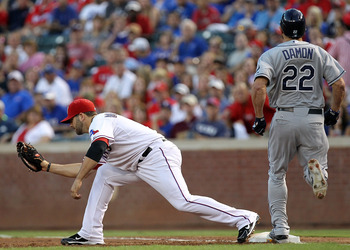 Moreland is in the lineup primarily because he is the only natural first baseman the Rangers have.
Ronald Martinez/Getty Images
AVG: .259
SEC: .239
ROV: .249
Moreland is an average offensive performer according to these numbers, but the Rangers have enough roster flexibility to cover for any poor offense. David Murphy can play at first base and in the outfield while Napoli can also play first. Still, a .249 ROV is nothing to sneeze at.
Ian Kinsler: .332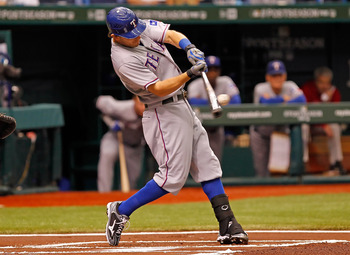 You can't afford to go to sleep on Ian Kinsler.
J. Meric/Getty Images
AVG: .255
SEC: .408
ROV: .332
Just imagine that Ian Kinsler went through the regular season with an alarmingly low .243 BABIP. Raise that 60 points and you would be looking at a legitimate MVP candidate. Rangers fans know how good he is, but the national pundits rarely mention him first when discussing great hitters on the Rangers.
Adrian Beltre: .306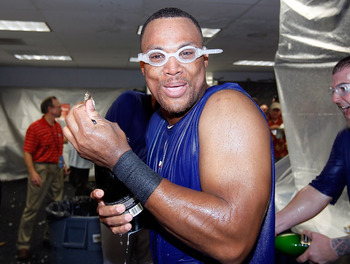 Beltre showed off his muscle against the Rays.
J. Meric/Getty Images
AVG: .296
SEC: .316
ROV: .306
Okay, so a .306 ROV is merely good, but Beltre also had a low BABIP (.273) in the regular season. He drove in more than 100 runs and missed six weeks. The missed time may have done him good as he tore it up in September and so far in October.
Elvis Andrus: .250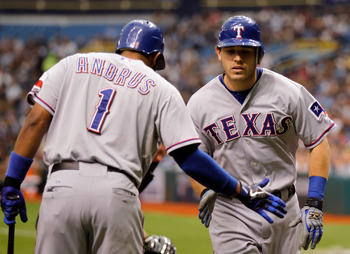 Elvis Andrus gives the Rangers attack some much needed speed.
Mike Ehrmann/Getty Images
AVG: .279
SEC: .220
ROV: .250
Andrus' numbers may not seem like much, but they don't need him to hit a ton. Andrus isn't a Gold Glove shortstop, but he is among the three or four best in the American League. He joins Beltre, Moreland and Kinsler to form one of the best defensive infields in baseball.
Josh Hamilton: .316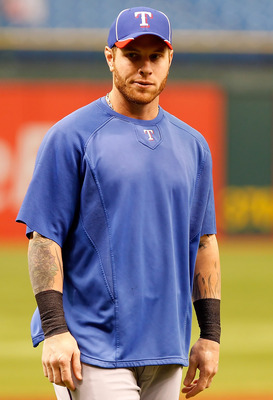 Hamilton is always capable of taking over a game with his bat.
J. Meric/Getty Images
AVG: .298
SEC: .333
ROV: .316
Imagine putting up these numbers and considering it a disappointment. Hamilton has taken a back seat lately while other Rangers have stepped up and played big. No matter, he is ready to take a game over if you give him the opportunity.
David Murphy: .245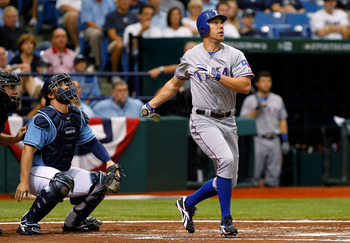 David Murphy's versatility gives the Rangers a lot of options.
J. Meric/Getty Images
AVG: .270
SEC: .220
ROV: .245
While Murphy's production may seem pedestrian, he is a very valuable player because he can play in left field, right field or first base. Right now, the Rangers are using in him left so they can shift Josh Hamilton to center field. Of course, that strategy could change depending on the situation.
Nelson Cruz: .294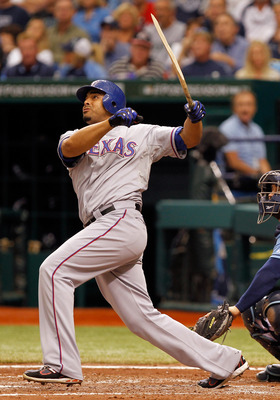 Nelson Cruz might be the sleeper on this team.
Mike Ehrmann/Getty Images
AVG: .263
SEC: .324
ROV: .294
Imagine that this is the Rangers fourth or fifth best offensive player. We are talking about a hitter that hit 29 home runs in less than 125 games. Cruz is the ultimate sleeper. He has shown in the past that he can get white-hot. If he does, then it's lights out for whoever the Rangers run into.
Michael Young: .278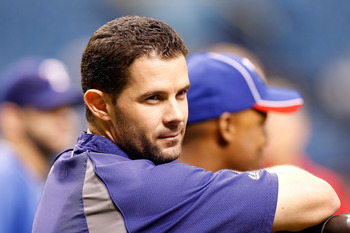 The AL hits leader may be overrated but in this lineup that doesn't matter.
J. Meric/Getty Images
AVG: .338
SEC: .217
ROV: .278
ROV was designed for players like Michael Young. People will get hysterical and claim he is the best hitter all the time. In reality, he is the fifth best player on the team, but if a .278 ROV ranks fifth best on your team you aren't going to complain.
Keep Reading

Texas Rangers: Like this team?