Grady Sizemore: Should the Toronto Blue Jays Make a Push for Him?
October 5, 2011
Hannah Foslien/Getty Images
Grady Sizemore of the Cleveland Indians is getting ready for a pivotal off-season. On Monday in Colorado, the 29 year old had arthroscopic surgery on his right knee.
It is Grady's fifth surgery in the past three years.
For someone who is rapidly approaching the 30-year old tag, should this concern the Indians and help decide whether or not they sign him to the $9 million club option?
It seems rather likely that the Indians will not sign him to this club option and either try to sign him to a cheaper deal or let him walk in free agency.
$9 million is a lot to invest in a player that has averaged 52 games the past two years. On the other hand, how many players have had a 30-30 season and four consecutive 20-20 seasons (2005-2008) in the past five years? 
The biggest question when it comes to Grady is how easily he can re-assert himself as a perennial All-Star and if he can ever get back to those numbers he put up in the mid-2000s.
It is worrisome that his speed has been sapped as he had zero SB in the 71 games he played in this season.
That being said, if the Blue Jays could sign the former phenom to a respectable contract and get him to play LF wouldn't it be worth the risk?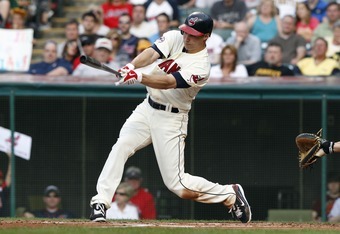 David Maxwell/Getty Images
Grady would bring a great veteran presence, a two-time Gold Glove outfielder and a great guy in the clubhouse.
I think it would be worthwhile to take a shot in acquiring Grady. If they could snag him in free agency or make a deal with the Indians, (where they absorb a decent part of his salary) then I think it could be a worthwhile flier for the organization.
Grady could play LF and make Thames expendable and able to be used as trade bait or he could also play some DH.
All in all, for a player of Sizemore's calibre, who has been a huge fan favourite in Cleveland, why not take the chance?