Washington Nationals: How Their Solid 2011 Season Could Have Been Even Better
October 5, 2011
Greg Fiume/Getty Images
Without question, the Washington Nationals had a solid, almost above-average year in 2011, winning 80 games and signaling their bright future just might begin next year.
Over the last two seasons, the Nationals have increased their win total by 21 games, something only a handful of teams have ever done.
But the strange thing is, as improved as they are, they could have even been better.
So lets jump into the time machine and head back to last winter, when GM Mike Rizzo was in the process of putting his baseball team together.
The first thing we'll do is grab him from behind and lock him in the closet for a few weeks. Next, we'll practice his voice a few times before picking up the phone and making any trades. 
Now that we're in charge, the last thing we want to do is trade outfielder Josh Willingham. He is a great clubhouse guy and averaged .263, 27 home runs and 77 RBIs over 162 games for Washington.
The deal that sent the 31-year-old Willingham to Oakland brought minor league outfielder Corey Brown, who struggled all year at Triple-A Syracuse, and relief pitcher Henry Rodriguez.
Actually, the Nationals got two relief pitchers in that deal—Good Henry and Bad Henry.
When Rodriguez was "on," Good Henry was simply the best bullpen guy in MLB, firing 101 mph bullets and knee-buckling curves that waylaid hitters.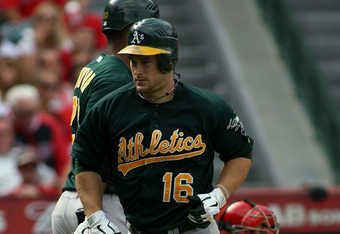 Jeff Golden/Getty Images
But Bad Henry was apt to throw more wild pitches in an inning than strikes.
No deal. Oakland can keep Good Henry and Bad Henry and lousy Corey. We'll keep Josh.
I also wouldn't have released Joel Peralta and let him sign with Tampa Bay. Peralta blossomed in Washington in 2010 with a fine 2.02 ERA while striking out nine batters and allowing just under two walks per nine innings.
The Nationals have needed a center fielder since they traded *cough* gave away *cough* Nyjer Morgan to the Brewers, having long ago grown tired of his antics and shenanigans. He rebounded for the playoff-bound Brewers this year and gave his new team some real stability in center.
Oh, the antics were still part of his shtick, to be sure. But he began to hit again.
Some of Rizzo's trades I liked. I, too, would have signed Matt Capps as a free agent.
But some deals just didn't work. Adam LaRoche was never needed because Michael Morse was ready to take over at first base. Good luck, Adam. We hardly knew you.
So, I've let Rizzo out of the closet and his team is set for 2011. Let's take a look at how they would have produced and performed in my version of the 2011 team. The statistics shown below are actual numbers from 2011. Zimmerman's stats are based on a full year without injury.
CF Nyjer Morgan—.304-4-37, 13 steals
Mike Ehrmann/Getty Images
SS Ian Desmond—.253-8-49, 25 steals
3B Ryan Zimmerman— .289-20-85 (assuming no injury that cost him two months)
1B Michael Morse—.303-31-95
LF Josh Willingham—.246-29-98
RF Jayson Werth—.232-20-58, 19 steals
2B Danny Espinosa—.236-21-66, 17 steals
C Wilson Ramos—.267-15-52
That's an offense that is both powerful and quick. No, their batting averages and on-base percentages aren't great, but that was mostly due to young players feeling their way through their first MLB season.
The rotation was just fine, and the bullpen was great. But can you imagine if Jhonny Peralta had stayed?
The Nationals had Tyler Clippard to work the eighth inning this season (3-0, 1.83) and Drew Stroren to close down the ninth (6-3, 2.47, 45 saves).
But what if they had retained Joel Peralta for the sixth inning? He was 3-4 with a 2.92 ERA for the Rays in 2011 with nine strikeouts per nine innings. That's a pretty potent bullpen.
Easily, this is an 85-win team, perhaps more. No, Josh Willingham and Nyjer Morgan are not long-term answers for the Nationals, but their being part of the team would have given the Nationals even more recognition, perhaps enough to bring in one or two of those very special free agents that this franchise would never have had any hope of signing. Until now, that is.
George Allen was right—the future is now.