Adrian Beltre: Is He More Dangerous Than Josh Hamilton Right Now?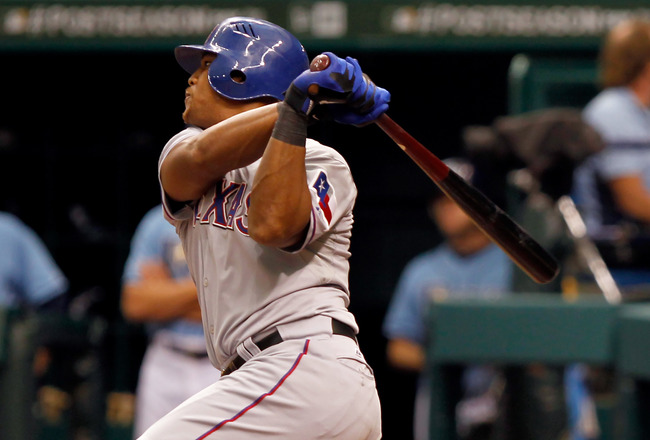 Mike Ehrmann/Getty Images
Is Adrian Beltre more dangerous than Josh Hamilton right now?
The simple answer following a three-home-run performance in an elimination playoff game is yes.
That would simply represent the instant gut reaction though. Beltre did, after all, hit three solo homers today to help the Rangers defeat the Tampa Bay Rays 4-3 and end their season. Without Beltre, the Rangers would likely be playing a Game 5 and perhaps facing elimination themselves.
Does this mean that Beltre is really more dangerous than the reigning American League MVP, though?
Or did he just have a really good game?
Regular Season: Adrian Beltre Edges Josh Hamilton in All Key Stats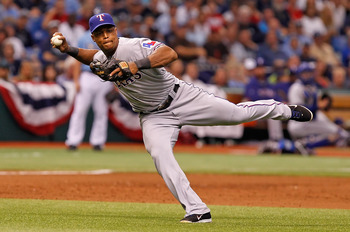 J. Meric/Getty Images
Adrian Beltre and Josh Hamilton really complemented each other quite well during the regular season as they pushed their team towards its current position in the postseason.
Hamilton followed up his MVP season last year with a .298/.346/.536 (.882 OPS) batting line with 25 homers, 80 runs scored and 94 RBI. That's likely not enough to make him a back-to-back MVP winner, but definitely an all-around good season for one of the best players on a first-place team.
Beltre had a good encore season of his own to the performance he put on last season with the Red Sox. This year he put up a batting line of .296/.331/.561 (.892 OPS) with 32 homers, 82 runs scored and 105 RBI.
While Hamilton out-dueled his teammate in batting average and on-base percentage, Beltre had the better final numbers in all other offensive categories while having played just three additional games.
Clutch Stats: Josh Hamilton Was More Productive with the Game on the Line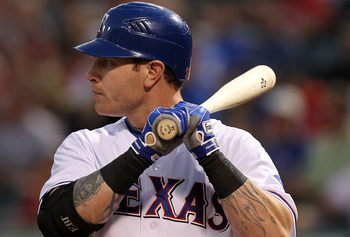 Ronald Martinez/Getty Images
With runners in scoring position, both players helped their team throughout the season.
With men on base, Beltre posted a .281 batting average this season, .269 with runners in scoring position and .310 with the bases empty.
Hamilton was slightly better with men on at .298, slightly worse with runners in scoring position at .248 and also a little behind with the bases empty at .298.
Only nine of Hamilton's 25 homers came with runners on base (four with RISP) compared to 16 of Beltre's 32 homers coming with men on base (seven with RISP).
Despite Beltre having an edge based on these statistics, Hamilton was the more "clutch" player with the game on the line.
Hamilton batted .322 in late-and-close game situations and .360 when he batted with the game tied, connecting for 14 of his 25 homers in such situations. He did his best hitting when his team was behind in the game, helping it close the gap and come from behind.
Beltre batted .217 in late-and-close game situations and .306 when he batted in tie games. Eight of his 32 homers came in these situations. Beltre did his best hitting (.307 average) when his team was already ahead and the at-bats were of less significance (today's game notwithstanding).
Down the Stretch: Adrian Beltre Becomes the Best Hitter on the Planet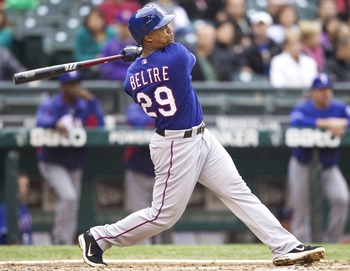 Stephen Brashear/Getty Images
As the Rangers played out the final month of the season, trying to lock up their second consecutive American League West division title and trip to the postseason, both Josh Hamilton and Adrian Beltre stepped their games up to help achieve their common goal.
In the month of September, Hamilton batted .290 with six homers and 19 RBI.
Beltre, meanwhile, went otherworldly and batted .374 with a league-best 12 homers and 29 RBI.
Regardless of whether he was batting with the lead or helping his team fight back into a game, Beltre simply would not let up on opposing pitchers as the regular season wound down.
ALDS: Beltre Takes Matters into His Own Hands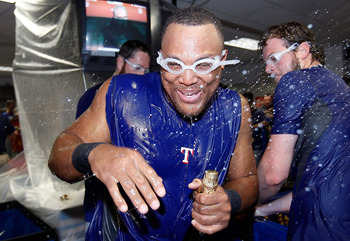 J. Meric/Getty Images
Despite having the same .267 batting average during the American League Division Series against the Tampa Bay Rays, Adrian Beltre separated himself when it really mattered.
He finished with three homers (three more than Hamilton) and four RBI to Hamilton's two.
In the potential elimination game against the Tampa Bay Rays on Tuesday, Beltre stepped up to the moment and went 3-for-4 with three solo homers, becoming just the sixth player in MLB history to accomplish the feat in the Rangers' 4-3 victory (Ian Kinsler added a solo HR as well).
Hamilton had the statistical edge heading into the game, but he went 0-for-4 in Game 4.
If there were an MVP award for the Division Series, Beltre certainly would have won it based on today's game alone.
Adrian Beltre Is the Hotter Player Right Now, but I Wouldn't Want To Face Either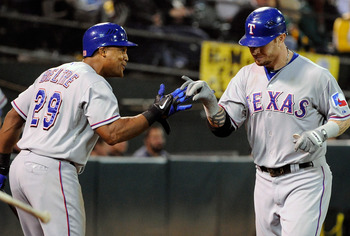 Thearon W. Henderson/Getty Images
It appears the instant gut reaction holds true: Adrian Beltre has in fact been the hotter player for the Texas Rangers.
The Rangers lineup is packed with offensive firepower though, and having both Josh Hamilton and Adrian Beltre in the middle of that lineup gives Texas a huge advantage against any opponent it will face the remainder of the postseason.
Regardless of which player is more dangerous right now, if I were on the mound facing the Rangers, I wouldn't want to face either one of these guys.
For the moment, though, the Adrian Beltre signing last offseason looks like it might be the move that could potentially turn them from World Series runner-ups in 2010 into World Series champions in 2011.
Keep Reading

Texas Rangers: Like this team?