ALDS New York Yankees vs. Detroit Tigers: Who's Hot and Who's Not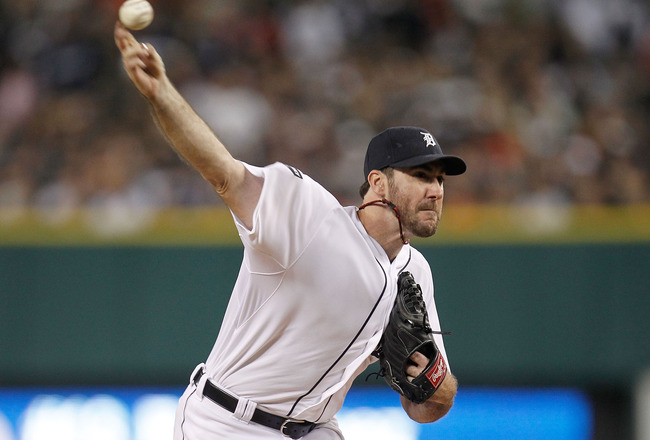 Justin Verlander was on top of his game against the Yankees
Gregory Shamus/Getty Images
The Detroit Tigers took Game 3 of their best of five ALDS series with the New York Yankees 5-4.
Cy Young contender Justin Verlander struck out eleven and despite allowing two runs in the first and another two in the seventh, he held the Yankees at bay through much of the game.
CC Sabathia took the mound for the Yankees and left the game having given up four runs in 5.1 innings of work and throwing 106 pitches.
Sabathia was relieved by Rafael Soriano who immediately gave up a homerun to Delmon Young to put the Tigers up 5-4 to stay.
The Tigers now have the edge in the series with a 2-1 lead and Game 4 scheduled for Comerica Park tonight.
Through three games, here's a look at who's hot and who's not.
Robinson Cano: Hot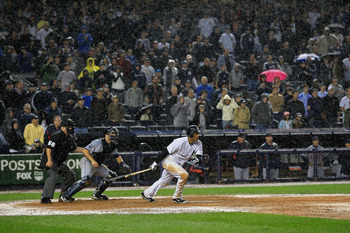 Robinson Cano was the hitting star in Game 2
Chris Trotman/Getty Images
Robinson Cano provided all the offense the Yankees needed in Game 1 of the ALDS.
He went 3-for-5 including a double and a grand slam while driving in 6 runs. While he went 0-4 in Game 3 his production for the series gives him a .308 batting average.
Delmon Young: Hot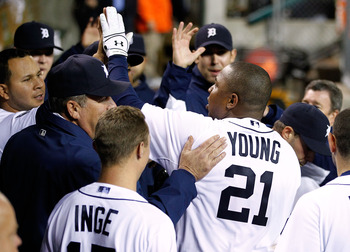 Delmon Young is greeted by teammmates after his go ahead homerun
Gregory Shamus/Getty Images
Acquired by the Tigers from the Twins in August, Delmon Young has four hits in 12 at bats including last night's game winning homer.
He has scored three runs and has hit two homeruns in the three games.
Jorge Posada: Hot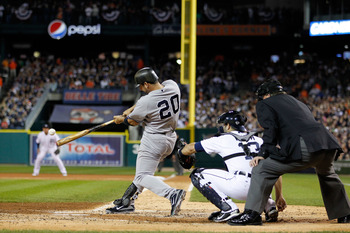 Jorge Posada is the Yankees' leading hitter in the series
Gregory Shamus/Getty Images
DH Jorge Posada is batting .500 through three games and has an on base percentage of .667.
Posada has four hits in eight official at bats with four walks. The slow footed Posada even has a triple and has scored three runs.
Miguel Cabrera: Hot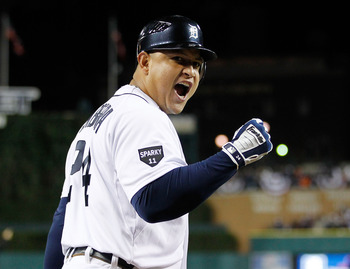 Miguel Cabrera is always a threat at the plate
Gregory Shamus/Getty Images
The probable AL MVP, Miguel Cabrera instills fear in to most pitchers the moment he steps in to the batter's box.
In 12 plate appearances, Cabrera has been walked three times, has three hits, three RBI's, one homer, on stolen base and has scored two runs. All total, Cabrera is batting .333.
Brett Gardner: Hot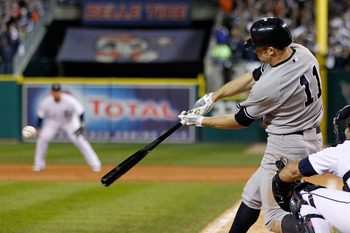 Brett Gardner comes through in the clutch
Gregory Shamus/Getty Images
The speedy Brett Gardner has three hits in nine at bats.
More importantly he has clutch hits. Down 4-2 in last night's game, Gardner came to the plate with runners on first and second and two outs.
Justin Verlander was on top of his game, but Gardner laced a double to center to tie the score.
Gardner has four RBI's and has scored one run.
Max Scherzer: Hot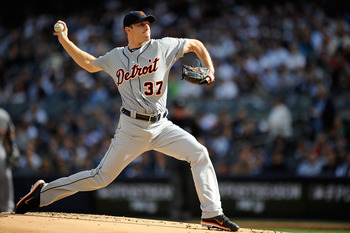 Max Scherzer was great in game 2
Patrick McDermott/Getty Images
Although it's only based on one game, Max Scherzer was called upon to get Detroit back in to the series in Game 2 in the Bronx.
He did just that pitching six solid innings of shut out ball, giving up just two hits and striking out five Yankees.
Ivan Nova: Hot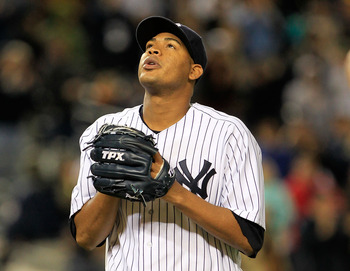 Ivan Nova picked up the pieces in Game 1
Chris Trotman/Getty Images
Potential Rookie of the Year Ivan Nova, was called in to action after Game 1 was delayed a day due to rain.
In 6.1 innings of "relief", Nova gave up just two earned runs while striking out five. The Yankees went on to win Game 1 9-3 with Nova securing the win.
Alex Rodriguez: Not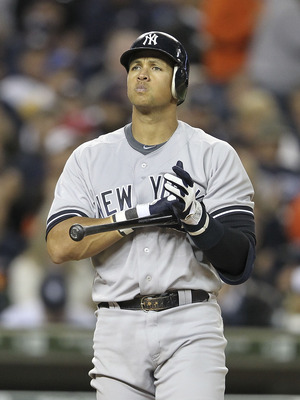 A-Rod is still in search of his first series hit
Leon Halip/Getty Images
A-Rod has yet to get a hit in the ALDS versus Detroit. He is officially zero for 10 with three walks and three strikeouts. He does, however, have two RBI's.
Austin Jackson: Not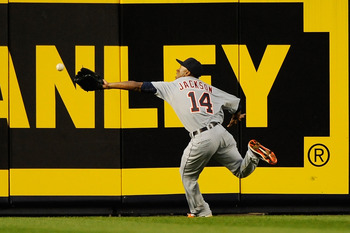 Austin Jackson has not had a good series
Patrick McDermott/Getty Images
Tigers center-fielder Austin Jackson is zero for nine with five strikeouts. He has scored two runs and walked three times, but is still in search of hit number one.
Mark Teixeira: Not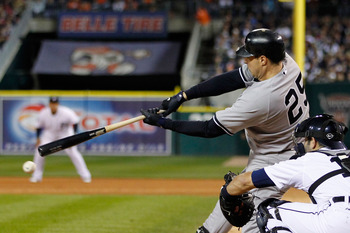 Teixeira has just one hit in three games
Gregory Shamus/Getty Images
First baseman Mark Teixeira has just one hit in eleven at bats so far in the ALDS. He has also struck out four times.
Yankee fans are becoming impatient as they remember that Teixeira was 0-for 14 in last year's ALCS loss to the Texas Rangers.
Alex Avila: Not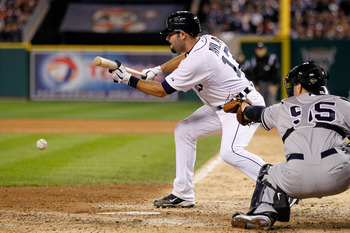 Alex Avila trys to make contact
Gregory Shamus/Getty Images
Catcher Alex Avila is yet to get a hit in the ALDS going 0-for-9 with five strikeouts. He does have two walks and one RBI but his on base percentage so far is a paltry .182.
Russell Martin: Not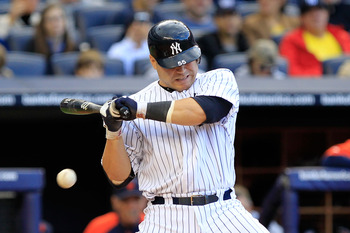 Russell Martin is looking to make contact
Chris Trotman/Getty Images
Russell Martin has just one hit in nine ALDS at bats leaving him with a .111 average for the series.
His one hit was a double and he scored the Yankees' fourth run in game three after getting hit by a Verlander pitch. Martin has struck out two times.
Victor Martinez: Not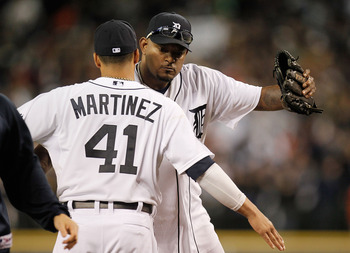 Martinez needs to pick up his hitting
Gregory Shamus/Getty Images
Victor Martinez has two hits in 11 at bats, however, he has no extra base hits, four strikeouts and just one RBI. Martinez is relied on for his power and so far it has not be on display.
Derek Jeter: Not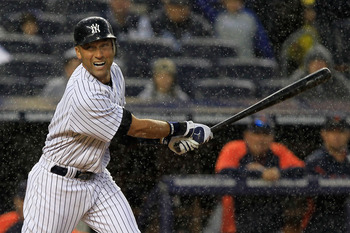 Derek Jeter: Not hitting in the clutch
Chris Trotman/Getty Images
While hitting a somewhat respectable .267 for the series, Jeter has not come through in the clutch on several occasions.
He has four singles and has scored four runs but he has struck out six times and his error in Game 2 led to two runs for the Tigers.
Jeter struck out swinging to end Game 3 with two men on base as the Tigers won 5-4.
Doug Fister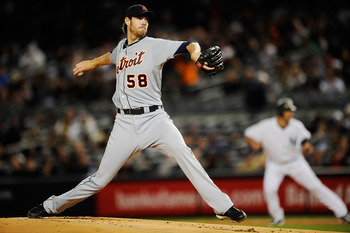 Doug Fister was the losing pitcher in Game 2
Patrick McDermott/Getty Images
Doug Fister was given the assignment of picking up where Justin Verlander left off in the delayed Game 1.
He was doing well until he ran in to trouble in the sixth inning. He gave up a 2-run single to Brett Gardner and left the game with the bases loaded.
Although it was reliever Al Alburquerque that then served up the grand slam to Robinson Cano, it raised Fister's one game ERA to 11.57.
CC Sabathia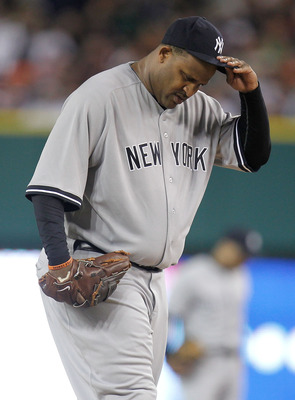 CC Sabathia was removed in the 6th inning of Game 3
Gregory Shamus/Getty Images
CC Sabathia started Game 1 and gave up one run in two innings. Unfortunately the game was delayed and Sabathia was pushed back to face Justin Verlander in Game 3.
Sabathia didn't have his best stuff and labored through 5.1 innings while surrendering four runs on seven hits and six walks. His ERA currently stands at 6.14.
Keep Reading

New York Yankees: Like this team?