SF Giants: How Can They Convince Tim Lincecum To Sign A Long-Term Deal?
October 4, 2011
Tony Medina/Getty Images
Tim Lincecum is one of the "face of the franchise" players for the San Francisco Giants.  He had his Major League debut in May of 2007 and since then he has been outstanding.
Lincecum is the only pitcher in history to win back-to-back Cy Young awards in his first two full seasons in the big leagues.  He has a career record of 69-41 with an ERA of 2.98 and a WHIP of 1.188.  In 1,028 innings pitched, Lincecum has struck out 1,127 batters, leading the league for three years, from 2008-10.
In 2011, it was a very frustrating year for Lincecum as he received little run support. In fact, the Giants did not score a run for him in 10 outings.  In 21 of his 33 starts, the Giants scored two runs or less for Lincecum. 
His record of 13-14 did not accurately represent how effective he actually was.  With any decent run support, he could have won 20 games.
Lincecum's 2011 ERA was 2.74, lower than his career average.  His WHIP of 1.207 was also very solid.  Lincecum threw 217 innings and struck out 220 opposing hitters.
Durability also has been a strong suit for Lincecum, as he has made an average of 33 starts in each of his four full seasons with the Giants.
The Giants hold Lincecum's arbitration rights for 2012 and 2013, then he can become a free agent.  The big question is whether the Giants can convince Lincecum to stay in San Francisco, following this admittedly frustrating season.  
In 2011, Lincecum earned $14 million and will likely make somewhere around $18-20 million in 2012.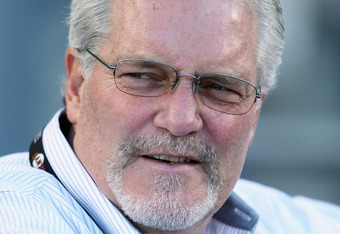 Jeff Gross/Getty Images
The Giants have a decision to make and that's whether they decide to sign him to a one-year deal now and then try to negotiate a long-term contract following the 2012 season, or if they go ahead and sign him to a long extension right now.
There are some major advantages for Lincecum to stay in San Francisco.  Most importantly, he likes it here, enjoys the climate and the people of the Bay Area.  In a mutual endearment fashion, the Giants fans adore him, also.
San Francisco and AT&T Park is a great place to pitch. It is a spacious yard and the ball doesn't carry well in, especially at night with the heavy marine air.  It has obviously served Lincecum well, as his two Cy Young awards attest to that.
So, the question is, how can the Giants lock in their star for the long term?
Given the fact that Lincecum likes it in San Francisco, if the Giants were to offer him a long-term deal now, he might be inclined to give them the "hometown discount."  If I were the Giants, I would offer Lincecum a five-year deal starting at $90 million.  If necessary, I would be inclined to offer up to to $100 million.
The benefit of doing a deal now is that GM Brian Sabean can back-load the salary to when the albatross contract of Barry Zito comes off the books, following 2013.  Zito is owed $46 million over the next two seasons, which includes a $7 million buyout in 2014, which will be exercised.
Peter McGowan, who saved the Giants from moving in 1993, also handcuffed the Giants with the Zito and Rowand contracts.  These were not Sabean deals, McGowan was the driving force.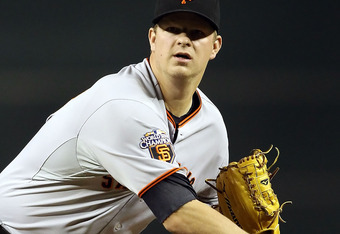 Christian Petersen/Getty Images
I believe this was a key reason why he was ousted in favor of Bill Neukom as the managing partner following the 2008 season.  Neukom was in charge when the Giants won it all in 2010.  He is also out, as apparent discord with the Giants' executive committee pushed him to retirement. 
In any case, by offering Lincecum a five-year contract, the Giants would be locking him in through the 2016 season.  He will still only be 32 years of age when that season is completed.
The other thing that Lincecum will want to see is whether the Giants are willing and able to acquire some offense this offseason.  The good news is Buster Posey and Freddy Sanchez will be back in 2012, but the lineup still has holes.
The Giants need to acquire a quality shortstop and at least one offensive threat in the outfield.  A leadoff hitter and a power bat would be ideal.  This would solidify the Giants' offense immensely. 
The promise of decent run support will make both Lincecum and fellow ace Matt Cain very excited.  Cain will be a free agent after the 2012 season and also must be signed to an extension, or he will be lost.  GM Brian Sabean has said his biggest priority is maintaining this great pitching staff and it starts with Lincecum and Cain.
I believe Lincecum would be open to a long-term extension at this time and it would be in the Giants' best interest to lock him in with a deal.  There is always some element of risk involved, due to the potential for injury with any pitcher. 
However, in the case of Tim Lincecum, the greatest risk is not proactively doing anything and watching him leave.