2011 Quarterback Gold: How Cam Newton Has Changed the NFL Forever
October 4, 2011
Scott Cunningham/Getty Images
The NFL didn't see this coming. 
A quarterback from a spread offense, with one full collegiate year under his belt as a starter and a cloud of intrigue billowing behind him. Cam Newton's collegiate career was as polarizing as he was talented.
Though he had some believers, most didn't believe that he would be special, at least not for a few seasons.
The experts on Cam:
"The Panthers own the top overall selection in the draft, so selecting Newton wouldn't be a very good value at this point." - Adam Caplan from Fox Sports.
"The offense he ran at Auburn must have been so simplistic he actually could not run through a series of commands. Well, a pro quarterback needs to do that on every play. Cam Newton has an incredible amount to  learn. NFL teams need to know how unprepared this guy is for their game." - Cohn Zohn from Press Democrat.com
"Well, you know what? I'd take Kevin Kolb over Cam Newton 100 times out of 100 chances." - Charley Casserly of NFL.com  
The reasons? Everything from coming from a spread offense to quarterbacking IQ. 
Newton has proved them all wrong.
Throwing for 432 yards against the aggressive Super Bowl champion Green Bay Packers defense, and then throwing up 374 yards against the Bears Cover Two (a defense specifically designed to stop the big play and deep ball), Cam has proved that he is for real.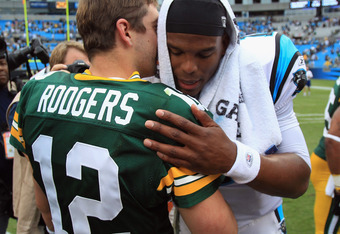 Streeter Lecka/Getty Images
(He had a touchdown called back and a dropped touchdown in the end zone against the Bears which would've given him over 400 yards against Chicago also.)
Newton's rookie start is the most prolific start for any quarterback in the history of the NFL. He is Michael Vick with height and better accuracy. He is Warren Moon with Randall Cunningham's legs. He is Dan Marino with John Elway's escapability. 
The experts didn't get it right on Newton because Newton is new. 
The NFL changes every year with new rules, new offenses (creeping in from the collegiate ranks), new rating systems, but old drafting standards.
Quarterback assessments haven't changed in decades, and the recalcitrance of that type of critique has finally been called into question. 
Who says that a spread offense quarterback, by fiat, has to be "a project?" Who says that you need to cram information into a rookie signal-caller's head in the preseason camps to prepare them for success? 
I respect all of the experts who didn't see Newton coming. Other than Moon, no one did. That said, even experts need to occasionally recalibrate. 
(And on Casserly's rating Kolb that highly over Newton. Casserly? Really? In the words of your fellow NFL.com crew, "Come on, man!")
Four games does not a career make. Four games is not a qualification for the Hall of Fame. Four games, however impressive, is just that, four games.
Yet, in four games, Newton has raised questions that will leave the NFL landscape forever altered. 
From this point forward, the NFL will be split into BC (Before Cam) and AC (After Cam). Generations of college quarterbacks to come, knowingly or not, all owe this rookie a vote of thanks.