Matt Forte Chasing Walter Payton, Gale Sayers & New Contract with Chicago Bears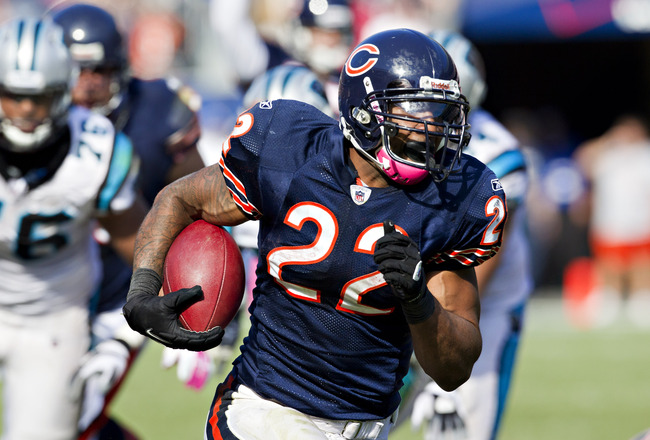 Wesley Hitt/Getty Images
It's still three weeks until Halloween but Matt Forte is already chasing ghosts.
He has a chance to catch Walter Payton for the Chicago Bears' single-season rushing record and is on pace to break Gale Sayers' team record for all-purpose yards.
He's also hoping to land the multi-million dollar contract he desires (and deserves).
He could miss out on all of it and remain forever haunted by demons.
Or he may just become a legend himself.
Going for Glory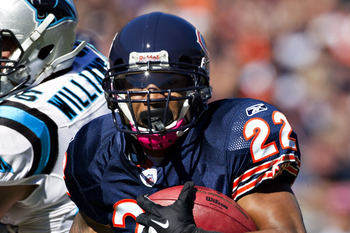 Wesley Hitt/Getty Images
With Chicago's renewed commitment to the rushing attack against Carolina, Matt Forte carried 25 times for 205 yards and scored a touchdown. He also caught four passes for an additional 23 yards.
With that performance he tied a Bears record for the second-highest rushing total in a single game. Only Walter Payton's 275 yards against Minnesota in 1977 surpasses Forte's mark.
And Forte has set his sights on a legendary performance this year. He would love to prove his monetary worth in terms of production.
To his credit, he's on pace for a good rushing season, but Walter Payton is an all-time great for a reason.
Catching Payton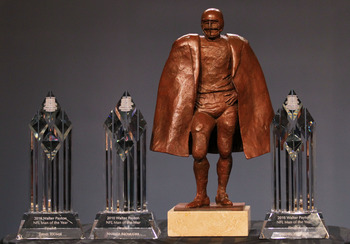 Walter Payton Man of the Year Award
Doug Pensinger/Getty Images
In 1977, Payton set the Bears rushing record for yards in a season at 1,852. With 339 attempts he averaged a whopping 5.5 YPC. He also rushed for 14 TDs and caught 27 passes for 269 yards, adding two receiving TDs.
That's 2,121 all-purpose yards and 16 TDs; and he did it in just 14 games.
(Little known fact: he also fumbled 11 times.)
Forte is well behind Payton's rushing pace. At his current rate, Forte would end up with just 1,296 yards on 240 attempts.
But his YPC stands at a robust 5.4 and with as many attempts as Payton would end up with 1,831 yards—that's not far off. (And Forte has only fumbled 10 times in his entire career.)
If the Bears give Forte 25 carries a game for the rest of the season, he'll have 360 attempts, enough to break the record. He'd end up with 1,944 yards—a monster season by any measure.
Sneaking Up on Sayers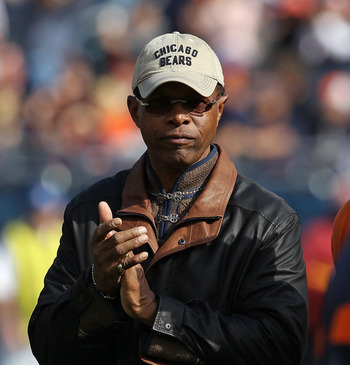 Jonathan Daniel/Getty Images
In 1966, and just his second season, Gale Sayers rushed for 1,231 yards, averaging 5.4 yards per carry on 229 attempts and scoring eight touchdowns.
He also led the Bears in receiving with 34 catches for 447 yards and two touchdowns. And as the kick and punt returner, he amassed 762 return yards and added two more touchdowns.
Ultimately, Sayers set the franchise record for all-purpose yards with 2,440.
Payton's record season in 1977 still left him short; he totaled 2,121.
Marshall Faulk couldn't catch Sayers even in his best year, ending up with 2,429 yards in 1999 while featured in the "Greatest Show on Turf."
But Forte's pace is ahead of Payton, Faulk and Sayers. And he's got the same coach (offensive coordinator Mike Martz) who put Faulk in position to get his yards.
At his current pace Forte would rush for just 1,296 but catch an astounding 104 passes for an additional 1,240 yards. That would easily make him Chicago's top receiver.
And it would give him 2,536 all-purpose yards—and one of the best seasons by a running back in NFL history.
Breaking Down the Numbers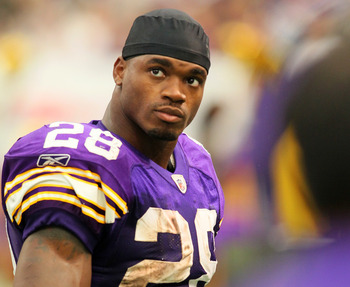 Adam Bettcher/Getty Images
No matter what his final numbers are, it's clear the Bears are reliant on Forte. You thought Adrian Peterson ran an offense?
What Matt Forte did against the Carolina Panthers particularly highlighted his role as the key player.
On the season he has 324 yards rushing and 310 receiving. Of the Bears' 1,231 yards of total offense, he has 634—that's 51.5 percent.
Put one way, more than half the yards the Bears earn on offense belong to Matt Forte.
Put another way: the Bears have 82 rushing attempts and 71 pass completions. Of those, Forte has 60 rushes and 26 receptions. He's responsible for 73 percent of all rushing attempts and 37 percent of all receptions.
That means he's involved in 56 percent of all rushes and receptions combined.
No matter how you put it, without him the Bears lose significant production.
How much is he worth?
Chicago's payroll stands at almost $104.9 million.
51.5 percent of that is $54 million.
Forte makes $550,000.
By contrast, Adrian Peterson and Chris Johnson have set the gold standard for running back pay.
Peterson received $100 million over seven years from Minnesota; $36 million guaranteed.
Johnson received $13.4 million per year for four years from Tennessee; $30 million guaranteed.
Bears GM Jerry Angelo has reportedly not been willing to go past $13-14 million in guarantees.
And as Chicago Bears beat writer Sean Jensen of the Chicago Sun-Times has pointed out, it is remarkable (or, almost criminal) Angelo has handed $13.1 million guaranteed to Forte's backup, Chester Taylor, and tight end Brandon Manumaleuna.
Coming to Terms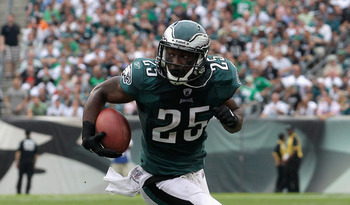 Rob Carr/Getty Images
It's not a surprise Forte and the Bears can't agree on running back value.
Matt Forte makes the same amount as Peyton Hillis and more than LeSean McCoy, Arian Foster, Shonn Greene, Jahvid Best, Ryan Mathews, James Starks and LeGarrette Blount.
So you can see why the Bears aren't ready to throw the bank at him.
But he also makes less than Michael Bush, Ernest Graham, Maurice Morris, Moran Norris (San Francisco, in case you didn't know), Korey Hall, Lawrence Vickers (Houston) and teammate Marion Barber. Even Atlanta Falcons running back Ovie Mughelli will make $3 million this season.
And if you aren't sure who some of those guys are, you can understand Forte's frustration.
On Monday, Matt talked about his contract situation with the Bears in an interview with "The Waddle & Silvy Show" on ESPN 1000.
"Currently we haven't really been talking," Forte said. "After some of the games my agent has called them a few times but no progress has really been made since then. But hopefully today or this week they will be talking again."
So how far off are they?
"We were pretty far off. And like I've said in many interviews before, this league is based on production, and my production is up there with the top running backs. Elite level. But I just don't think they think I'm at that level or that I'm that type of player. So our numbers were way off on that point. I just want to end up somewhere or be somewhere where I'm valued as a player."
How Will It Play Out?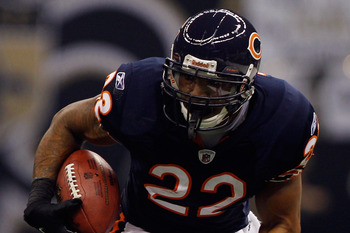 Chris Graythen/Getty Images
Forte has a chance to catch Payton or Sayers and land a mega-deal.
Sadly, all might elude him, just as well.
Even so, Matt Forte's name will be forever remembered in Bears history.
In an eerie coincidence, Gale Sayers also rushed for 205 yards, setting the original record for rush totals in a game by a Chicago Bear. He did it in 1968 against the Packers in Green Bay.
Nine years later, Walter Payton tied that record by rushing for exactly 205 yards—also against the Packers in Green Bay.
So it's easy to mention Forte's name with the all-time greats; his 205 yard performance against Carolina is the third in team history—and it puts him in special company.
Imagine what he'll be worth if he rushes for that many yards against the Packers in Green Bay on December 25th.
Keep Reading

Chicago Bears: Like this team?