Pittsburgh Steelers: Winners and Losers at the Season's Quarter Mark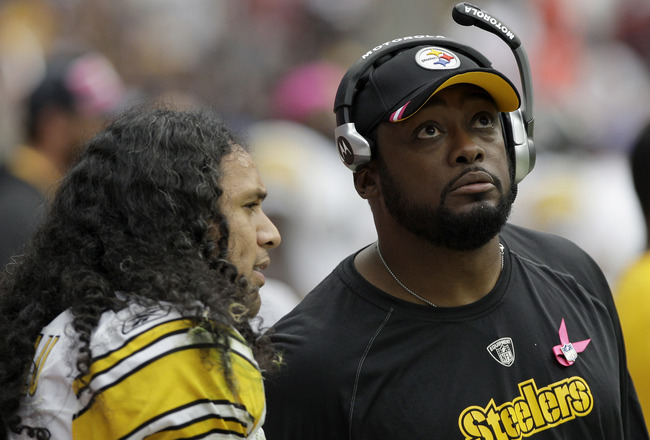 Thomas B. Shea/Getty Images
The Pittsburgh Steelers have too much talent to be stuck at 2-2, questioning the direction of their season. The defending AFC champions have faced a difficult four-game stretch to open the season, but that does not excuse the way in which they have lost.
Simply put, the Steelers are not playing Steelers football. They cannot run the football on offense or stop the run on defense.
Who is most to blame?
The Steelers are far from done. The season has had several positives, and the roster is largely unchanged from a year ago. Players like Mike Wallace and Troy Polamalu have continued to play well.
Wallace and Polamalu are not the only Steelers playing well, but they are in the minority as this team struggles to find its identity.
Mike Wallace, Winner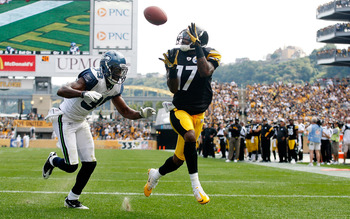 Jared Wickerham/Getty Images
Mike Wallace has emerged as one of the NFL's best wide receivers this season. His speed is finally translating into NFL superstardom.
Thus far, Wallace has averaged over 113 receiving yards per game. As the Steelers continue struggling to run the football, Wallace will see his targets increase. If Ben Roethlisberger is able to stay healthy, Wallace will continue terrorizing NFL secondaries.
Mike Wallace has been the lone bright spot on an offense that has struggled to move the football consistently. If opponents ever figure out how to shut him down, the Steelers will be in trouble.
Troy Polamalu, Winner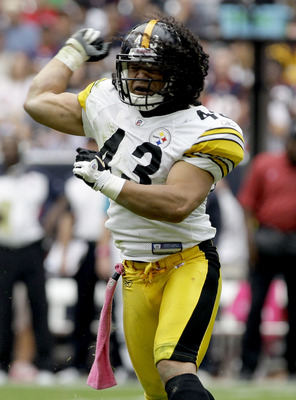 Thomas B. Shea/Getty Images
Troy Polamalu is keeping the Steelers defense afloat. He cannot be blamed in the slightest for the Steelers' struggles stopping opposing offenses.
Polamalu has been all over the field in the Steelers' first four games and leads the team in tackles. Offensive coordinators still have no answer for him.
Polamalu has helped the Steelers even more by staying healthy. He has dealt with nagging injuries in recent seasons. His style of play does not necessarily lend itself to staying healthy. The Steelers must keep Polamalu on the field.
Ike Taylor, Winner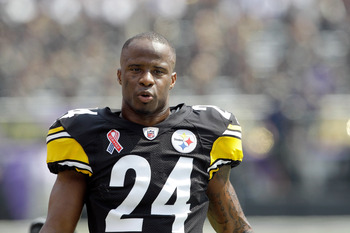 Rob Carr/Getty Images
The Pittsburgh Steelers pass defense has allowed only 157 yards per game this season. That may be a reflection of the unit's inability to stop the run.
Yes, teams are more willing to take their chances on the ground against the Steelers. The secondary, however, has played well.
Ike Taylor has been loved and hated at times during his Pittsburgh career. He has shut down opponents' top receivers very effectively in 2011.
Isaac Redman, Winner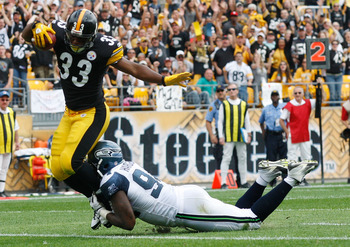 Jared Wickerham/Getty Images
Pittsburgh Steelers fans may soon see more of Isaac Redman. While Rashard Mendenhall has struggled to gain traction in the run game, Redman has been surprisingly effective.
The second-year back has averaged nearly five yards a carry through four games. He has shown toughness and an ability to make something out of the little space the line has been able to give him.
Redman's production may be a function of the limited number of carries he has been given, but he has earned a chance to tote the ball a few more times a game. The Steelers need an answer to their offensive struggles. Isaac Redman may be ready to step up.
Ben Roethlisberger, Loser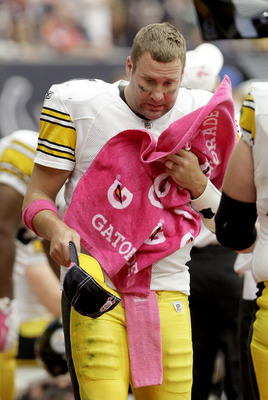 Thomas B. Shea/Getty Images
Ben Roethlisberger has not played terribly this season. He has actually played quite well considering how poorly his offensive line has played.
Big Ben falls into the loser category because I have a hard time believing he will make it through the season without suffering a major injury. The Steelers offensive line is that bad.
The Steelers have never protected Roethlisberger very well. This season, protection has fallen to an all-time low.
Aaron Smith, Loser
Andy Lyons/Getty Images
Aaron Smith's inability to do anything productive when on the field has been a huge part in the Steelers' defensive struggles. Smith has only eight tackles in four games. None have come behind the line of scrimmage.
At 35, Smith is aging rapidly and has suffered with injuries for two seasons now. There is not much talent waiting in the wings to replace Smith, so the Steelers may be stuck with him for the rest of the season. If he does not pick it up, he will likely be looking for a new team.
LaMarr Woodley, Loser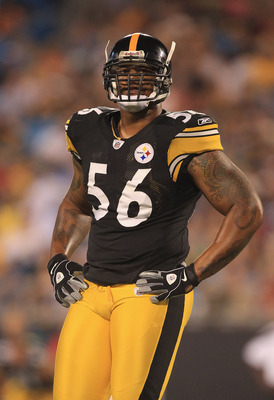 Streeter Lecka/Getty Images
LaMarr Woodley's massive $61.5 million contract should have landed him on the winners list. His play in 2011, however, outweighs that bloated contract.
Woodley is the highest paid defensive player in Steelers history. He is not playing like it. Woodley has not had an impact through four games this season.
If Woodley were not the highest paid player in the storied history of the Steelers defense, he would not be on this list. He is paid to have an impact on every single game.
He has not done so in 2011.
The Offensive Line, Loser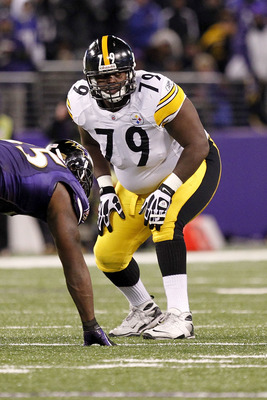 Geoff Burke/Getty Images
No single unit has held the Steelers back more through the first four games of 2011. The offensive line has struggled as a whole. No single player can be singled out for the problems.
The Steelers offensive line cannot open holes for the running backs or protect the quarterback. These struggles are at the root of every single offensive problem the Steelers have.
Tackles Chris Scott and Trai Essex have received most of the blame and rightfully so. They have been terrible. The interior line positions, however, cannot be ignored. Chris Kemoeatu and Ramon Foster are integral in opening running lanes, but they have not done their job.
Rashard Mendenhall, Loser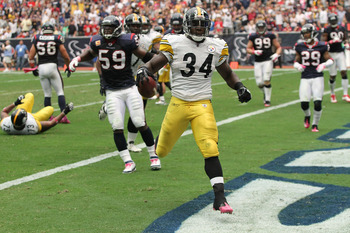 Thomas B. Shea/Getty Images
All of the blame for the Steelers' struggles to run the football cannot be placed on the offensive line. Rashard Mendenhall must shoulder some of the blame.
Mendenhall has not been hitting the hole as quickly and decisively as he did a year ago. There have been holes at times, but he has not taken advantage of them.
As previously mentioned, Isaac Redman is averaging nearly five yards a carry. Clearly the offensive line has not been terrible on every single play.
Rashard Mendenhall must step up, stop dancing and hit the hole with authority.
Keep Reading

Pittsburgh Steelers: Like this team?