Chicago Bears Beat the Carolina Panthers and I'm Not Impressed
October 4, 2011
Scott Cunningham/Getty Images
At the end of the game, the scoreboard said the Chicago Bears beat the Carolina Panthers 34-29, but for anyone who watched, that score was not indicative of how badly the Bears were outplayed on Sunday.
Carolina had 543 total yards against the Bears, and if not for a bad break or two, and a questionable decision by Panther coach Ron Rivera, they would be 2-2 now instead of Chicago.
The Bears went back to their script from last season: a wish and a prayer, and good old-fashioned luck.
It was tied at 10 when the Panthers decided to risk fate and kick to Devin Hester. He took the kickoff nine yards deep in the end zone and ran it back 73 yards to set up a Matt Forte touchdown.
A few plays later, Carolina punted, again to Hester, who returned the favor 69 yards for a record-setting touchdown to put the Bears up 24-10.
In a span of three minutes in the second quarter, Hester broke the game open for Chicago. The question is why did he get the opportunity?
Current Panther coach Ron Rivera was the Bears defensive coordinator during the 2006 season when they went to the Super Bowl, and aside from his defense, Devin Hester was the reason. It was his rookie season, and Rivera got a firsthand look at what was to become the greatest return man in NFL history.
You would think he would be smart enough to know you can't let him beat you.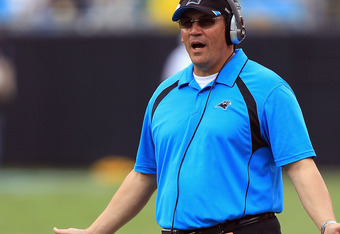 Streeter Lecka/Getty Images
But Hester alone didn't beat Carolina. They came back from that deficit and had a chance to take the lead in the third quarter trailing 24-20. Jeremy Shockey caught what appeared to be a touchdown catch to put the Panthers up 27-24, but it was called back for an offensive interference penalty.
The replays showed any contact Shockey had was minimal, and it certainly didn't look to have a major impact on the play.
In football, there are infractions on every play if you want to call them. As an official, you have to determine what should be called and what shouldn't, and that was one of the latter.
Carolina ended up attempting a field goal that was blocked by Julius Peppers, and you could feel the momentum changing.
A bad call? A fortuitous call for the Bears? Whatever it was, it was reminiscent of last year when everything seemed to come up roses for Chicago.
Carolina had another chance to take the lead early in the fourth quarter when they intercepted Jay Cutler in Bear territory trailing 24-23, but their drive stalled and Olindo Mare fell a yard short on a 52-yard field-goal attempt to give them the lead.
Carolina was still down only 27-23 with less than two minutes left, but Cam Newton missed a fourth-down throw to Legedu Naanee to essentially end the Panthers' hopes, even though both sides scored a consolation touchdown in those last two minutes.
Newton still threw for 374 yards, going 27-for-46, with one touchdown and one pick that was run back for a touchdown in the first quarter on an ill-advised throw.
For the game, Carolina out-gained the Bears 543-317, had 24 first downs to 15 for Chicago and won the time of possession by seven minutes.
Despite those numbers, Bears head coach Lovie Smith mentioned in the postgame press conference that the Bear defense outplayed Carolina's.
I'm not sure what he was watching. Usually after a game, especially a loss, he says he has to go back and watch the tape before he commits to anything. I guess he was feeling a little cocky coming out on top over his former nemesis Rivera.
It's very dangerous to only look at the final results and not the substance of what led to that outcome. Over-looking obvious deficiencies and choosing to ignore them is not going to cure the problem.
There are three reasons the Bears won this game, and those were the decision to kick to Hester, the phantom penalty call on Shockey and a career game for Bears running back Matt Forte, who amassed 205 yards rushing.
Carolina missing two starting linebackers didn't hurt his cause, but he also gained 166 yards against them last year. He seems to have their number.
Speaking of numbers, despite this win and Lovie Smith's smugness, the Bears defense is not outplaying anyone. They are giving up an average of 425.8 yards a game, which ranks 31st in a league of 32 teams.
The bend-don't-break philosophy only works so long. If they continue to perform the way they have, they will not stay in the playoff race. Green Bay is too good, and their next opponent, the Detroit Lions, look they have finally become the team everybody said they could be.
That's not good news for the Bears' future, because both teams are younger and more talented.
You can only get by on luck for so long.