Denver Broncos: Ask Thyself of Another Tim Tebow (Part 3)
October 3, 2011
Doug Pensinger/Getty Images
In condensing a volume of information down to three articles, this one is the longest, but probably the most fluid, and certainly the most direct. Realize there are big things on the table of the Broncos franchise right now, and it should start becoming evident to all that some of these issues might be deeper than initially thought.
The History behind Drafting Tim Tebow
Call it an oddity, a cataclysmic event, glitches in the matrix, an epiphany and unconventional angles that landed Tim Tebow in Denver.
The Oddity
The oddity was that the Denver Broncos had Jay Cutler as their starter in 2008 when Mike Shanahan was fired as head coach and Vice President of the Denver Broncos. When Josh McDaniels was hired, he had Jay Cutler to work with. 
You have to keep in mind that McDaniels was boasted as being a sort of new generation of a offensive coordinator and mastermind. That would seemingly imply that he had the ability to mould quarterbacks and other offensive skill position players. 
When you look at the recent history of McDaniels specifically not being able to produce a franchise quarterback out of Jay Cutler, Kyle Orton, Brady Quinn or Tim Tebow.  It certainly looks like he was riding on the coat tails of Tom Brady to land the head position in Denver. Moreover, if you look at the current struggle of Sam Bradford under McDaniels' offense in St. Louis (one that was explosive last season for the Rams), it certainly looks now as though Josh McDaniels is a fraud.  The fact that he landed in St. Louis following "Spy Gate II" shows a lack of wisdom by the Rams organization.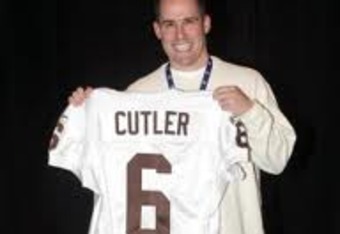 The Cataclysmic Event
As everyone now knows, McDaniels personality clashed with Jay Cutler among others to set off the cataclysmic event in Denver. It was the definition of a self-inflicted wound. However, this was only the beginning of the deep division and gauging that has now become part of the organizations great re-build project.
Glitches in the Matrix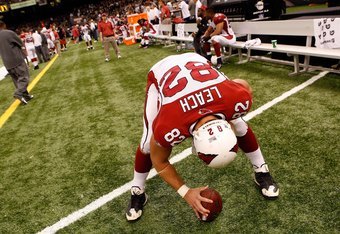 Ronald Martinez/Getty Images
The glitches in the matrix were visually evident to many, with McDaniels playing the part of "Hoodie Jr." on the sidelines. It seems he looked the part of his mentor, but that's about it. Josh divided the Broncos locker room simply by bringing in a slew of guys from New England while ditching Mike Shanahan's guys and burning his bridge from Boston and the Patriot way.
One of the most outrageous moves made by McDaniels was when he dropped the Broncos solid long snapper Mike Leach in exchange for a much higher priced Lonie Paxton from New England.  It just made no sense to go there, but it was all about Josh calling the shots, right or wrong, regardless of the impact in the locker room. 
Players like Brian Dawkins and Champ Bailey were good soldiers for the organization and the regime, but have said that the team essentially lacked direction and a sense of identity. There were countless other glitches in the matrix, like having such poor drafts that only three of those picks remain just two years separated from McDaniels first season as coach.  However, the greatest glitch of all was not forging a true unified team, one that could compete every single Sunday in the NFL.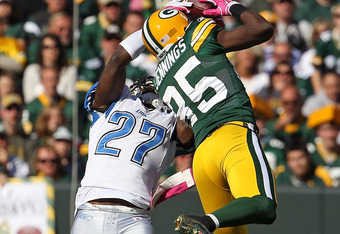 Jonathan Daniel/Getty Images
An Epiphany
The epiphany of the regime was how poorly the drafts were managed. It is difficult to think about some of the talent that McDaniels and Xanders passed on in order to draft their guys. This article will not focus on those poor decisions, but go back and lookup the listings on the 2009 and 2010 drafts and judge for yourself who the Broncos should have gone after with each pick.
Unconventional Angles and Poor Decision Making
It was through this epiphany that Tim Tebow was selected by the Denver Broncos. Now give Tebow all the credit in the world, because he could still pan out somewhere down the line. As of yet, it hasn't happened in Denver, and to discount the past discussed here was just naïve on McDaniels part.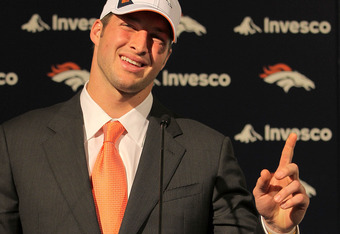 Doug Pensinger/Getty Images
In order to get Tebow, the Broncos acquired the 25th pick in the 2010 draft from the Baltimore Ravens.  In exchange, the Broncos sent the Ravens the 43rd, 70th and 119th picks. It's not unconventional to send a few picks for a number one slot, but drafting Tebow that high is still very controversial. Additionally, the Broncos were a team in transition, and teams like that generally need more draft picks, not less of them.
Under McDaniels, the Broncos saw a slew of these poor decisions being made. Fact is, these all do have a cumulative negative impact on the state of the Denver Broncos right now. The thing the Tebow die-hards fail to see is that those decisions do impact their guys' ability to get on the field right now. 
Probably the worst decision coaching wise that McDaniels made was in implementing his offensive system in Denver and stoically sticking to it. It's a hole the team is still trying to dig out of, that's how serious the damage has been. However, this is the point Tebow fans better listen too, and absolutely must understand.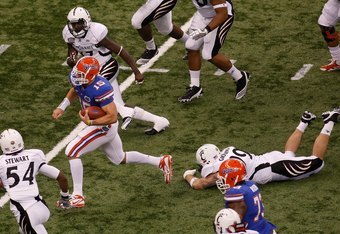 Chris Graythen/Getty Images
If you are going to draft Tim Tebow, you better (as in you have no other choice) build your offense around him. The fact that McDaniels ran the Wild Horses offense prior to ever drafting Tebow should have been Josh's clue on what to do. Simply put, McDaniels failed in implementing a solid offensive scheme and he failed Tebow in not utilizing him in the Wild Horses as a full-time starter.  Even more clearly, that was the only out McDaniels would have had to remain the coach in Denver, and he failed miserably.
This is exactly where things get hairy and begin to split. Tim Tebow fans, listen up. It's not as simple as plugging Tebow into the current system and there will be instant success. Did that happen at the end of the 2010 season? The answer is "No". It is a commitment the team and organization must choose to make and to date Tim Tebow has failed. He has failed to earn the playing time; he has failed to bring about the needed changes to insert himself into the line-up.  He has no other choice than to become a pocket passer on some level if he is going to be a success in the NFL. 
If you look at every "slash" quarterback, everyone that has been a success won because they developed as a pocket passer. Right now, this is a weakness of Tebow's, but credits him for working hard to get there. The fact that he does work hard should be an indicator that it just doesn't come over-night for a quarterback in transition. Fans must recognize that the "swamp package" is unique to Tebow and the Wild Horses offense plays off the wildcat offense.  None of those systems have been traditionally used by the Broncos franchise prior to either McDaniels or Tebow.  In fact, those sorts of offensive systems have rarely been seen or used at the NFL level, and when they have made appearances, it has usually been as a change of pace or a gadget play.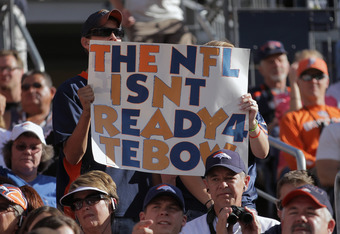 Doug Pensinger/Getty Images
So for the sake of Tebow, give the Broncos a break. Literally give the front office a break; they do realize if Tebow is inserted into the line-up, it will implicate much more than meets the eye.  It will impact the entire offense, the scheme and the personnel, how things are run, etc. If a team is not ready to do that (which the Broncos are not), it's a logistical nightmare. Moreover, Tebow has not earned the playing time yet on his own merit. 
So why go that direction at all?  It simply doesn't make sense at this juncture for the Denver Broncos. The tragedy right now is that Kyle Orton is the best chance to win, and he is a failure by game four.
So that is why the Tebow package is a significant subject for debate now because it would seem that it could possibly help the offense right now. However, there is something very important to consider here. If Tebow is only inserted during short yardage, it just tips the hand of what the Denver Broncos may be on the verge of running, which in turn makes it easier for defenses to adjust too.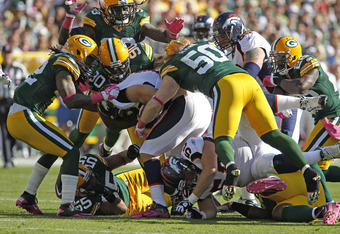 Matt Ludtke/Getty Images
If you saw the only play Tebow ran behind center in Green Bay this weekend, you know this particular point to be true. He lost yardage because the Packers knew what was coming because Tebow was in the game.
Finally, keep in mind the unconventional approach used by Josh McDaniels and Brian Xanders on landing Tebow. Also keep in mind they traded a first round pick for a second round selection in Alphonso Smith, who incidentally is no longer with the Broncos and is a backup with the Lions. 
Both Xanders and McDaniels acknowledged they were on the same page in a Denver Post interview with writer Mike Kliss dated February 23, 2010. The article was titled:  "Broncos coach McDaniels, GM Xanders on same page".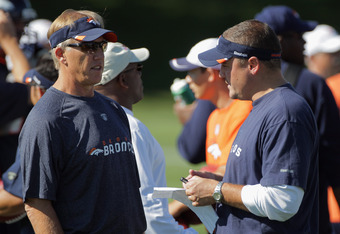 Doug Pensinger/Getty Images
Keep in mind that these quotes happened just prior to the 2010 NFL Draft. The meaning extracted from them is that both Xanders and McDaniels were on the same page after one year of drafting and personnel decisions and looking forward to what would become another failed draft.
You have to take the following quotes directly from the article to get the best meaning of how things were shaping up then.
"Call us whatever you want; we're peers in building this football team," McDaniels said of Xanders. "He is absolutely an integral part of every decision we make—and I'll emphasize 'we'—because we don't make any decisions unless we think it's right for the Broncos.
"Sometimes that means it's my idea and then I talk to Brian about some things and then we either watch tape or talk about it more, then we decide it is a good idea. Or some things are his ideas. There's plenty of ideas that I have or he has that, after conversing, there's no life to it. Nobody finds out about it because nothing happens unless the two of us think it's the best thing to do for the Broncos."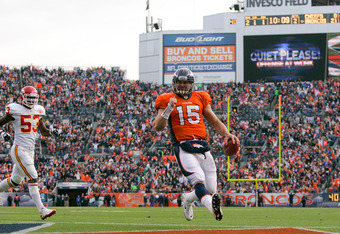 Justin Edmonds/Getty Images
"Many football people say in this league you cannot have success or build a winning program unless the general manager and the head coach are on the same page," Xanders said. "That's what we have here."
"I had actually interviewed coaches such as Mike Singletary,Rex Ryan,Ken Whisenhunt, Mike Smith, Jim Caldwell and Jason Garrett," Xanders said. "Of the 17 interviews I've been through, I was excited the most about Josh coming to Denver."
While unity should be an absolute must in front office operation, it's a hard pill to swallow now given the lack of care for the organization ultimately shown by Xanders and McDaniels. While the concept of grace is not practiced much in the business world, it was given to Brian Xanders on behalf of the Broncos ownership and John Elway. If Tim Tebow and Kyle Orton make you shake your head, this piece of the puzzle should make you shake your head even more.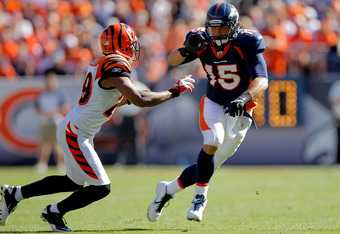 Justin Edmonds/Getty Images
The Denver Broncos organization has been given some great challenges to overcome from over a decade of neglect and foolish decision making catching up with the product on the field. At the very least, Tebow fans, and the fans of the team, must know by now that it will take time to overcome this history.
Tebow Becomes Part of the "Wild Horses" Offense: A Josh McDaniels Failure
When Tim Tebow arrived in Denver, it seemed as though Josh McDaniels had finally found his match and Tebow found an NFL franchise that would help his game grow. McDaniels failed Tebow.  If you are a fan, an NFL executive or Tim Tebow himself, you have to look in the mirror and realize McDaniels failed to make a successful transition on the offensive side of the ball.
When the Wild Horses was originally used, it confused the New England Patriots enough for McDaniels to get his fifth win as the Broncos head coach. During the 2009 season, it was sparingly used. Then Tebow came in 2010, and it appeared Josh was set in his ways in his offense, and obviously, Tim Tebow needed time to develop as the more traditional pocket passer.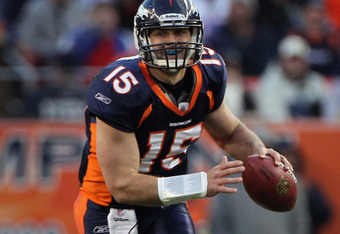 Doug Pensinger/Getty Images
Giving Tebow time to develop on the offensive side of the ball is nothing new and probably wise at the NFL level for most quarterbacks. However, McDaniels decided to take his time with Tebow and used him only in short yardage situations, which became a significant "tell" for the defenses to adjust to. That is part of why any "Tebow package" probably needs to be much more dynamic and is a significant commitment and cause for concern within the organization.
There has never been a problem quite like this one in professional football history. Tebow is unique in his own skill set. If Tebow could run at receiver, he could at least create fear in the defense. Instead, just his presence in the game has him targeted by the defense, and if there is no passing threat from Tebow, the package will not work.
So that is the quagmire. There is plenty of blame to go around, but the only thing the Broncos want and need is an every down quarterback. Tebow has not shown he's capable, and the offense has no need to make that adjustment, so the result is a Kyle Orton stalemate.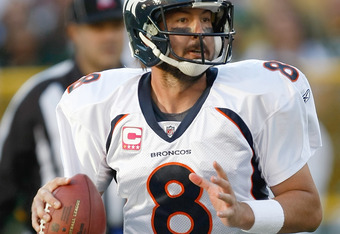 Scott Boehm/Getty Images
Tim Tebow's Statistics and His Rushing Style
With the idea of serving the best interest and to present all of the relevant statistical information on Tebow, here are the college statistics side-by-side with the pro stats. These certainly reflect Tebow's abilities as a college player and his potential as a professional. Neither give a clear cut answer on will he or won't he make in the NFL as a quarterback.



 

Passing

 

Rushing

Season

Team

GP

Rating

Att

Comp

Pct

Yds

TD

INT

Sack

Att

Yds

TD

2006

14

201.7

33

22

66.7

358

5

1

0

89

469

8

2007

13

172.5

350

234

66.9

3286

32

6

13

210

895

23

2008

14

172.4

298

192

64.4

2747

30

4

15

176

673

12

2009

14

155.6

304

213

70.1

2895

21

5

25

217

910

14

 

Totals

55

176.0

985

661

67.1

9286

88

15

53

692

2947

57
Tim Tebow (QB Record 1-2-0 with the Denver Broncos)
Career Span:  2010-present
Career Completion Percentage: 50.0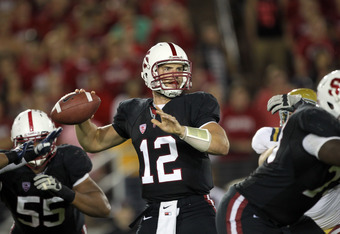 Ezra Shaw/Getty Images
Passing Yards: 654
Yards Per Game: 218.0
Yards Per Attempt: 8.0
Yards Per Completion: 16.0
Touchdown Passes: Five
Interceptions: Three
QB Passer Rating: 82.1
Rushing Attempts: 43
Rushing Yards: 277
Rush Average: 5.3
Rushing Touchdowns: Six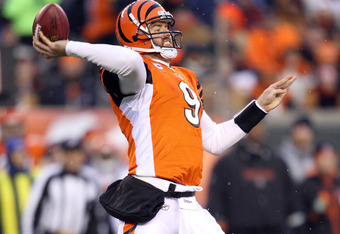 Andy Lyons/Getty Images
* Tebow lost one additional yard rushing against the Packers in yesterday's one play feature of the Tebow package.
The Impact of a "Slash" on the Offensive Scheme: The Tebow Package
Without a doubt, the "slash" concept has been used and implemented previously in the NFL; however, this situation in Denver is somewhat unique because Tebow is not a route runner yet. Additionally, he is not a fast outside receiver, which means he would most likely be best utilized as a full-time starter when he's ready and when the team is ready for him. 
Tebow's slash-ability is what makes him interesting; however, he has lacked discipline, great passing technique, a scheme and the full-time support of the organization in implementing him into the line-up.
If a coach really wants to use Tebow in the offense, he should be in there nearly every play. He should become a tight end, fullback, even a tailback if the Broncos want to better utilize his slash skills without putting him at quarterback full-time.
Other slash types have usually transitioned by playing other positions prior to playing quarterback. It's part of what made them highly affective in the long run, and it's part of what holds Tim Tebow and the Denver Broncos back now.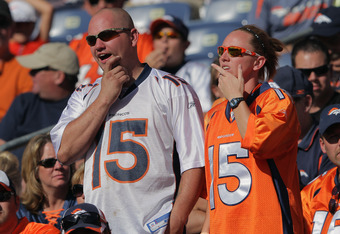 Doug Pensinger/Getty Images
The Impact on Team
Up to this point in time, the veterans on the Denver Broncos have supported Kyle Orton because of his calm and knowledge in running the offensive scheme. The biggest problem with Orton is that he is failing miserably to be the leader the Broncos need behind center. Orton telegraphs where he's going and either turns the ball over or keeps the Broncos from getting the first downs when they have to have it.
It's not an enviable position for the Broncos franchise to be in. It's a situation that is being evaluated in Dove Valley and will continue to be. The risk the Broncos run in changing quarterbacks from Orton over to Tebow is the commitment. It opens up a whole new can of worms that will bring about a whole new set of complications and challenges. Then if it fails and Tebow can't elevate the Broncos play on the field, what does the franchise have going forward and is it better off or worse off?
Undoubtedly, veterans like Champ Bailey and Brian Dawkins have put their heart and soul into getting this team back on track, but both of them want a championship, and in Dawkins' case, unless he's traded, it might not happen. Bailey wants a ring, and the current state of the team has to be a little discouraging. So do the Broncos look to help out Champ and move him to a contender somewhere down the line?
The Broncos front office doesn't call it rebuilding for good reason, because it's about being competitive every week. Obviously. there are problems, but from a competitive stand point, this team is rebuilding. It's just hard to say inside a locker room because it means their might not be any immediate hope. So the focus remains on competing each and every week. 
From the coaching perspective, this is only part of the quagmire Josh McDaniels put this franchise in. It's tough because he was trusted to elevate the franchise, not run it into the ground, which is what he did. So there has to be greater recognition and greater understanding; the Denver Broncos have issues that might even be greater than initially thought.
Final Thoughts
So where do you fall in line with the Tim Tebow issue? 
Do you think he should be inserted into the line-up? 
Should the Broncos try to work with Kyle Orton instead a little bit more, or should they trade him for anything they can get at this point?
There are some positives that remain in-house; however the quarterback situation isn't one of them right now. That is the current reality with the Denver Broncos. Much of that can be due to coaching on some level, but at the end of the day, the players must execute. That is what's so frustrating about watching Kyle play quarterback, he is good for about 75 percent of the ball game, but that other 25 percent winds up killing the Broncos. 
At this stage, Orton is almost out of bullets in his gun for the Broncos to continue putting him behind center. They eventually will get a look at Tim Tebow and Brady Quinn, but don't expect either of them to step up. Yes, Tebow has flair and fire, but he also has hesitation in the pocket, and that will cost him and the Broncos in the long run unless he improves. Quinn has all the tools; however, he has lacked confidence and that eventually translates into turnovers. 
Adam Weber does show some signs of rising up at some point, but it will be after the Broncos know with absolute certainty what direction they want to go, which could put him in a pinch.
So a faction of the fans will continue to chant "Suck for Luck," which really is dreaming and not really the essence of being a fan of a team.  The thing you can trust is that the Broncos will draft or work a trade somewhere to get a quality quarterback in Denver.
Call it crazy, but as this writer has pointed out before, Carson Palmer is still out there.  With Kyle Orton floundering, Tim Tebow being a huge commitment the Broncos might not be ready for. Quinn and Weber not being seen as quality starters at this stage and Andrew Luck not being a sure thing to land in Denver, pursuing Palmer might not be such a bad idea after all. 
More than likely, with Andy Dalton improving week by week with the Bengals, they would be open to getting some draft picks from the Broncos for their disgruntled former starter.
In researching this article, it was never the intention to end with a thought about Palmer. In fact, it was probably geared to say that Orton is the Broncos' guy for a reason; however, his play is so subpar that it requires serious action by the organization. The Broncos front office obviously has their hands full on this one. In all likelihood, there will be a methodical approach. 
They might start Orton until it becomes intolerable, and then they reach a crossroad. Do they start Quinn or Tebow?  If they start Brady Quinn, it might actually carry the team for a time and give them a better chance to win based on the state of the offensive scheme. However, if they go that route, they run the risk of losing a fraction of the fan base who want to see more of Tim Tebow. 
At some point, however, Tebow will get some playing time. However, can he prove that he deserves to be the future of the franchise? That will be the question to answer moving forward.
If none of it pans out, then don't be surprised if the Broncos get into negotiations for a guy like Carson Palmer, especially if they don't have a high enough draft pick to land a future franchise quarterback.
It's a tough road map for any NFL team to be patient on; however, the Broncos really have no choice.
If Tebow is to rise up, he must demand more out of himself. For the Broncos' part, they will be forced to step back and re-evaluate his skill set further as they seek to find if he can be the answer. 
So whether you're a die hard believer in Tebow, the Broncos, or glad to see the front office evaluating things, at least now you're a more educated fan, and yet something outstanding remains. Still, regardless of your angle or your take, you're still forced into contemplating this one.
Ask thyself of another Tim Tebow.
* All statistics compiled were researched and drawn out from NFL.com, pro-football-reference.com, and Wikipedia.com.
--
Follow Chaz's national sports feed and other linked list on Twitter!