MLB Playoffs 2011: Blame Brian Cashman When the Yankees Lose the ALDS
October 3, 2011
Chris Trotman/Getty Images
The New York Yankees lost to the Detroit Tigers in Game 2 of the American League Division Series last night in New York. 
The two teams travel to Detroit for Game 3 tonight, with the series tied at a game apiece.
Thanks to the misfortunes of weather over the weekend—as well as a pitching staff put together by Yankees General Manager Brian Cashman—the Tigers now seem to be in the driver's seat to win the ALDS and send the Yankees home early for the second time in six years. 
Detroit also beat the Yankees in the 2006 ALDS.
Game 1 on Friday night was supposed to be a matchup of two of baseball's best pitchers—Justin Verlander for Detroit and CC Sabathia for New York.
Sabathia threw two innings, gave up one run and struck out four.
Verlander threw only one inning, giving up a strange run when Derek Jeter reached base after striking out and eventually scored after Verlander loaded the bases by issuing two walks. 
Verlander never came out for the bottom of the second because the skies opened and the game was postponed, to be continued Saturday evening with different pitchers.
Sunday was supposed to be an off day for travel. Instead, in the rescheduled Game 2, Detroit threw Max Scherzer, and the Yanks countered with Freddy Garcia. Scherzer dominated. Garcia was good and somewhat unlucky. The Yankees lost.
The teams will play for the third day in a row tonight in Detroit.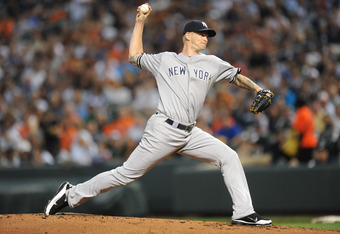 Mitchell Layton/Getty Images
Verlander and Sabathia will take the mound to resume what they could not finish Friday night, a battle between aces. 
Neither pitcher has ever faced this situation before, having prepared for their biggest game of the year only to throw fewer than 30 pitches in the game. They return on two days rest. No one can accurately predict what will happen.
The past three seasons reveal interesting statistics about these two pitchers, especially when they pitch against the team they will oppose tonight, and most particularly when they oppose each other.
In the past three years since Sabathia joined New York, the two hurlers have faced each other four times. Each pitcher has won twice in the four head-to-head matchups. They have also each thrown two other games against the team they will face tonight.
Sabathia beat Verlander on March 31 in Yankee Stadium in this season's first game.  CC went six innings, gave up two earned runs and struck out seven Tigers. Verlander went six innings, gave up three earned runs and struck out eight Yankees.
Verlander lost to New York in the Motor City on May 2.  CC lost to Detroit the next day.
In 2010 Sabathia got the better of Verlander in their only head-to-head match, by a final score of 6-2 on August 17 in Yankee Stadium.
In 2009 Verlander won on April 27 in Detroit, beating Sabathia 4-2. Verlander threw seven innings, gave up no runs and struck out nine. Sabathia threw eight innings and gave up all four runs the Tigers scored.
Overall as a Yankee, Sabathia is 3-3 against Detroit, while Verlander is 2-4 over the same three seasons against the Yankees.
The game should be great, but the slight advantage goes to Verlander.  He had a great season in 2011, whereas Sabathia was merely very good. Justin won six games more than CC. 
But one can certainly argue that the New York management misused their big left-hander by not allowing him to pitch on normal four days' rest for most of August and September.  For the entire time the Yankees experimented with a six-man rotation, CC was not the same pitcher he had been before.
But the Yankees have bigger worries than that.  Because of the rain-confused schedule, the Yankees will be forced to start AJ Burnett on Tuesday in Game 4, regardless of tonight's outcome.
The Bombers had seriously hoped to avoid starting Burnett in the ALDS.  They had announced that they would go with only three starters, using Ivan Nova and Freddy Garcia behind Sabathia.
But Burnett will now apparently start, and what will happen is anybody's guess.
Burnett started 32 games this season, averaged fewer than six innings per start, gave up more than five earned runs per start, walked more than 2.5 batters per start and struck out 5.4 hitters per start.  He led the league in wild pitches with 25.
Burnett was 11-11 for the year, but that would lead one to less-than-realistic optimism about how he will fare against the Tigers on Tuesday.
On June 1, Burnett was 6-3 and had an ERA of 3.86.
By August 26, his record was 8-11 with a ballooning ERA of 5.31.  For the last two months of the season, he averaged fewer than five innings per start and was the primary reason the Yankees went with the ridiculous six-man rotation that affected Sabathia so adversely.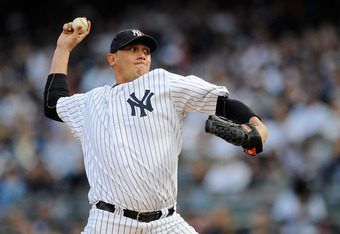 Patrick McDermott/Getty Images
Since becoming a Yankee in 2009, Burnett has pitched three times against Detroit.  He has one win, one loss and one no decision.  Not much help in prognostication there.
The fact that the Yankees postseason rotation is CC Sabathia and a guessing game is Brian Cashman's fault and no one else's. 
Ivan Nova has been very, very good all year and great since he came back from the minor leagues on July 30.  But he is a rookie, not exactly the choice to be your No. 2 starter in the playoffs.
After Nova, the Yanks have a retread in Freddy Garcia, who was given a non-roster invitation to Spring Training.
If the Yankees had signed Cliff Lee, either before the trade deadline in 2010 or during the offseason, Garcia would not be on the staff.
If Cashman had traded for Zack Greinke, Garcia would not be on the staff.
If Cashman had done anything this year at the trade deadline, the Yankees might have better pitching in the postseason.
But when your staff is CC Sabathia, facing the best pitcher in the American League in 2011, followed by a rookie, a retread and a mental case, you have only to look at the general manager to explain why the Yankees have little chance of winning the ALDS.