Cincinnati Bengals vs. Buffalo Bills: A True Fairy Tale
October 3, 2011
Andy Lyons/Getty Images
Once upon a time, in a land far, far away—named Cincinnati—lived a young boy named Red.
Red had just moved to Cincinnati after attending school in Texas.  During his stay in Texas, Red would often meet up with an intoxicating beauty named Victoria.  In fact, they had met up 42 times during his time there.
He was always sad on those rare days when they didn't get to meet. 
Red and Victoria were only able to get together once since his move to Cincinnati, and he was desperate to see her this past weekend.  However, Red received some terrible news. 
A rogue talking buffalo named William the Undefeated had taken Victoria hostage and claimed her as his own.
This infuriated Red, and he set out on a quest to snatch Victoria away from William the Undefeated.
His friends told him to not even try.  William the Undefeated was too tough of an opponent.  He had already conquered Tommy the Triumphant, Darren the Dominant and Matthew the Marginally Adequate.
Red was certainly afraid as he started out on his journey, but he had to have Victoria as his own and wouldn't let anything get in his way.
Unfortunately, one thing I forgot to mention is that Red is a bit clumsy and his journey did not begin very well.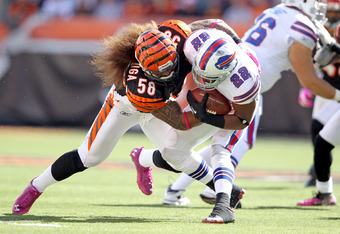 Andy Lyons/Getty Images
You see, Red was very young and inexperienced in this form of battle.  He had battled a bit in school, but William the Undefeated was unlike anything he had ever faced before.
As soon as Red reached the battlefield, the more experienced William the Undefeated pounced on him. 
Red would get up to throw a punch, and William the Undefeated would intercept his punch before it could get to its intended target.  Sometimes Red would throw a punch and completely miss the angry buffalo.  Red was becoming an embarrassment to the city of Cincinnati, where residents began to clamor for Carson the Quitter to rescue Victoria instead.
But then something amazing happened.
Red learned from his early mistakes and began to deliver one vicious blow after another, hitting William the Undefeated squarely in the jaw.
Other residents of Cincinnati joined in the battle as well.  People like Jermaine the Beastly and A.J. the Wunderkind helped to immobilize their opponent while Red delivered punishing blows.
Finally, Red held the beast down, with his foot planted squarely on its neck, when Mikey the Leg appeared out of nowhere and used his powerful foot to crush the skull of William the Undefeated.
Victoria was Red's again, and the city of Cincinnati rejoiced. 
William the Undefeated was dead, and everyone lived happily ever after…
Well, until the following week when they were both swallowed whole by a Jaguar.
Who Dey!