NLDS Game 2: St. Louis Cardinals vs. Philadelphia Phillies Live Blog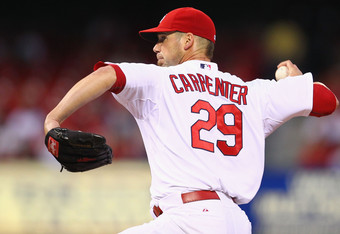 Dilip Vishwanat/Getty Images
Updated Score: Cardinals 5, Phillies 4 FINAL
Good evening, fellow baseball fanatics.
It's a great day to love sports. We had some fantastic football earlier today—including a win from my beloved Bengals—along with an almost historic comeback for the Yankees, and a battle in Milwaukee between the Brewers and Diamondbacks.
Tonight we're going to be following along live as Chris Carpenter and Cliff Lee square off in an epic pitching matchup. Both pitchers are among the top 5-10 in the National League, and I fully expect this to be a low scoring, quick paced, pitcher's duel.
Here's what I need from you:
PARTICIPATE! (Note that I boldfaced, underlined and italicized that word.)
I don't want to talk to myself all night, so leave comments below and I'll answer in them the blog.
Here are some key questions to get us started...
Where will Albert Pujols sign in the offseason?
How much money will he make?
Who is going to win the World Series?
On a scale of 1-10, how hot is Erin Andrews?
What is your favorite episode of The Office?
Settle in, grab some pretzels, a few alcoholic beverages, and let's watch some great baseball.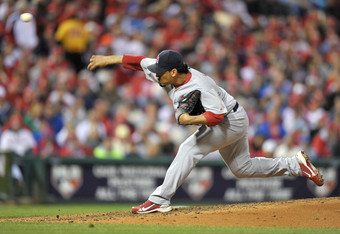 Final thoughts:
I can't underscore enough how big of a win this was for St. Louis. They had to win a game in Philadelphia to really have a shot at stealing this series. Now they only have to win one game at home to force a five game series. Anything can happen in an elimination game, and the Cardinals have put themselves in a great situation to get to Game 5.
The Cardinals bullpen gets a collective Game MVP vote from me. Fernando Salas in particular was very good, but the entire bullpen shut down the Phillies after Carpenter struggled early.
This was built up as two former Cy Young Award winners battling it out in a pitcher's duel, but it turned into a very different game.
Shane Victorino was the LVP for me - Least Valuable Player - since he went 0-4 and only saw 10 pitches in 4 at bats. Tough game for Victorino
Tuesday it's going to be Hamels vs Garcia at 5:07 on TBS. Expect a rowdy St. Louis crowd.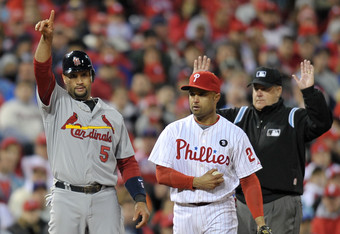 Game Over! Cardinals win 5-4 and the series is tied at 1-1!
Ruiz grounded out weakly to second. Crucial performance out of the Cardinals bullpen and great comeback by the Cardinals.
Polanco flys out lightly to left field. Carlos Ruiz to the plate with 2 outs in the bottom of the night. Phils last chance here.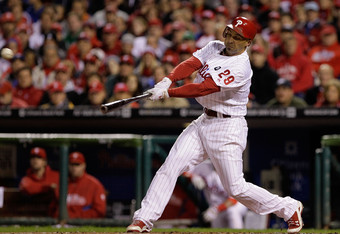 Ibanez strikes out. One out with Polanco at the plate.
Great stat by the TBS crew:
St. Louis bullpen 5 IP 5 K's 0 ER.
Fernando Salas was the star to me. He changed the game when he started shutting the Phillies down.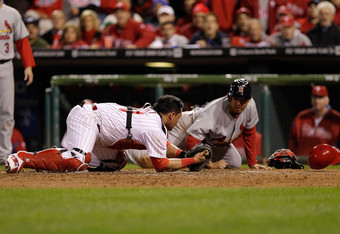 Strike three on Chambers!
Ibanez, Polanco, Ruiz due up in the bottom of the ninth.
My pick is Ruiz. He's been involved in some big plays tonight. He's definitely keyed in to this one.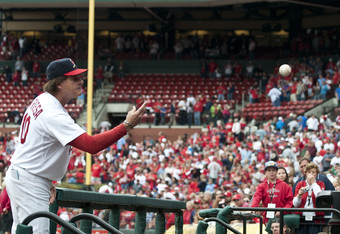 La Russa's agressive mindset gets him trouble.
Just had a strike 'em out, throw 'em double play to kill the rally.
The youngster Chambers is up with 2 outs.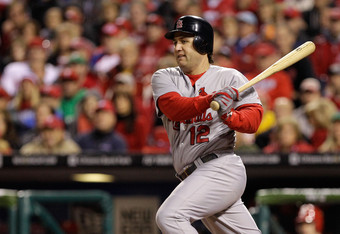 Broken bat single by Pujols and the Cardinals have a runner on base.
Berkman to the plate.
Ryan Madson vs. Albert Pujols to start the inning.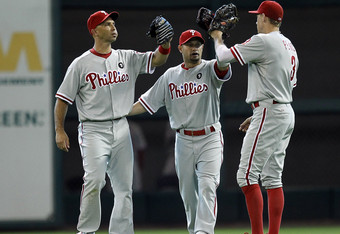 Motte gets Victorino to fly out to exactly where Jon Jay was standing and we're headed to the top of the ninth.
Three defensive outs away from tied series going to St. Louis.
Arthur Rhodes strikes out Howard! Huge sequence for the Cardinals.
And, here comes Tony La Rusa again.
Jason Mott out of the pen.
La Rusa is the master of the pitching change. He does this against the Reds whenever they get a rally going. It completely breaks up any sort of momentum. It's a great tactic for road games since it takes the fans out of the games. They can't stay pumped for that long.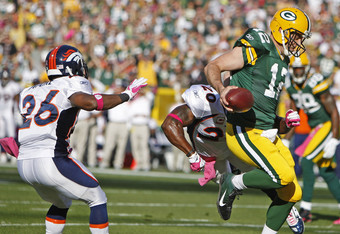 My condolences to your fantasy football team if you played Aaron Rodgers this week. Six touchdowns and 400 yards! Jeez.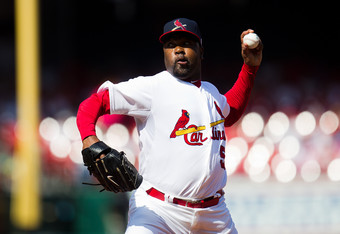 The Riot gets taken out by Utley at second base to break up a possible double play.
Another pitching change.
Arthur Rhodes coming in, Ryan Howard coming up.
This will be a great match-up.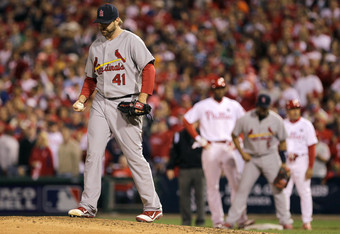 Mitchell Boggs is in for the Cardinals. You know, because that worked out so well last night...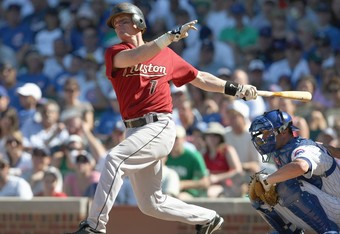 Utley gets "hit" by a pitch. That was a Craig Biggio play if I've ever seen one. He completely bent in towards the ball.
Runner on first and The Gypsy is moving on -- pitching change...
Utley, Pence, and Howard against The Gypsy.
Trajectory of The Gypsy's pitches seems to tough for a lefty to hit. I don't like Utley's chances.
Commercials for Nasal Ease, something called ACT, and the dvd of Bridesmaids.
I think TBS has entered the we-have-to-get-these-promos-in-at-some-point mode.
Craig knocks it to the warning track, but it's caught.
5-4 ballgame. Phillies coming to bat in the eighth.
Cardinals have the meat of their lineup due up in the ninth, so if the Phillies are able to squeak a run across then the Cardinals should have a chance to answer right away.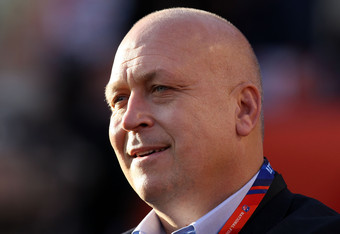 The Ripken, Eckersley, Wells combo has been downright painful.
I think the rain delay on Friday was the worst case scenario for TBS. They had to somehow fill 45 minutes with those three.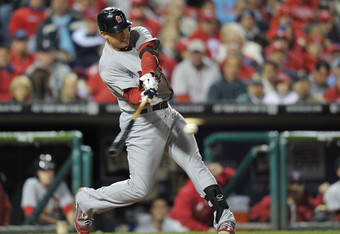 Furcal strikes out swinging at a pitch near the dirt. Two outs and Manual is coming out to get Bastardo.
Vance Worley is coming to pitch to Craig.
Craig really hammered one in his last at bat...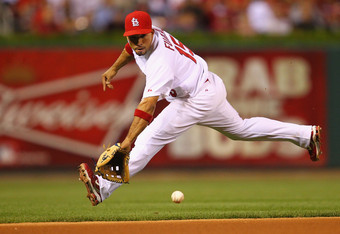 La Rusa plays small ball by bunting Jon Jay over to second with one out.
Rafael Furcal to the plate with a runner in scoring position.
Bastardo walks Jon Jay and light hitting Daniel Descalso steps to the plate.
Descalso is one of the worst hitting position players in the postseason. See article below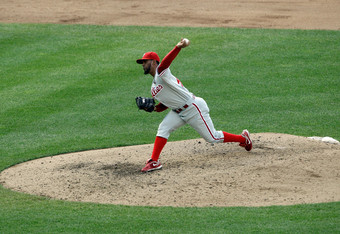 Antonio Bastardo in for the Phillies. I guess he's a masculine bastard?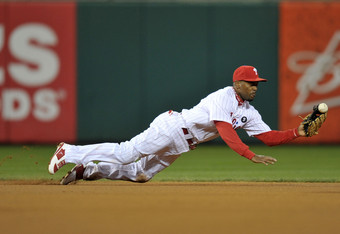 The Gypsy picked off Jimmy Rollins! Bad timing for a base running blunder out of Rollins who took off running for second before The Gypsy had delivered the ball to the plate.
We're headed to the eighth with the Cardinals six defensive outs away from tying the series up at 1-1.
Really great article here by Matt Trueblood on managers needing to lie more. I dig it.
This article is
What is the duplicate article?
Why is this article offensive?
Where is this article plagiarized from?
Why is this article poorly edited?

Philadelphia Phillies: Like this team?