Pittsburgh Steelers: Positional Grade Report for the Loss against Houston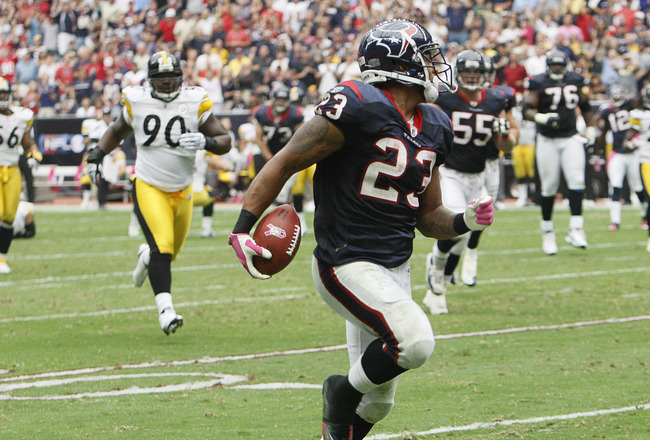 Bob Levey/Getty Images
The standard is the standard.
The company line set forth by Mike Tomlin was in full force on Sunday when the Steelers entered their game against the Houston Texans without two starting offensive linemen.
For that offensive line, the standard is not excellent, but rather ineptitude. Not only did they meet the standard, they exceeded it.
Ben Roethlisberger was under distress the entire game, especially on the Steelers final two drives, when they needed the line to be at its best.
Instead, they failed, and the Steelers fell to 2-2 in a game that they easily could have won despite being dominated for virtually the entire first half.
Pittsburgh has a lot of talent on its roster, but most of that talent is underachieving which is reflected in this week's report card.
Quarterback: B-
Thomas B. Shea/Getty Images
To be fair, Roethlisberger had no time to throw and nearly had his leg broken in half for a second time this year.
He managed to stay in the game after getting hit in his lower leg on what would have been an interception throw and did his best to get the Steelers back into the game.
It was not enough as the Roethlisberger completed only 16-of-30 passes for 206 yards and an interception.
Roethlisberger lost yet another fumble when he scrambled outside of his protection, but it was wiped out by a penalty.
Season GPA: 2.08
Running Backs: C-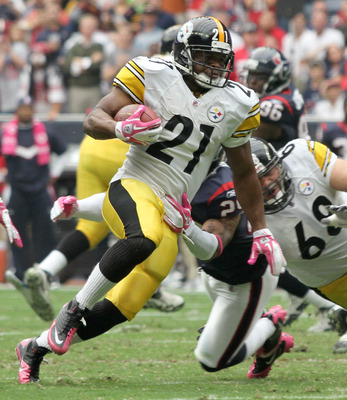 Thomas B. Shea/Getty Images
Rashard Mendenhall left the game early with an injured hamstring, but it did not matter.
Mendenhall was ineffective with only 25 yards on nine carries, though he did have one score.
Once again, Mendenhall was tentative to the line and danced around rather than hit the limited holes that he had.
Isaac Redman and Mewelde Moore both provided a boost in the second half.
Redman carried the ball six times for 40 yards including an 18-yard run but did come up short on a critical 3rd-and-2 in part because of the lack of push in front of him.
Moore ran the ball four times for 34 yards and continues to be effective in his reserve role.
Both Redman and Moore should have a more integral part of running the ball if Mendenhall is not fully up to the task.
Season GPA: 1.55
Wide Receivers: A-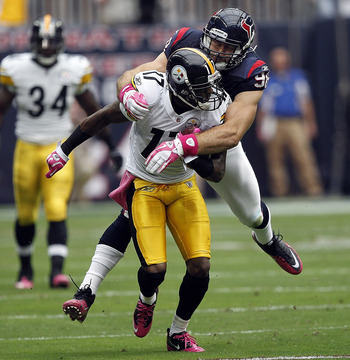 Bob Levey/Getty Images
Mike Wallace's streak of 100-yard receiving games came to an end at six, but he played well with 77 yards on four receptions.
Antonio Brown also stepped up in a big way catching five passes for 67 yards. He continues to play ahead of Emmanuel Sanders, who had one reception.
Brown did miss a couple of hot reads, though, which hurt. Hines Ward did not have his greatest game either catching only one of his four targeted passes.
Jericho Cotchery suited up for the first time and was a non-factor in the offense.
Season GPA: 2.69
Tight Ends: C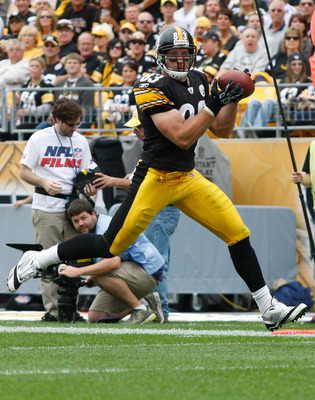 Jared Wickerham/Getty Images
Heath Miller had three catches for 15 yards and struggled at times blocking on what was an overall quiet day.
On one reception, he came up one yard short of a first down, which is out of the norm for Miller.
Johnson did not turn on one pass from Roethlisberger but did have one reception.
Like Miller, Johnson also did not have his best day in pass protection nor while lined up at fullback. Then again, the Texans were sending a lot of pressure.
Season GPA: 2.60
Offensive Line: F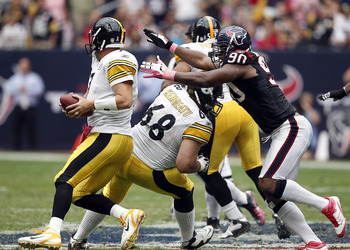 Bob Levey/Getty Images
With Jonathan Scott and Doug Legursky out, the Steelers had to play two more backups on the line.
Trai Essex took over for Scott and struggled for most of the day, getting beat several times. He did not have the quickness for Houston's speed on the outside.
Ramon Foster played much better in place of Legurksy.
Marcus Gilbert had a decent day but did allow a late sack. However, he and Foster played much better than the left side of the line on the day.
Chris Kemoeatu got abused for a sack and along with Essex, got virtually no push for the ground game.
Even Maurkice Pouncey struggled. He allowed a sack and had a personal foul and a holding penalty. The personal foul near the end of the first half may have cost the Steelers points as they would later have their field goal attempt blocked.
Season GPA: 0.75
Defensive Line: D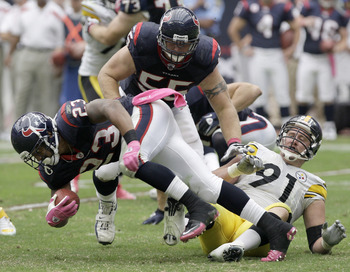 Thomas B. Shea/Getty Images
With Brett Keisel out, the Steelers were left with an aging Aaron Smith and Ziggy Hood starting.
Hood struggled against the run as did Smith.
Both Smith and Casey Hampton got pushed around once again as Arian Foster gashed the Steelers for 155 yards, including a 42-yard touchdown run.
As a team, the Texans averaged 5.1 yards per carry and gained 180 yards.
Cameron Heyward did get in some, but was a non-factor as well.
The defense did pick it up late in the game, but it was too little too late. The lack of run defense does not allow Pittsburgh to play defense the way we expect them to.
Season GPA: 1.50
Linebackers: D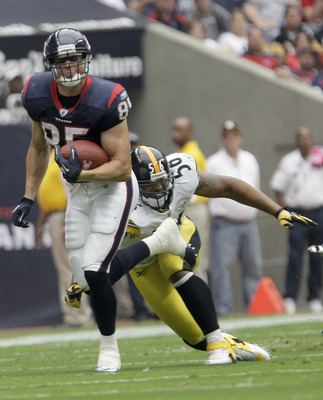 Thomas B. Shea/Getty Images
James Harrison left and then returned to the game after suffering an eye injury, and his replacement Jason Worilds also was injured in the loss.
It did not matter. Injuries or not, the linebackers were missing in action once again.
LaMarr Woodley took bad angles in containment in the run game and only pressured Matt Schaub once.
Harrison had no standout plays, and Lawrence Timmons was nearly invisible as well.
James Farrior was not invisiblejust not in a good way. He was continually beat and missed tackles.
As a whole, the linebackers were unable to cover Owen Daniels, who had five receptions.
Season GPA: 1.38
Defensive Backs: A-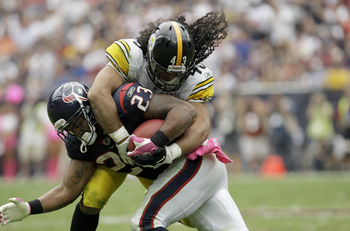 Thomas B. Shea/Getty Images
The defensive backs were once again a strength of the defense, which is not good.
Troy Polamalu played very well and was the only defender to truly show up and make plays.
He had a game-high nine tackles.
Ike Taylor limited Andre Johnson before Johnson left with an injury, and William Gay's name was not mentioned at all.
Keenan Lewis had a big pass breakup late in the fourth quarter on a crucial third down for the Texans.
Schaub only had 138 yards passing, with 69 of those yards going to Daniels.
Season GPA: 2.43
Special Teams: B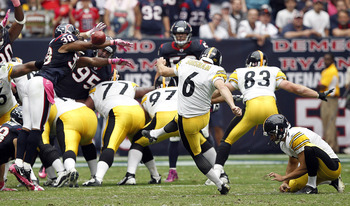 Bob Levey/Getty Images
Daniel Sepulveda had a huge day, averaging 50.5 yards per punt on four punts.
The kick return game averaged over 20 yards per return while the special teams allowed only 17 yards per return by the Texans.
Brown had a huge 33-yard return to set the Steelers up with great field position in the fourth quarter while trailing by a touchdown.
The major knock on special teams was a potential game-changing play when Danieal Manning blocked a Shaun Suisham field goal attempt.
Instead of a 10-3 halftime edge, the Texans shut out the Steelers. If not for a dumb block in the back penalty by Manning, Jonathan Joseph would have scored a touchdown on the play.
Season GPA: 1.88
Coaching: F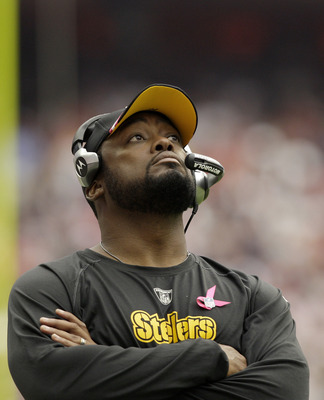 Thomas B. Shea/Getty Images
Houston opened with game with an absurd 19-play, 95-yard drive which consumed 10:55 of the clock.

They did whatever they wanted with little resistance. The Steelers did close the gap as the game progressed; the slow start set the tone.
Pittsburgh's defense once again failed to stop the run and did not sack Schaub once.
Offensively, Roethlisberger was left scrambling for his life with limited short passes despite the struggling offensive line.
Mike Tomlin and Bruce Arians need to reformulate the offensive game plan to counter their weakness along the offensive line while Dick LeBeau needs to inject some youth into the defense and figure out a way to stop the run.
Pittsburgh used two early timeouts in the fourth quarter as well. This came back to hurt them later in the game. That falls directly on the coaching.
The coaching staff also decided to dress five receivers, yet we did not see any five receiver sets, nor any no huddle offense.
It seemed like another week of the lack of adjustments as a hole and an overall stubbornness to not admit that there are some severely lacking areas on this roster right now.
Season GPA: 1.24
Study Up: What Must Improve
Al Bello/Getty Images
The run defense is still struggling, and the offensive line is awful.
It is clear that something has to be done to fix the offensive line. There are no pure solutions out in free agency, but you have to think that they should at least look into Flozell Adams and Max Starks.
If the line is not fixed, Roethlisberger may not make it through the season. He was beat up yet again today and continued shots to the lower leg could eventually have a disastrous result.
Follow me on Twitter @ChrisG_FC
Keep Reading

Pittsburgh Steelers: Like this team?