NFL Scores Week 4: Which Results Were Most Significant?
October 2, 2011
Tom Pennington/Getty Images
Detroit Comes Back Against Dallas

Clearly, the biggest result of the early round of games was the incredible comeback, for a second week in a row, by the Detroit Lions, who can now be considered perhaps the best team in the NFL.
The Lions overcame a 24-point deficit early in the third quarter to defeat the Dallas Cowboys 34-30 and push their record to 4-0 for the first time in almost 30 years.
Equally stunning was the utter collapse of the Dallas Cowboys, which, in the span of just one week, will be back to questioning the ability of quarterback Tony Romo in the clutch. 
Cincinnati Knocks Buffalo From Unbeaten

Andy Dalton and A.J. Green made waves by keeping their team in contention against the undefeated Buffalo Bills. Perhaps more surprising was how the Bengals defense limited the red-hot Ryan Fitzpatrick and the Bills offense.
The Bills will be struggling to find answers after this loss, and might be in jeopardy of turning their season in completely the wrong direction.
Philadelphia Squanders Chance Against San Francisco

The Eagles had built up a 20-point lead against the 49ers only to watch it slip way. Michael Vick tried to silence critics and play through an injury, but it just wasn't enough to keep the season from slipping away in Philadelphia.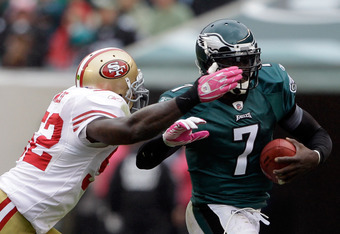 Rob Carr/Getty Images
The Eagles now find themselves two games out of the division lead because...
Washington Hangs On Against St. Louis

There's nothing too spectacular to mention here except for the fact that the Redskins took advantage of losses by Dallas and Philadelphia to claim the top spot in the NFC East.
Houston Joins AFC Elite With Victory over Pittsburgh

The Houston Texans took advantage of a broken down Pittsburgh Steelers team and continued to stake their claim as a legitimate AFC playoff contender.
Even without the services of Andre Johnson for most of the game, the Texans got an impressive performance from Arian Foster at just the right time to push their record to 3-1. They needed this victory with Oakland, Baltimore and Tennessee coming up on their schedule.