CC Sabathia, Justin Verlander and Matt Moore: Why MLB Managers Need to Lie More
October 2, 2011
Patrick McDermott/Getty Images
CC Sabathia and Justin Verlander will start Game 3 of the American League Division Series Monday, according to ESPN.com and others. The New York Yankees and Detroit Tigers have been firm and clear on those points, despite persistent media speculation that one or both of the ace hurlers might be able to bounce back after severely truncated starts in Friday's suspended partial game.
Again, there is no confusion here. Both Sabathia and Verlander will be held for Monday night's game in Detroit, and thus will have two full days of rest after their false starts before they appear again. That's fine, if it's the choice of the respective teams, though it's likely the wrong decision for both. 
Here is the truly bizarre thing, though: Neither team bothered to create confusion. Neither team tried to obfuscate, misdirect or otherwise mess with their opponent. Both the Tigers and Yankees were open and honest about their intentions all along.
Why? What compels them? In a world ruled by game theory and strategic manipulation, a game wherein preparation is paramount, why surrender the informational advantage? No official rule provides a mandate on this issue. No team need reveal their starting pitcher until their manager fills out his lineup card, two hours or so before game time.
That provides a chance to commit critical and brilliant deceit. For instance, say the Tigers were to prepare Verlander to pitch Sunday. The advantages to doing so are self-evident:
Down 1-0, the Tigers cannot afford to fall farther behind. Verlander gives them the best chance to win, and a win would constitute a crucial change in the win probability of the series. 
By pitching him Sunday, Detroit would set up Verlander to return (if needed) in either a starting or a relief role in a possible Game 5, which would be played Thursday. That would give him three days' rest, hardly ideal, but far from Bob Gibson territory.
Max Scherzer, Rick Porcello and Doug Fister are all better fits to pitch at home in Detroit against New York than at homer-friendly Yankee Stadium. Verlander would pitch at the Stadium both in Game 2 and in Game 5 if the Tigers sent him to the mound Sunday.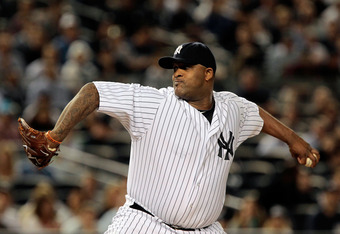 Chris Trotman/Getty Images
Of course, if the Tigers were to announce their intent to make that move, the Yankees would respond in a few ways themselves:
Manager Joe Girardi would be much more likely to call back Sabathia on Sunday, as well, partially negating the advantage Verlander would give Detroit in game 2.
Yankees hitters would study tape and charts of Verlander's recent performances; consider his trends and tendencies; and generally prepare to face Verlander the next day.
This, whether anyone will admit it or not, is the biggest reason that the Tigers did not reset Verlander for Sunday. It would become a morass, a non-factor that would serve solely to put their ace pitcher at risk.
But what if Detroit kept their decision under wraps? What if Verlander prepared for his start in secret? It's not as though he would need extended side work in advance; he was ready for a full start but 48 hours before Sunday's game, and threw only 25 pitches. The Tigers could help him get ready for his start without making it obvious to anyone that that was happening. In that case:
Sabathia would be left in the stable, not only allowing the Tigers their edge in Game 2 but eliminating any chance of seeing Sabathia again in Game 5. That's a huge marginal advantage.
The Yankees would not know of Verlander's impending start until (at least) mid-morning Sunday, and until then, they would have been laboriously preparing to face Max Scherzer. Verlander is a pitcher against whom one must be aggressive; Scherzer should be worked for walks and to inflate his very inflationary pitch counts. That advantage may be quite small, but it exists, especially because Sunday's will be a day game.
Perhaps the unwritten rules of baseball prohibit such gamesmanship. Perhaps teams so believe in their own ability to use information to their advantage that they do not want to live in a world where it becomes less available.
It's even plausible that they simply feel uncomfortable lying to the media and/or their fellow baseball people. In any case, the solution is simple: Managers and front-office execs need to get over those petty apprehensions and start exploiting available advantage.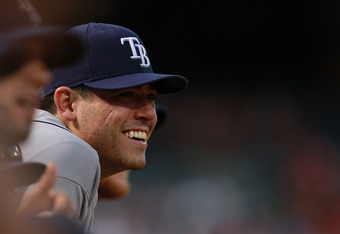 Ronald Martinez/Getty Images
Mad Joe Maddon and Matt Moore Show the Way
Lest this charade sound unfeasible or far-fetched, consider the case of Joe Maddon's Tampa Bay Rays. Maddon is more creative, less abashed and less institutionalized than any other manager in MLB, and he demonstrated it with the announcement of his Game 1 starter in the other ALDS.
Multiple media outlets had Jeff Niemann starting Game 1 for Tampa Bay. That was the word Thursday morning, after the thrilling finish Wednesday night that sent the Rays to the postseason. That was the word in the afternoon, and with even more certitude, though Maddon outwardly said he had not yet decided.
It was past 9:00 local time in Texas when Moore was named the starter for a game some 19 hours later. It was far from a masterful or manipulative move, but it bought Tampa time, and seemed to affect the Rangers. A much smaller advantage was at stake, because Texas's rotation was set in stone, but still, Maddon went out of his way to at least create uncertainty.
That no other manager in baseball considers an advantage 10 times larger worth a bit of gamesmanship demonstrates that too few managers in the modern game know how to adjust their tactics and thought processes when October arrives.