2011 MLB Postseason: Robinson Cano and the 15 Hitters Every Pitcher Fears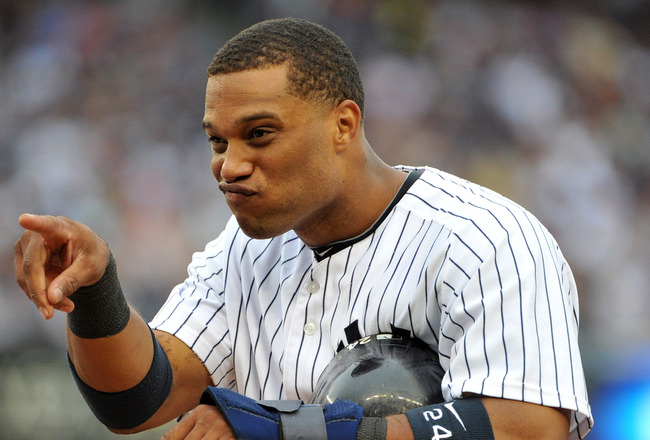 Christopher Pasatieri/Getty Images
In a season in which the majority of the considerable attention given to the Yankees has been focused on Curtis Granderson's MVP candidacy and Derek Jeter's 3000 hits and resurgence, Robinson Cano managed to stay a bit under the radar, despite hitting 28 home runs and batting .302.
Because he's followed in the lineup by Alex Rodriguez and Mark Teixeira, Cano gets his fair share of pitches to hit. That all changed when Cano hit a grand slam in Saturday's continuation of Game 1, busting the game wide open for the Yankees. Every pitcher who faces Cano this season will have to consider whether they want to risk throwing him a pitch to hit and repeating the fate of Al Alburquerque.
Here we take a look at 15 other hitters who pitchers cannot throw a bad pitch to this postseason without thinking twice, either due to past performance in the postseason or recent performance in the batter's box.
Albert Pujols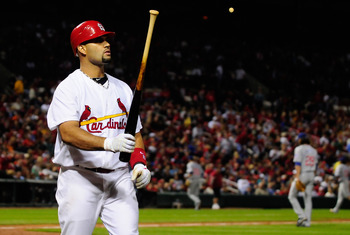 Jeff Curry/Getty Images
No matter what the circumstances, pitchers always think twice about pitching to Albert Pujols. In his 12 postseason series' prior to 2011, Pujols has been just as unstoppable as he has been during the regular season, hitting for a lifetime .322 average with 13 home runs in 199 at bats, and an OPS of 1.009.
As if this wasn't enough to instill fear in the hearts of pitchers, Pujols has been on fire lately, having batted .355 with 5 home runs and 20 RBIs in the last month of the regular season.
Pujols, one of the best hitters the game has ever seen, will be feared by every pitcher who faces him in the 2011 postseason.
Lance Berkman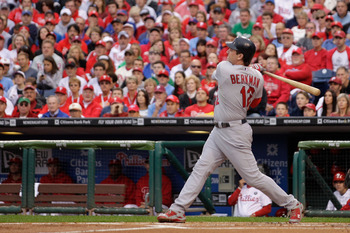 Rob Carr/Getty Images
Lance Berkman quickly proved why he should be feared by pitchers in the postseason, hitting a three-run home run off Roy Halladay in Game 1. Berkman rides a wave of momentum into the postseason, having hit .374 with a .941 OPS in the final month of the season.
Berkman has excelled in past postseasons, batting a career .320 with 7 home runs in 122 at bats with a 1.001 OPS in postseason play. If Berkman can hit a home run in his first at bat against Doc Halladay in this postseason, no pitcher is safe.
Yadier Molina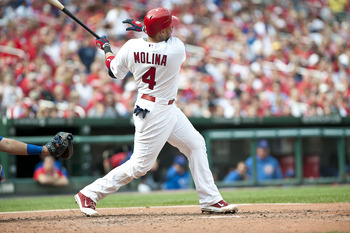 Ed Szczepanski/Getty Images
The name Yadier Molina doesn't strike fear into pitchers the way that the names of teammates Albert Pujols and Lance Berkman do, but pitchers ignore him this postseason at their own peril. Molina is a career .315 postseason hitter and he is coming off an outstanding second-half of the regular season. He hit .311 in July, .342 in August, and .341 in September, and hit 10 home runs in those three months.
If pitchers allow themselves to relax after facing Pujols and Berkman, Yadier Molina could make them pay.
Justin Upton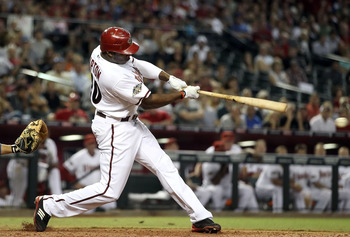 Christian Petersen/Getty Images
Justin Upton is the star of the Diamondbacks so naturally pitchers will focus their game plan around him. Upton's batting average has dipped a bit recently, but his power has remained present as he hit 5 home runs in 79 at-bats in September.
In Upton's sole previous postseason appearance during his rookie year in 2007, he batted .357 with a slugging percentage of .571 and an OPS of 1.098. If Upton can similarly come alive during this postseason, pitchers will take their chances with the rest of the D-Backs lineup.
Ryan Howard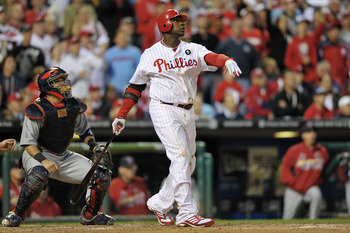 Drew Hallowell/Getty Images
Ryan Howard has struggled a bit with his contact this season, batting only .253, but he remained a feared power hitter, smacking 33 home runs. Howard showed improvement in September, batting .290 with a .417 on-base percentage and 4 home runs in 69 at bats.
Howard was critical to the Phillies Game 1 win over St. Louis, driving in four runs, three coming off a home run off of starting pitcher, Kyle Lohse. Howard's power makes him a constant threat, and if his teammates continue to get on-base at the pace they established in Game 1, he will have plenty of opportunities to make pitchers pay.
Hunter Pence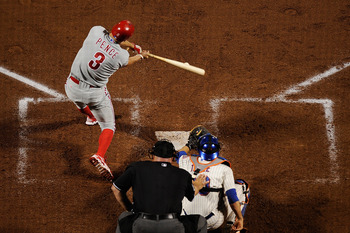 Patrick McDermott/Getty Images
Hunter Pence makes his career postseason debut in 2011 and he is off to a strong start with two RBIs and two runs scored in Game 1.
Pence had a strong finish to the regular season, hitting .340 with a 1.009 OPS in August, and .317 with a .933 OPS in September. In the final two months, he hit 11 home runs in 198 at bats. Batting in front of Ryan Howard should get him plenty of good pitches to hit, but he is possibly even more dangerous than his teammate this postseason.
Prince Fielder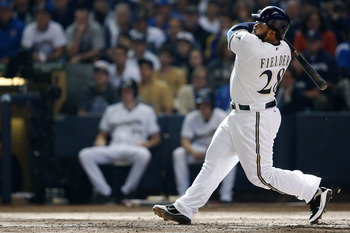 Jared Wickerham/Getty Images
It didn't take long for Prince Fielder to erase memories of his disappointing 2008 postseason, hitting a two-run home run in Game 1 against Arizona.
Fielder comes into the postseason following one of his best months of the regular season. In September, he hit .330 with an amazing 9 home runs in 88 at bats and a 1.163 OPS. Prince has never looked better than how he's looked recently, and he's one of the two or three batters every pitcher will fear most in this postseason.
Ryan Braun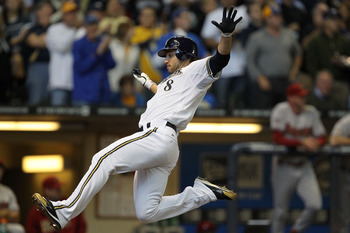 Jonathan Daniel/Getty Images
Ryan Braun went three for four in his 2011 postseason debut, continuing the amazing performance he exhibited in the second half of the regular season. Braun hit .340, .328, .369, and .330 respectively in the final four months of the season, and hit eight home runs in 100 at bats in September.
Because he is followed by Prince Fielder in the lineup, pitchers would be foolish to avoid pitching to him. But Braun has been every bit as dangerous as Fielder lately, and preceding Fielder should give him plenty of opportunities to produce.
Josh Hamilton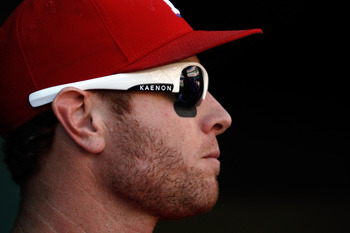 Tom Pennington/Getty Images
Though his performance in the 2011 season didn't match his 2010 output, Josh Hamilton was still the star of the Rangers lineup. Hamilton is three for six thus far in the first two games against the Rays.
Last year Hamilton struggled in the World Series, but the Yankees are still licking their wounds from a .350, 4 home run performance by Hamilton in the ALCS. If the Rangers and Yankees advance to face each other in this year's ALCS, the Yankees pitching staff will think twice before giving Hamilton anything to hit.
Adrian Beltre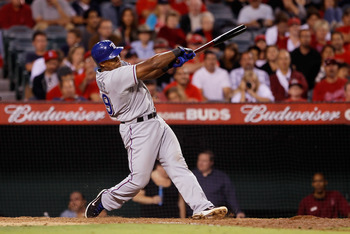 Jeff Gross/Getty Images
Adrian Beltre returns to the playoffs for the first time since the Dodger's 2004 NLDS appearance, and he is coming off of his highest home run total since that season. Beltre hit .358 and .374 in the final two months of the season, blasting 18 home runs in that two month span. Beltre is just one of many bats in the Rangers' lineup capable of going yard. Along with Josh Hamilton, he is the only Ranger who also hit for a high average this season.
Ian Kinsler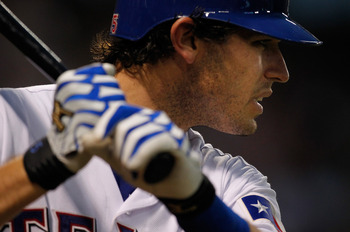 Tom Pennington/Getty Images
Ian Kinsler's production fell off dramatically in 2010 following his excellent 2009 season. His 2011 season was solid, if unspectacular, until a massive performance in the season's final month. Kinsler batted .330 with 11 home runs and a 1.132 OPS in September.
Kinsler has yet to collect a hit in the first two games of the postseason, but pitchers still fear his power.
Miguel Cabrera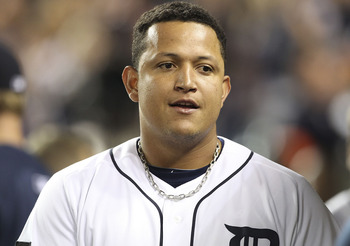 Leon Halip/Getty Images
It has been eight years since Miguel Cabrera's sole postseason appearance during his rookie season. He enters the 2011 postseason after a dominating regular season in which he hit .344 with 30 home runs and a 1.033 OPS, including a September in which he hit .429 with 6 home runs and a 1.290 OPS.
No one in the game is hitting the ball better than Cabrera right now, and the Tigers will rely on him to propel them past the Yankees.
Evan Longoria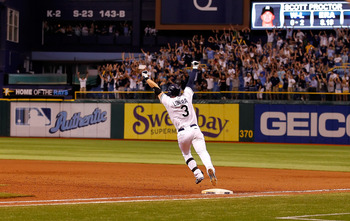 J. Meric/Getty Images
There's not much that hasn't been said about Evan Longoria since his playoff-clinching home run against the Yankees last week. Longoria hit 17 home runs in the last two months of the season, and has hit his stride at the perfect time to lead the Rays through the playoffs. The Rays are a well-rounded team that does not rely on any one player, but Evan Longoria is still the most important hitter in their offense.
Longoria's recent history with late-inning dramatics will give a cold sweat to every pitcher who faces him in a critical situation.
Mark Teixeira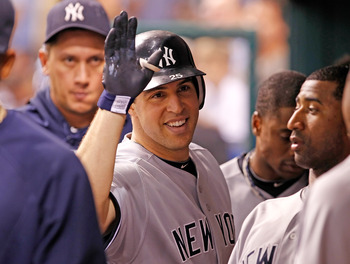 J. Meric/Getty Images
Mark Teixeira was held hitless in 14 at-bats in his last playoff series, last year's ALCS against Texas, but he's coming off of a strong season in which he hit 39 home runs. Teixeira went 1 for 3 with a double in Game 1, and he remains a constant threat to hit a home run at any time.
Curtis Granderson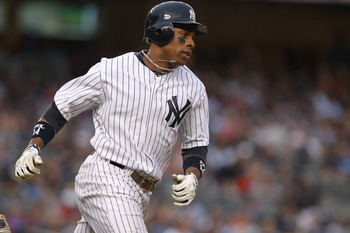 Nick Laham/Getty Images
Curtis Granderson's 2011 season was the best of his career by a mile and he has a great chance to be named the league's MVP. His 41 home runs led a home-run-happy 2011 Yankees squad, though he's been in a bit of a slump the past few weeks.
Texas has particular reason to avoid pitching to Granderson. In 39 plate appearances against the Rangers in 2011, Granderson batted .438 with 6 home runs and a 1.538 OPS, his best statistics against any team.
Keep Reading