ALDS Schedule: Tampa Bay Rays Sell out Game 3, Now We Can Talk About the Game
October 1, 2011
J. Meric/Getty Images
The Tampa Bay Rays have been the butt of many attendance jokes in recent years, and I have been one of the staunchest defenders of the franchise and its fans.
Hopefully the announcement that Game 3 of the ALDS against the Texas Rangers has been sold out will prevent the Rays organization and its fans from being in the cross-hairs of the national media come Monday evening.
I'm not going to re-hash all of my old arguments about why the national media is dead wrong about the Rays having poor fan support.
You can read my opinions on the subject here:Tampa Bay Rays Fans Don't Support Team? Contraction? Enough Already!
However, I will say this:
If come game time on Monday, a member of the media begins talking about the lack of support the Rays get at the gate, then they are doing the franchise, the league and the entire sport a huge disservice.
The Rays are arguably the hottest team in baseball right now, and I think that should be the story and not how many fans are or aren't in the seats.
Every team has bandwagon fans, and the Rays right now are as likable a team as there is. I fully expect to see more and more people jumping on the Rays train.
As they do, the question will surely arise: Where were all these fans before?
It's a fair question, but one that should not be front and central when the Rays take the field for Game 3.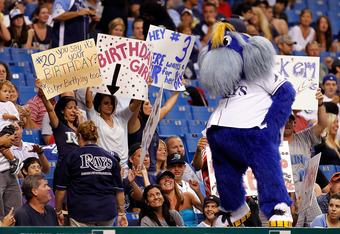 J. Meric/Getty Images
Just like many doubted that the Rays could compete in the AL East.
Just like many doubted that the Rays would contend this year after losing so many key players.
People have doubted whether anybody in Tampa Bay even cares that the Rays are in the postseason.
That question has been answered.
We'll all be there on Monday night.
It is my hope, then, that the country sees firsthand just how passionate and fervent the Tampa Bay area is for the Rays.
So now that that is settled, let's just all talk about the game.
Okay?