Arian Foster Injury: How Effective Will Foster Be in Week 4?
October 1, 2011
Marc Serota/Getty Images
Coach Gary Kubiak knows that as this season wears on he will need Arian Foster to be on top of his game in order to be successful. However, with the decline of the Indianapolis Colts, he may have been afforded some extra time to ensure that Foster is at 100%.
That time may have come to an end as the Pittsburgh Steelers come to town for a big AFC showdown against two legitimate playoff contenders. 
The Steelers uncharacteristically allowed Ray Rice to gain over 100 yards rushing against them in Week 1, but turned around and completely stuffed the Seattle Seahawks the very next week.
Conversely, Houston is 2-0 in games where they have a RB eclipse the 100 yard mark, and in both of those games it was Ben Tate who carried the load. Clearly, the Houston offense is able to be more explosive in all facets when the rush is a serious threat.
The rise of Ben Tate has caused some to question whether it was actually the play of Foster that led to the incredible rushing season last year, or, was it all a function of the scheme that the players operate within?
That question will be put to the test against Pittsburgh, who despite their stumble in Week 1 are still holding opposing offenses to under 100 yards rushing per game. 
Coach Gary Kubiak was quoted in the Houston Chronicle as saying: 
"He's fine He should be OK heading into the rest of the season now, hopefully. We'll keep our fingers crossed. He's chomping at the bit and ready to go, took his full load and we're okay."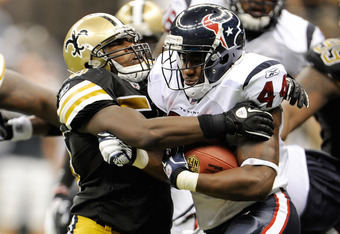 Stacy Revere/Getty Images
It sounds like Kubiak and the Texans believe in Foster and know that he can be a game changer, but they also know that they may have something special in Tate.
Asking just one of them to crash into the jaws of the Pittsburgh defense over 30 times sounds like a recipe for injury. Don't be surprised to see Foster start the game but get spelled regularly by Tate in a effort to preserve both players.
If both backs can be effective, than it makes sense for Houston to continue to share the load at the moment. This may not be the news that fantasy owners want to hear but the Texans have an entire season to worry about.
Arian Foster is coming back because he wants to compete against a tough opponent, but he won't be relied upon to carry the entire load with Tate as an option as well. Therefore, don't expect him to be as "effective" as he was when he was flying solo in the Texans backfield.