NFL Picks Week 4: Picking Winners for This Week's Pivotal Games
October 1, 2011
Stacy Revere/Getty Images
Week 4 is a big week in the NFL season. That's true not just for this year, but in any year. It is after this week that we can start to know for sure which teams are the real contenders.
The schedule is a little weak this time around, but there are still a number of games that will end up having huge bearing on how the rest of the season plays out.
The following are my picks for the three biggest games on this week's slate.
Houston over Pittsburgh
There is still a ton of football to be played this season, but this already feels like a pivotal game for the Texans. They have two wins over teams that are a combined 0-6 this season in Indianapolis and Miami.
In their one game against stiff competition, last week against the Saints, they couldn't close it out. For the Texans, losing in that fashion felt all too familiar. As a team, they have worked so hard to prove that they are a different team. If they lose to the Steelers this week, it'll will be hard to convince anyone that this team is different.
I think the Texans are a different group this year and they will get a win over Pittsburgh at home. It helps that the Steelers don't look quite right yet. They have been successful, but they don't look like the Steelers of old.
Philadelphia over San Francisco
If you had told me before this season that this Week 4 game would be huge for both teams, I would have called you crazy. I would have guessed that the Eagles would be 3-0 and the 49ers would be 0-3.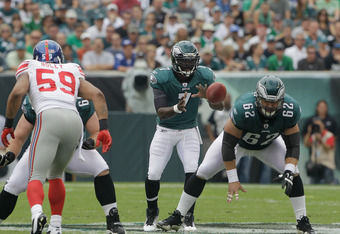 Rob Carr/Getty Images
That hasn't been the case. The Eagles have limped to a 1-2 start while the 49ers are a surprising 2-1. The Eagles need this game to turn their season around. The 49ers need this game to show that they are legitimate contenders to make the playoffs.
Mike Vick is nursing a couple of different ailments, but the Eagles have enough other playmakers on offense that they will handle the 49ers with ease.
Baltimore over New York Jets
This Sunday night prime-time game promises to be hard-hitting. Both teams lean on their defenses and neither team is quite consistent enough for their liking on offense.
The Jets are coming into this game looking to prove that their loss to Oakland last week was a fluke. The Ravens come in flying high after a 37-7 win over St. Louis.
Come Sunday night, the Ravens will continue their winning ways and the Jets will be left wondering if they have what it takes. The Ravens' defense will have an easy time slowing down the Jets' offense, and the Ravens' offense has enough weapons to overcome the Jets' defense.