MLB 2011 Playoffs: Ivan Nova, Matt Moore Out To Show Youth Trumps Experience
October 1, 2011
Steve Ruark/Getty Images
When the Tampa Bay Rays tabbed Matt Moore as their Game 1 starter, the baseball world collectively raised a questioning eyebrow at the call. Here was a rookie with 9.1 MLB innings pitched and just one previous start being asked to lead his team into the postseason against the defending American League champions.
The move worked, and Moore threw seven strong innings, allowing no runs and only two hits. A century-and-a-half of conventional baseball wisdom was washed away.
In the other American League series, the Yankees are trying their own version. Game 2's starter will be the rookie Ivan Nova. Last year's No. 2 starter in the playoffs was Andy Pettitte, the winningest postseason pitcher in history. Experience has always been the key when determining the postseason rotation.
It's not just a factor in the postseason. Nova had the hardest challenge to earn a rotation spot despite putting up the best numbers in spring training. When it came time to make room for Phil Hughes, it was Nova and his lack of experience that was shipped to the minors. Despite having the second-most wins on the team, it still was a surprise when Girardi tabbed Nova as the second starter behind their ace.
Nova has certainly earned his shot, but you can't help but sense the hesitation.
For Yankees fans, this is uncharted territory. This is a rotation that doesn't include Andy Pettitte or another proven veteran or hall of fame pitcher. In 2009, the three-man rotation had AJ Burnett as the only question mark; this year there's a rookie and a banged up former good pitcher following CC Sabathia.
The fans love Nova, but they aren't quite sure what to expect from him in such an important game. This is the same pitcher who couldn't pitch through the fourth or fifth inning a year ago.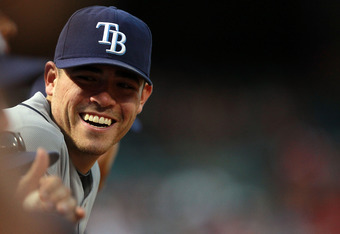 Ronald Martinez/Getty Images
On the part of the organization, this is certainly not the way the Yankees brass drew up their postseason in their imaginations. Ivan Nova is getting less of a vote of confidence, and more of a "we don't really have many other options here, guys." This is an organization that takes a half decade to progress players through their system, and counted every arm movement of Joba Chamberlain when he was a starter.
This isn't the Rays, who have a meeting with their scouts and select a 22-year-old fresh rookie pitcher to be their Game 2 starter; this is the Yankees and their $200 million payroll. This isn't the Rays fans, who leave early from game 162 on Wednesday; this is the Yankees fanbase who booed Tino Martinez because he wasn't Don Mattingly. Expectations are different, and Ivan Nova is not the perfect candidate for any of them.
But with Moore shoving it to the reigning American League champions, suddenly those expectations have changed. It's gone from a case of "this doesn't typically happen" to "oh man, did you see what happened two nights ago?"
Nova will go out there and challenge Moore for bragging rights. That's just how he is. As for the fans, they'll have a different energy in the stadium knowing that rookies can still go out and put up big starts in the postseason. Even the Yankees management will feel that experience can be beat by a talented young player.
With the Yankees facing Justin Verlander in Game 1, there could be an awful lot of pressure on Nova to get a win. Then again, there was even more heaped onto a player with less experience and he pitched brilliantly.
It can be done.