NFL Week 4: Panthers Observations in Loss to Hester, Forte and Chicago Bears
October 3, 2011
Scott Cunningham/Getty Images
Here are five observations from the Carolina Panthers' 34-29 loss to the Chicago Bears on Sunday.
Don't Kick it to Devin Hester
Devin Hester ran back a kickoff 73 yards and later returned a Jason Baker punt 69 yards for an NFL record 11th career punt return for touchdown, surpassing Eric Metcalf for the most scoring punt returns in NFL history.   
I'm not sure what Baker was thinking, but he should have known better than to punt the ball directly to Hester, the undisputed greatest kick/punt returner in the game.
Ron Rivera learned the same lesson today that Tony Dungy learned as the Indianapolis Colts' head coach in Super Bowl XLI:  Don't kick it to Hester.
Newton to Smith is a Special Connection
Steve Smith had his third big game to start the season as Cam Newton found his favorite target eight times for 181 yards, including a 53-yard completion to the Bears' one-yard line.
After just four games, Smith has already amassed 530 yards receiving, trailing only New England Patriots wide receiver Wes Welker for the league lead.
Unfortunately, the Panthers are 0-3 this year when Smith has more than 100 yards receiving, but that is a trend that is not likely to continue.
If Newton and Smith continue to hook up at this record pace, the Panthers will put up more points and victories are sure to follow.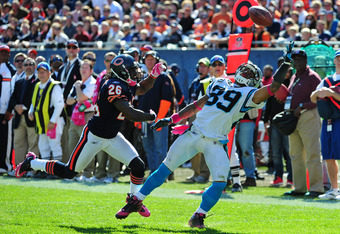 Scott Cunningham/Getty Images
Panthers Running Backs Getting Better
The duo known as Double Trouble, Carolina running backs DeAngelo Williams and Jonathan Stewart, had their best game of 2011 after an uncharacteristically slow start to the season.
Williams rushed 10 times for 82 yards and Stewart ran eight times for 52 yards Sunday as the Panthers got the running game going for the first time this season against the Bears.
Neither back is on pace to match his production from the 2009 season, when they became just the sixth teammates in NFL history to rush for over 1,000 yards in the same season, but today's performance was an improvement over the first three games in which they ran for a combined 151 yards.
Despite their improved performance, both Carolina backs were overshadowed by the opponent's top rusher for the second straight week as Chicago's Matt Forte ran for a career-best 205 yards and averaged a whopping 7.6 yards per carry on first down totes.
Red Zone Offense Improving, Still Inconsistent
There's a saying in golf that you drive for show and you putt for dough. 
The same analogy can be made in the NFL since football players get most of their stats between the 20s; however, football teams win games by getting into the end zone, and one of the great indicators for scoring success is efficiency in the red zone.  
Predictably for a team ranked 25th in red zone scoring offense by TeamRankings.com entering the game, most of the Panthers' big plays against the Bears originated outside of the scoring area. 
Though Newton ran for a pair of short touchdowns and threw a touchdown pass to Greg Olson with four seconds remaining in the game, penalties cost Panthers tight end Jeremy Shockey a touchdown catch and pushed them out of field goal range on another possession. 
The Panthers have to become more efficient inside the 20-yard line, particularly in goal-to-go situations, if they are going to outscore any of their opponents this year. 
Cam Newton's scoring runs are a start, though, and his short-field scoring hookups with Olson the past two weeks are reasons for optimism.
Olindo Mare rounded out the Panthers' scoring with field goals from 29, 38 and 39 yards. 
Panthers Are on the Brink of a Breakthrough Win
If there is one thing that can be said about the Panthers this year, it's that they are energetic and fun to watch again, which was not the case last season. 
Rookie head coach Ron Rivera, Cam Newton and a resurgent Steve Smith have infused excitement back into the Panthers organization and given Carolina fans something to cheer about for the first time since 2009.
The Panthers have plenty of tidying up to do, especially on the defensive side where they continue to give up big plays and there are a few guys along the defensive line and in the secondary who are liabilities at their position.
However, there is a growing sense around Charlotte that the Cardiac Cats are on the brink of a big win that will set the tone for the rest of the season. 
The question Panthers fans are asking now is, will that victory come this week against the New Orleans Saints?