Dave Reginek/Getty Images
June 26, 2016
Undoubtedly the Detroit Tigers and New York Yankees don't need to be told how big Game 1 of this ALDS is, that is about to start momentarily in the Bronx
As important as it is to both teams to get off to a good start in their quest for a World Championship, it can also not be overlooked that this game is much bigger for one team than it is for the other.
The Yankees want to win this game certainly, but the Tigers?
The Tigers NEED to win this game.
In fact this game for the Tigers might be the closest any team in sports has ever come to a must-win in Game 1 of a playoff series.
Tonight the Tigers send to the mound the man who is arguably the biggest individual story of the 2011 Major League season, Justin Verlander.
A virtual lock for the AL Cy Young Award, and a man many consider a threat to be the first pitcher to win the AL MVP since Oakland's Dennis Eckersley in 1992, Verlander's season has been nothing short of dominating.
His staggering statistics certainly don't lie; Verlander led the AL this season in wins, ERA, strikeouts, innings pitched, opposing batting average and WHIP.
Those statistics as imposing as they only begin to tell the story of Verlander's tremendous season. The Tigers are 25-9 overall in his 34 starts this season, with his personal record an eye popping 24-5, making him the first 24-game winner since Arizona's Randy Johnson in 2002.
Having won his last 12 decisions leading up to this point, Verlander has not lost since the White Sox beat him in Detroit 8-2 the first game after the All-Star break on July 15th.
When considering all of that, though, it is also important to think about these numbers; two games started, 12 innings pitched, 11 hits, six earned runs, eight walks and two no-decisions, that most importantly led to two Detroit losses.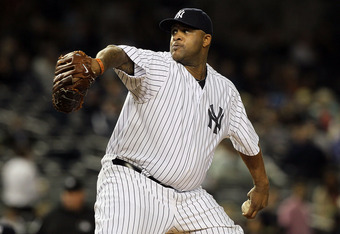 Jim McIsaac/Getty Images
Those numbers represent Verlander's efforts against the Yankees this season, and while not awful, he needs to be more like the pitcher that threw a no-hitter in Toronto on May 7th and carried a no-hitter past the 7th inning on three other occasions during a magical summer run tonight at Yankee Stadium.
Even as important as first baseman and AL batting champion Miguel Cabrera is to this team, there are other bats that can carry them, most notably fellow All-Stars Jhonny Peralta and Alex Avila as well as clubhouse leader Victor Martinez if Cabrera has an off night.
But if the Tigers lose tonight with Verlander on the mound against Yankee ace CC Sabathia, suddenly everything changes for this team that many are picking to beat the Yankees in the ALDS despite not having home field, equaling their feat from 2006.
Gone is the mystique of a team that went 38-16 the last two months, turning a three-team AL Central race into a snooze fest by the second week of September.
Doug Fister goes from being the best trade deadline acquisition of the season to a guy who has never pitched in the playoffs before, with the pressure of trying to keep his team out of an 0-2 hole in a five-game series.
Max Scherzer goes from being a talented pitcher who pitches much better at home in Comerica Park to a similarly unproven youngster who's inconsistencies will be scrutinized and magnified like never before in Game 3, possibly with the season on the line.
Watching the Tigers this season, they are a gifted bunch who always believe they can win no matter who takes the ball to start, but when Verlander is the man out there for them, something is different in the dugout demeanor.
It is the difference between believing you CAN win and believing you WILL win, that is what Verlander means to his teammates.
That is why the pressure is on him tonight and not the Yankees, despite the fact that they are a slight favorite in the series, because everyone knows Verlander needs to be at his very best for the Tigers to pull off what would be a mild upset.
Like the new article format? Send us feedback!