Who Will Win the World Series? Predicting the 2011 MLB Playoffs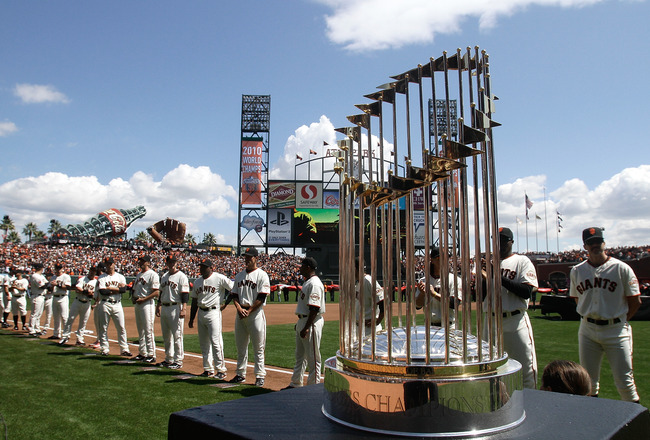 Pool/Getty Images
Will the Yankees win their 28th World Series crown? Will the Rays, Brewers or Rangers win their first one ever? Can the Phillies, Cardinals or Diamondbacks win their second title since the beginning of the millennium? Can Justin Verlander's magical season on the mound carry into October success?
If you can't wait until late October for the answer to those questions, find out here whose going to do what in every playoff series with the 2011 MLB Playoff predictions.
ALDS: New York Yankees vs. Detroit Tigers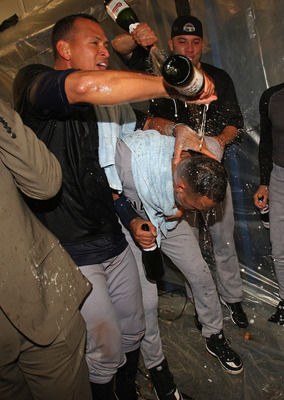 Jonathan Daniel/Getty Images
Despite questions surrounding their pitching staff, the Yankees just went out and got it done all season. They finished with an AL best 97-65 record, have an offense that is arguably the best in baseball and found a legitimate No. 2 starter in Ivan Nova.
Justin Verlander had one of the rare pitching seasons that kicked off a pitcher for MVP debate and Doug Fister was better than anyone in Detroit could've hoped when they traded for him in July.
Both teams have playoff experience, but the Yankees get a boost from home-field advantage.
PREDICTION: Yankees in five

ALDS: Tampa Bay Rays vs. Texas Rangers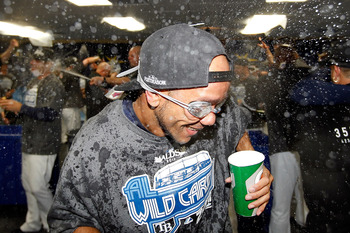 J. Meric/Getty Images
The Rangers are the defending AL Champs. They don't have Cliff Lee this time around but C.J. Wilson has emerged as a true ace. The Rangers have an offense that rivals the Yankees, a starting rotation in which every guy won at least 13 games and the best bullpen of any team in the postseason.
The Rays made the playoffs in completely improbable fashion. The Red Sox collapse coupled with their refusal to quit (see being down seven runs in the seventh inning on the last day of the season and coming back to win) allowed them to squeak into the postseason. A team with pitching depth like the Rays is always dangerous in a short series anyways, but having to claw into the playoffs probably ignited Joe Maddon's squad.
PREDICTION: Rays in four

NLDS: Philadelphia Phillies vs. St. Louis Cardinals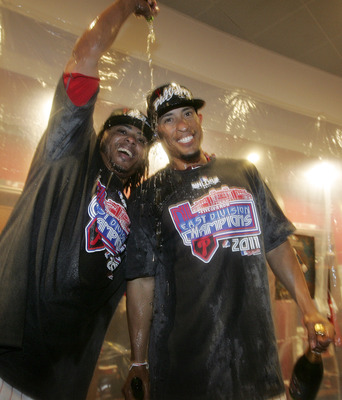 Rich Schultz/Getty Images
The Phillies came into the season advertising a pitching staff filled with Cy Young candidates, and somehow, exceeded all expectations as Philadelphia was the only team to win 100 games this year. They'll be starting their former World Series MVP in Game 3 and no will complain, considering Roy Halladay and Cliff Lee will be the guys out in front of him. Roy Oswalt will take the ball fourth, relegating Vance Worley and his 11-3 mark and 3.01 ERA to bullpen duty. The offense has lost a step or two from a few years ago but can still score in bunches.
The Cardinals made the playoffs despite ace Adam Wainwright being lost for the year before the season started, Matt Holliday battling the injury bug all season and Albert Pujols suffering a "down year." The Cards have a playoff tested pitcher in Chris Carpenter but don't stack up to the Phillies anywhere on the board.
Tony LaRussa probably deserves the NL Manager of the Year, but barring a tremendous upset the Cardinals season will be over in about a week.
PREDICTION: Phillies in four

NLDS: Milwaukee Brewers vs. Arizona Diamondbacks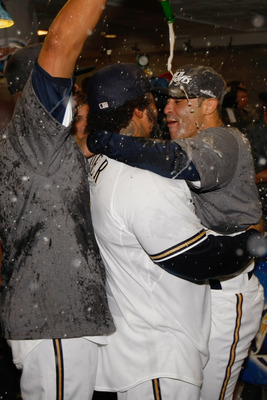 Scott Boehm/Getty Images
Milwaukee knew this might be their last shot with Prince Fielder and Ryan Braun hitting together and pushed a lot of chips into the middle of the table before this year began. They dealt their top prospects to add Zack Greinke and Shaun Marcum and kept adding pieces wherever they could, picking up Francisco Rodriguez at the trade deadline.
Braun and Fielder delivered some of their finest seasons yet, and the former is in line for a lot of first place MVP votes.
Their rotation might not feature the star power of Philadelphia, but it is not one to sleep on. Yovani Gallardo, Greinke, Marcum and Randy Wolf make up a staff of guys who finished with ERAs in the threes and all won at least 13 games.
The Diamondbacks took advantage of a weak NL West and despite losing SS Stephen Drew, ran away with the division. The numbers their pitching staff put up are at least as good as the Brewers, led by Ian Kennedy's breakout season (21-4, 2.88 ERA). With only one premium hitter in Justin Upton, this team will go as far as their starters can carry them.
PREDICTION: Brewers in four

ALCS: New York Yankees vs. Tampa Bay Rays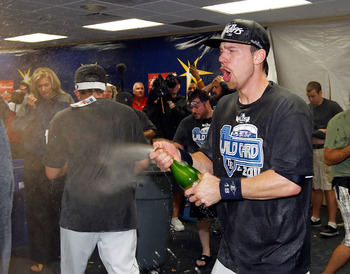 J. Meric/Getty Images
The Yankees will only be facing their division foe because in the final series of the regular season, they laid down for the Rays. Not finishing a seven run lead on the final day of the season will come back to haunt the Bronx Bombers as the Rays are better equipped for a series that last upwards of seven games.
The Rays have seemingly endless starting pitching and are so confident in their guys they were willing to name Matt Moore, whose made one start in the MLB, their Game 1 starter. That allows them to get to full rest for James Shields, Jeremy Hellickson and David Price—all guys who have ace-type stuff.
BJ Upton has shined in the postseason in the past, and Evan Longoria seems to have completely shaken his early season woes and looks primed to carry this offense.
CC Sabathia was a horse for the Yankees the last time they won, and Nova won 16 regular season games as a rookie so it should be a solid series.
The Rays are just deeper, seem hungrier and showcased they're oblivious to when it's time to quit because they're licked. That is a dangerous combination, and much the same that saw the Giants win the World Series last year.
PREDICTION: Rays in seven

NLCS: Philadelphia Phillies vs. Milwaukee Brewers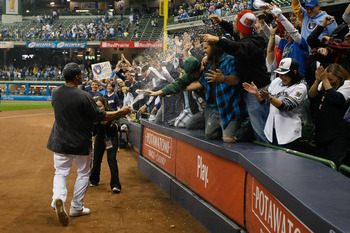 Scott Boehm/Getty Images
The Brewers are arguably the toughest matchup for the Phillies, considering their pitching would grade out as a an A-/B+ to the Phillies A+ and their offense is the most dangerous of the National League playoff teams.
Halladay, Lee and Hamels have great postseason track records, but the Brewers seem to play with a chip on their shoulder. The Brewers first four hitters (Rickie Weeks and Corey Hart in front of Braun and Fielder) are all threats to go deep at anytime, and given their own pitching, one mistake could mean the difference in a win or loss in any game.
Look for the Brewers to steal one of the first two games in Philadelphia. One early road win would put the Brewers in the driver's seat as they boasted the best home record in baseball this year, going 57-29—which was five games better than any other team in the MLB.
PREDICTION: Brewers in six

World Series

Bob Levey/Getty Images
No. 2 Milwaukee Brewers vs. No. 4 Tampa Bay Rays: As much as the Rays are running hot going into the playoffs, they won't be this year's version of the Giants. The Brewers can match their starting pitching and at least keep their team in games, but the offense and home field advantage will just be too much.
The Rays are playing inspired baseball because of their late-season charge into the playoffs, but because of Fielder's impending free agency the BrewCrew have been playing with a sense of urgency since day one this season. They've never buckled or wavered under that pressure, and they won't start in the playoffs.
Trading off impact prospects like Brett Lawrie and Jake Odorizzi will pay almost immediate dividends when the Brewers capture their first ever World Series title.
PREDICTION: Brewers in seven

MVP: Corey Hart

Keep Reading

Milwaukee Brewers: Like this team?