Detroit Lions vs. Dallas Cowboys: Live Score, Highlights and Analysis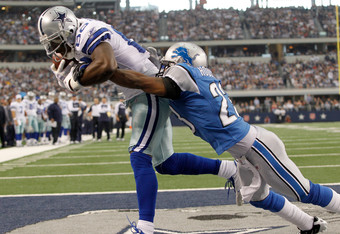 Tom Pennington/Getty Images
FINAL SCORE: Detroit 34, Dallas 30.

An important Detroit Lions game that also serves as a potential playoff preview.
When was the last time that happened? When was the last time we came into a Detroit Lions vs. Dallas Cowboys matchup, and the Cowboys making the playoffs was less likely to happen than the Lions making the postseason?
Welcome to the NFL in 2011. Welcome to a world where the Detroit Lions are 3-0 going into Cowboys Stadium.
Seeing as how the great the Lions have looked to start off the season, along with Tony Romo putting together an MVP performance, I had to live blog this game. As I looked at the schedule this week, I saw a game with potential to be an insta-classic.
And an NFC Championship preview? Hey, that's the NFL we're in today.
Dallas comes in at 2-1, but could easily be 3-0. After their meltdown opening week in the Meadowlands, the often maligned Tony Romo has become an MVP candidate, playing with broken ribs and a punctured lung, and without WR Miles Austin.
Despite not scoring any touchdowns Monday night, Romo took command of a team piece-mealed together with Dez Bryant and duct tape. Romo won the game on Monday night for Dallas, like he did the prior week against San Francisco.
Then you have the Detroit Lions.
Jed Jacobsohn/Getty Images
Looked at as a potential playoff team in the preseason, the Lions have lived up to the billing given to them, and its not like it was easy (save for their game against the atrocious Chiefs).
First the Lions defeated the Bucs, now 2-1, in Tampa. Then after demolishing the Chiefs, which good teams tend to do (sorry San Diego Chargers fans), the Lions pulled off a 26-23 OT victory over the Vikings after trailing by 20 at halftime.
This afternoon in Arlington, two of the most resilient, young and exciting teams in the NFL, each with their own MVP candidate (Stafford for the Lions, Romo for the 'Boys) will compete not just for the game, but possibly for playoff seeding in the NFC.
Let's get ready for what should be a great ride in this week's NFC Game of the Week.
Ronald Martinez/Getty Images
You could hear it in the crowd at Cowboys Stadium, the hope is gone.
Hard to believe that at one point Dallas was up 27-3, now down 34-30, with no timeouts, Tony Romo gets sacked at midfield with only 40 seconds left.
Its Hail Mary time for Dallas, but the Cowboys instead try to pass it to Felix Jones, who makes a Lions defender miss, however he's way short of the first down as he steps out of bounds. By choice.
Ouch.
Detroit beats Dallas 34-30, and in the process starts 4-0 for the first time since 1980, while Dallas moves to 2-2 and will now most certainly face scrutiny from across the country over their performance.
But is there a special thing going on in Detroit? How often does a team come back from three + scores down two weeks in a row with both games being on the road?
Dallas will take on not just the NFL media this week, but also the New England Patriots.
Detroit meanwhile will host the Chicago Bears next Monday night.
For the Lions Matthew Stafford was 21 of 43 for 240 yards two touchdowns and one interception.
His two touchdowns were both courtesy of Calvin Johnson, who also had eight receptions for 96 yards.
Meanwhile Tony Romo went 34 of 47 for 331 yards and had three touchdowns.
But it was his three interceptions that cost Dallas the game.
Two minutes left and Detroit is possibly four yards away from leaving Dallas undefeated.
On first down Stafford hands it off to Keiland Williams who winds up going nowhere.
Dallas then calls a time out and now only has one remaining.
The next play Stafford hands it off to Best, forcing a third and goal.
Should Detroit go for the end zone, or continue to run the ball and settle for the game tying field goal?
The adage is go for the tie at home and the win on the road, let's see what Detroit does on third down.
Stafford in the shotgun, flings it to Pettigrew in the end zone who's held, and the penalty is called against Dallas, who are now inventing ways to lose this game.
Now Detroit faces first and goal at the Cowboys two.
Stafford throws it up to Calvin Johnson on first down and he gets the score.
Dallas couldn't even stop the Lions with 12 men on the field.
Detroit now leads 34-30 with 1:39 left.
Detroit now looking to take advantage of Romo's third interception, and are now inside the Dallas 20.
The Lions are not only going for the score, but also looking to waste as much time as possible in route to doing it. A field goal will tie this game and potentially force it into overtime, a touchdown wins it.
Now we're at the two minute warning, and with only two minutes left, there's still a lot of football left to go.
Remember how I said Detroit lost the game with the last drive?
Let me take that back because Tony Romo just threw his third interception of the game, this one to Stephen Tulloc on a pass intended for Jason Witten.
Tulloch was waiting for the pass, it seemed like everyone knew that Romo was throwing to Witten.
After a Dallas three and out, Detroit gets the ball again and manages to chew down the field into Dallas territory.
However Detroit made some mistakes once on the Dallas side of the field being set back by a holding penalty, a false start and a delay of game turning a first and 10 to a first and 25.
Then Stafford went back to pass on 2nd and 16 and hit Pettigrew for a first down and a lot more.
That play came back too thanks to an illegal block in the back penalty, turning it back to 2nd and 12.
Stafford then went for the end zone, which saw an offensive pass interference on Detroit.
Dallas declined the penalty, Stafford dropped back on third down and it was incomplete.
Penalties killed this Detroit drive, which is why they'll be forced to settle for a field goal instead of going for the touchdown.
Hanson's try from 51 was good, and now Detroit is only down three, however I have this nagging feeling that Detroit lost the game on that drive with their mental mistakes.
Dallas is forced to punt. Now the Lions are in Cowboys territory. This isn't looking very good for Dallas, shot in the dark prediction: If Detroit scores here, they'll win the ball game. As resilient as the Cowboys have been all season, I don't see how they recover in this game from blowing such a big league, especially since 14 of those points are in Romo's hands.
Dallas is now backed up inside their own five yard line. A clock-killing scoring drive would do wonders for the 'Boys right now.
After a short Dallas drive, Detroit now has the ball again down by only six.
Stafford and the Lions then started chewing down the field again getting to midfield, however they then would face 3rd and 11 from the 50, when Senssabaugh made a play to stop the Lions from converting.
Detroit will now punt to Dallas who will need a score on this drive to help turn around some of the momentum they have lost.
As it stands this game is shaping up a lot like last week's Minnesota-Detroit game, but will Dallas' defense, which has been solid today, be able to hold on?
Hannah Foslien/Getty Images
Detroit's offense was off the field for most of the third quarter.
Their defense scoring twice had everything to do with that, and now Stafford and his charges are chewing down the field and have found themselves in Dallas territory at the 23. Stafford would then go on to throw a pass to Calvin Johnson in the end zone.
A jump ball situation, Johnson comes down with the ball, touchdown Detroit.
Now its only a six point ball game with less than 10 minutes left in the fourth quarter.
Dallas 30 Detroit 24.
The Cowboys offense is now attempting to re-enter their first half rhythm after two consecutive turnovers.
However the best way sometimes to get into the game is to let the other team screw up, which the Cowboys do when the Lions look like they stop Dallas on 3rd and 3, however a roughing the passer penalty negates that.
This leads to Romo finding Jason Witten and getting the ball in the red zone only two plays later.
The Cowboys then settle for a 23 yard field goal from Dan Bailey to make the score 30-17 Dallas at the end of the third quarter.
Expect a very interesting 4th quarter between these two teams.
Detroit's defense is single-handedly keeping the Lions in this game.
Chris Houston has now intercepted Tony Romo and returned it for a touchdown.
In the first half Romo and the Cowboys dominated the Lions defense, however the Lions defense has now turned the game into a two score affair with 20 minutes left in the game.
Dallas 27 Detroit 17
Handout/Getty Images
Dallas' defense stops Detroit again, but the game just got more interesting.
Tony Romo is picked off by Bobby Carpenter who runs it back for a touchdown, well, he fumbled it into the end zone but its still a touchdown.
Dallas' lead is now down to 17 but with 10:12 left in the third quarter, the game is far from over.
The Cowboys start the second half exactly how they played in the first.
After a 38 yard kickoff return by Sean Lissemore, Romo would lead the Cowboys down the field in another rapid fire drive that leads to a Cowboys touchdown.
The touchdown would be a Tony Romo to Jason Witten one yard pass. For Witten it was his first touchdown of the season.
Dallas 27 Detroit 3.
Ronald Martinez/Getty Images
Dallas attempting the 35 yard yard field goal to cap off the final drive of the first half.
Bailey makes the field goal and now its 20-3 Dallas.
Tony Romo so far is 19 of 24 for 195 yards and two touchdowns.
Matthew Stafford is 9 of 23 for 88 yards no touchdowns and an interception.
Dallas has dominated not only on the scoreboard but also in yards and time of posession. Dallas has 260 total yards and has held onto the ball for 18:40.
Meanwhile Detroit has 118 yards and held the ball for 11:20.
Detroit finally gets it into Dallas' red zone, and it took an amazing video game-like play.
On third and four from the Dallas 44, Stafford dropped back to pass, looked as good as sacked, then flipped it to Best who got it down to the Dallas 20.
So far Stafford hasn't been sacked but has been knocked down four times and hit another five times.
Detroit was able to get a field goal out of it and get some points on the board.
Dallas 17 Detroit 3. 4:03 left in the second quarter.
Dallas has managed to get into Lions' territory on every drive in the game.
This time around the Cowboys were stopped from scoring another touchdown, however they were able to add a Dan Bailey 41 yard field goal.
Dallas 17 Detroit 0.
Ronald Martinez/Getty Images
Dallas takes the ball at their own 28, and on the snap Romo drops back and looks like he's going to be sacked, but winds up instead saving it with a small pass to John Phillips for a couple yards.
But this sets up an epic next play as Romo calls for a draw play. Romo hands it off to Felix Jones who brings the ball to midfield.
It gets better though, Romo on a play-action on the very next play finds Laurent Robinson for 44 yards and first and goal, followed by a pass to Dez Bryant and touchdown Cowboys.
Dallas 14 Detroit 0, 10:58 left in the 2nd quarter.
After a drive that started at their own one yard line, Detroit's mistakes have have hindered this drive.
Currently its 3rd and 15, but the Lions can't get the snap off in time, necessitating a delay of game penalty.
Now the Lions are looking at 3rd and 20 from their own 18, they had gotten it to their own 28 originally.
But Stafford saw nothing down the field and just throws it away, forcing Detroit to punt once again.
Dallas does go for it on fourth and goal, Romo hands it off to Felix Jones, who gets stuffed at the one.
I like the decision to go for the touchdown, and that was the correct playcall, but the execution left much to be desired.
Its 4th and one, and Dallas should go for it here.
Ronald Martinez/Getty Images
Dallas' defense has continued to step it up this season, thus making the hiring of Defensive Coordinator Rob Ryan so far the top free agent acquisition of the 2011 NFL season.
After an interception stops Detroit in the first drive, they now force a quick three-and-out.
The only unfortunate thing for the Cowboys is that Ryan will likely be a head coach next season.
Ronald Martinez/Getty Images
Something to look at: how Romo handles Detroit's front seven. Last week against Washington, Romo was masterful despite an offensive line made from duct tape and receivers who seemed to lose their way.
However on 3rd and five from the Detroit 25, Romo shows why he's a potential MVP candidate with a beautiful TD pass to Dez Bryant. A lot of credit should go to the Cowboys offensive line for giving Romo the time too.
Dallas 7 Detroit 0, 9:28 left in the first quarter.
Lions get the ball out to their 24, the hand off goes to Jahvid Best who takes advantage of a great block from Brandon Pettigrew to run for 19 yards. While we're on the subject of Pettigrew I'd like to remind Cowboys fans that the Lions drafted him with the pick they acquired when they traded Roy Williams.
However four plays later the Cowboys defense comes up with the turnover as Matthew Stafford overthrows Calvin Johnson and is picked off by Gerald Sensabaugh.
Dallas is now driving, more to come.
We are now LIVE from Cowboys Stadium. Well I'm not but the game is, as its about to kickoff on the other side of the commercial break. Joining us today is the always boring Joe Buck and with him as always is NFL Hall of Famer Troy Aikman.
According to John Clayton, Kevin Ogletry will not start for the Cowboys, he's being replaced by Laurent Robinson. Dez Bryant is also expected to start for the Cowboys.
This article is
What is the duplicate article?
Why is this article offensive?
Where is this article plagiarized from?
Why is this article poorly edited?

Dallas Cowboys: Like this team?