Detroit Lions vs. Dallas Cowboys: Live Score, Highlights and Analysis
October 2, 2011
Tom Pennington/Getty Images
FINAL SCORE: Detroit 34, Dallas 30.

An important Detroit Lions game that also serves as a potential playoff preview. 
When was the last time that happened? When was the last time we came into a Detroit Lions vs. Dallas Cowboys matchup, and the Cowboys making the playoffs was less likely to happen than the Lions making the postseason?
Welcome to the NFL in 2011. Welcome to a world where the Detroit Lions are 3-0 going into Cowboys Stadium. 
Seeing as how the great the Lions have looked to start off the season, along with Tony Romo putting together an MVP performance, I had to live blog this game. As I looked at the schedule this week, I saw a game with potential to be an insta-classic.
And an NFC Championship preview? Hey, that's the NFL we're in today. 
Dallas comes in at 2-1, but could easily be 3-0. After their meltdown opening week in the Meadowlands, the often maligned Tony Romo has become an MVP candidate, playing with broken ribs and a punctured lung, and without WR Miles Austin. 
Despite not scoring any touchdowns Monday night, Romo took command of a team piece-mealed together with Dez Bryant and duct tape. Romo won the game on Monday night for Dallas, like he did the prior week against San Francisco.
Then you have the Detroit Lions.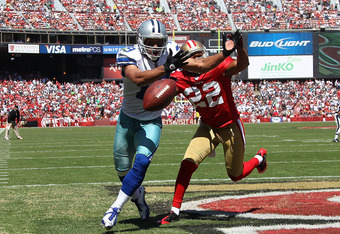 Jed Jacobsohn/Getty Images
Looked at as a potential playoff team in the preseason, the Lions have lived up to the billing given to them, and its not like it was easy (save for their game against the atrocious Chiefs). 
First the Lions defeated the Bucs, now 2-1, in Tampa. Then after demolishing the Chiefs, which good teams tend to do (sorry San Diego Chargers fans), the Lions pulled off a 26-23 OT victory over the Vikings after trailing by 20 at halftime.
This afternoon in Arlington, two of the most resilient, young and exciting teams in the NFL, each with their own MVP candidate (Stafford for the Lions, Romo for the 'Boys) will compete not just for the game, but possibly for playoff seeding in the NFC. 
Let's get ready for what should be a great ride in this week's NFC Game of the Week.