Detroit Lions Go 4-0: The Rationale for a Road Victory Against the Cowboys
September 30, 2011
Leon Halip/Getty Images
Every article you read talks about how this game will be a close matchup.  Statistically speaking, that is indeed the story line.  The Detroit Lions possess the 10th best passing attack in the NFL; while their rushing attack lies in the depths at 26th.  (The Dallas defense ranks 12th against the pass and second against the run).  Conversely, the Dallas passing passing attack is the fifth best in the NFL; while their running game is a paltry 27th.  (Detroit ranks No. 4 against the pass and 26th against the run). 
Both offenses average just over 400 yards per game—In short, the team that can execute a defensive strategy that best works to limit the offensive firepower of their opponent will earn the victory. This will be a defensive battle of near epic proportions.  Enter not the front seven of each defensive team; but look instead at the back seven.  That, and special teams, is where this game will be determined. 
Both of these teams should be able to stop the opposition's running game; hence, both teams will resort to the passing attack.  Both defensive four-man fronts are formidable and without getting into the obvious individual personnel battles, (i.e. DeMarcus Ware against both Gosder Cherilus and Jeff Backus, etc., this means there will be a number of sacks for each team); what this will really boils down to is the matchups that will occur between the linebackers and defensive backs versus the quarterbacks, offensive backs and receivers of each team. 
So let's check out the critical personnel:
Matt Stafford Vs. Tony Romo
Stafford is healthy, Romo is ailing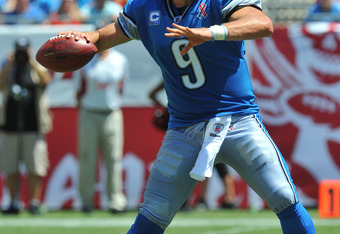 Al Messerschmidt/Getty Images
Stafford passer rating 110.7, Romo passer rating 95.8 
Stafford completion ratio 66.9 pecent, Romo completion ratio 61.9 percent
Stafford passing TDs 9, Romo passing TDs  4
Stafford Yds. per completion 8.3, Romo Yds. per completion 9.1
Advantage LIONS
NO COMMENTARY NECESSARY
Detroit Wide Receivers Vs. Dallas Wide Receivers
Johnson is ailing, Austin is out
Burleson is healthy, Bryant is ailing
Young is healthy, Olgetree is healthy
Advantage LIONS
This one is close but Johnson is the premier receiver in the league right now.  True, Bryant is a rising star, but I'll take a healthy Burleson every day.  Titus Young is coming into his own and he will out perform Olgetree, both on Sunday and throughout the year.
Detroit Running Backs Vs. Dallas Running Backs
Jahvid Best is healthy, Felix Jones is healthy
Advantage COWBOYS
Best still hasn't quite figured out that he can't outrun everyone.  He is a Reggie Bush-like back who has great potential in open space. The Lions need to use him as a moderate to deep threat when the opportunity presents itself, (as opposed to simply an outlet or screen).  Jones runs with more authority and too date the Cowboys run blocking is simply superior to the Lions. 
Detroit Tight Ends Vs. Dallas Tight Ends
Pettigrew is healthy, Witten is healthy
Advantage COWBOYS
This one isn't as obvious as it looks and the edge here is ever so slight.  Between Pettigrew,  Scheffler and Heller the Lions have a very solid unit that is nearly as multi-dimensional as the package that Witten brings to the Cowboys.
Detroit Linebackers Vs. Dallas Linebackers
Tulloch, Johnson and Carpenter vs. Spencer, James, Lee and Ware
Advantage LIONS
Against the run, Dallas will prevail.  However, if the Lions can give Stafford time and work Johnson, Burleson, Young & BEST into the passing game, they will develop some speed mismatches that Dallas will not be able to handle.  This is where the Lions have the advantage.
Look for Jahvid Best to have a big day in the Dallas defensive backfield.  If Detroit can put in a solid day on special teams, this game won't be as close as it looks. 
Lions win big:  31 - 13