MLB Playoffs 2011: Cardinals, Diamondbacks Hold Keys to Early Upsets
September 30, 2011
Jim McIsaac/Getty Images
ALDS picks
Tampa Bay Rays vs. Texas Rangers
Game 1 Matt Moore (1-0, 2.89) vs. C.J. Wilson (16-7, 2.94)
Game 2 James Shields (16-12, 2.82) vs Derek Holland (16-5, 3.95)
Game 3 TBD vs. TBD
Texas won season series 4-3
Tampa Bay dodged a bullet by not having to pitch playoff bust David Price in either of the first two games, as Price showed last year vs. Texas and Wednesday vs. the Yankees that he is simply not a big game starter.
Sure, many will remember his mastery out of the bullpen during the Rays' 2008 World Series run, but that was just that, bullpen mastery. If I was [Rays Manager] Joe Madden, I'd use him in that same role as a long reliever.
You have to wonder if the Rays just gave away Game 1 tonight by pitching rookie Moore in just his second career start since being called up from the minor leagues September 14th. Is there any precedence for this "fast one" the Rays appear to be pulling?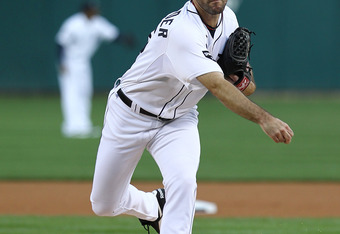 Dave Reginek/Getty Images
Are they really going to bank on the inexperienced Moore, thinking that there isn't enough game film in order to figure out how to beat him? Do you really want to take that risk on the road when you have a chance to steal one from a very good Texas team that has won 14 of 16 to win the A.L. West walking away? Wilson is 4-0 with a 2.25 ERA vs. Tampa in his career.
Hitting definitely favors the Rangers in this series, as does the bullpen, but the Rays counter with superior starting pitching (at least on paper) in most matchups beyond tonight. If this series reverts back to vintage Rangers and the games become a slugfest, Texas is going to win. Tampa absolutely has the edge in intangibles and managing, but Texas again counters with the deeper bench and better defense.
Going with my head and not my heart, Texas Rangers in four.
Detroit Tigers vs. New York Yankees
Game 1 Justin Verlander (24-5, 2.40) vs. CC Sabathia (19-8, 3.00)
Game 2 Doug Fister (11-13, 2.83 ) vs. Ivan Nova (16-4, 3.70)
Game 3: Max Scherzer (15-9, 4.43) vs Freddy Garcia (12-8, 3.79)
Yankees won season series 4-3.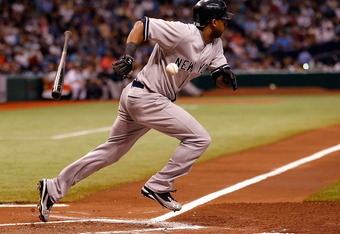 J. Meric/Getty Images
Obviously, Game 3 is the one everyone is most concerned about, as the Yankees would be tossing out their weakest starter in what appears at first glance to be a winnable game for Detroit. I know Doug Fister has really come on since arriving in a deadline deal with Seattle, where he was 3-12, but 3-12 is 3-12 and he should be starting Game 3 and not Game 2.
While he seems to have found a home in Detoit, I've never heard of him prior to this year and they should be starting Rick Porcello whose shown flashes in the past as an emerging rookie. Even if they decide to go there in Game 4, they should have done it in Game 3.
Each year there is always a big Game 1 shocker and I've been telling friends for weeks that either Verlander, Sabathia or Halladay is going to lose Game 1. It always happens, a big name not expected to lose does. Last year it was 19-9 David Price, this year I predict Verlander.
Why Verlander, who likely will win AL MVP along with the Cy Young, which he clinched months ago? Simple. I think if you beat him you beat the Tigers. I think a Game 1 loss would send the Tigers reeling and make their postseason stay very short.
The Yankees got the best draw they could hope for to start the playoffs. Texas Rangers' pitcher Colby Lewis is a "Yankee killer," as he beat them twice in the playoffs last year on the way to the World Series.
One of my family members correctly pointed out that the Yankees are capable of scoring seven runs in the first four innings and how he didn't see them getting beaten. We all know this Yankees' team doesn't exactly scare anyone as much as in year's past, but we all said the same thing about the 2009 team and look what happened. There is just something about October baseball and the Yankees where everything seems to come together, and I expect nothing less.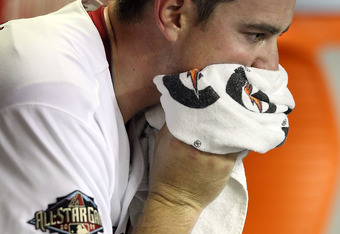 Christian Petersen/Getty Images
Now, if Detroit can beat Sabathia, they have a chance as two of the next three would be at home. I could see a Verlander five-hitter, but the Tigers must score early and often.
It goes without question the Yankees are the deeper team bench-wise, and offensively overall. The bullpen is basically a wash, but as good of a closer as Jose Valverde is this year (51 straight saves, including all 49 this year) he's no Mariano Rivera. Finally, Verlander's season just seems too good to be true and he's due for a letdown as Detroit is banking on him too much. If he were to get shelled, the Tigers' confidence would be gone.
I see Eduardo Nunez playing a clutch role for the Yankees. What other no-name is going to make his name and earn his magical Yankee stripes this fall? We've seen Shane Spencer, Chad Curtis, Curtis Pride and Jim Leyritz all become temporary heroes and my money this year is on Eduardo Nunez.
One place I think the Tigers may have an advantage is managerial, but Jim Leyland is going to have to push all the right buttons—i.e. pinch hitting and pinch running, eighth-inning situations, hit-and-runs, double-steals, etc. They are going to have to be creative and have a backup plan in case Verlander isn't automatic.
I really want to predict a Yankees' sweep here but I think the Tigers will win one game, if only for pride. While I want Detroit to win and would be absolutely thrilled if proven wrong, I'll believe it when I see it if it involves the Mighty Yankees.
Jed Jacobsohn/Getty Images
New York Yankees in four.
NLDS
Arizona Diamondbacks vs. Milwaukee Brewers
Game 1 Ian Kennedy (21-4, 2.88) vs. Yovani Gallardo (17-10, 3.52)
Game 2  Daniel Hudson (16-12, 3.49) vs Shaun Marcum (13.7, 3.54)
Game 3  TBD vs Zack Greinke (16-6, 3.83)
Diamondbacks won season-series 4-3
If you look at the Game 1 matchup on paper, it favors Arizona in a big way. On top of that, I don't like the Brewers' rotation as it is currently set up. Grienke and Marcum should be flipped.
We all know Greinke is a solid No. 2, so why are they treating him like a No. 3? He's got a history of anxiety issues and would be better served pitching in the friendly confines at home. You get a guy like Greinke to pitch big games, and if the Brewers are down 0-2 what good does Greinke do for you? Finally, Marcum hasn't exactly looked sharp his final starts of the season, whereas Greinke has looked much better.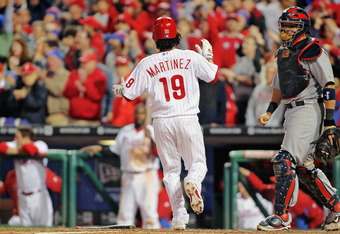 Len Redkoles/Getty Images
Milwaukee hasn't won a post-season series since 1982, when they won it all, and I think the pending free agency of Prince Fielder will put too much pressure on them to perform. This team just seems happy to be there and is no longer playing like the team that was cruising to the playoffs in late summer, before stumbling to the finish line in September.
Arizona is that team that no one is talking about, which is exactly why I think they could not only steal this series, but the entire NL pennant. How do you stop a team you know nothing about and whom no one respects?
Paul Goldschmidt, a mid-season call up is exactly a guy you need to know as he's been hitting, driving in key runs and scoring late on a nightly basis. Ryan Roberts, who capped a 6-1 comeback vs. the LA Dodgers last week with a grand slam is another.
We know Upton carries this team, but those aren't the players that make names for themselves in October. It's guys like Aaron Hill, who I still can't believe was stolen from the Blue Jays in a post-deadline waiver deal that everyone is still ignoring.
Managerial-wise the edge goes to Arizona in a battle of green managers. Bench-wise I'd favor Arizona too, as they have a penchant for late hits, like the Giants of last year. Bullpen wise the edge goes to the Brewers—at least it better for all the flash and cash they have invested there. Two guys I'd be starting if I was Milwaukee, who could be the epitome of clutch is Nyger Morgan, who I've always loved, and serviceable vet Jerry Hariston, who I could see coming up big in a game either offensively or defensively.
If Milwaukee can channel that Nyger Morgan-Tony Plush comedic stuff and have a loose clubhouse, they could swing this series back in their favor and make short work of the Diamondbacks, but they have to go heavy on Morgan and let him take risks on the bases to ignite rallies. Once again, I'm really pulling for Milwaukee because they are a fun team and a small market that always captures my heart, and I don't want to see Prince's run end (even if he does go to my O's), but Arizona is that sneaky unknown.
Arizona Diamondbacks in five.
St. Louis Cardinals vs. Philadelphia Phillies
Game 1 Kyle Lohse (14-8, 3.89) vs. Roy Halladay (19-6, 2.35)
Game 2 Edwin Jackson (12-9, 3.79), vs Cliff Lee (17-8, 2.40)
Game 3 Chris Carpenter (11-9 3.45) vs Cole Hamels (14-9, 2.79)
Can I first say that I expect either Lee or Halladay to lose, just to get that out there and over with? Again, we know some big name is going to lose his game—it happens every year in these early short series. I think it could be everyone's sentimental favorite Halladay against the enigma Kyle Lohse.
The Cards definitely have the advantages, both managerial and pitching coach-wise with Tony LaRussa and Dave Duncan. These Cards, who rallied to get into the playoffs, have a lot of the 2006 team in them. Something just tells me to watch. Maybe they rally around the probable loss of Albert Pujols in free agency. Lance Berkman showed last year that he can hit in October and they're going to need him to shoulder some of the slack created by Matt Holliday's lingering injury, as well as his playoff track record.
The Phillies seem to have the deeper bench with Michael Martinez, Ben Francisco and Ross Gload but for every Michael Martinez, I give you Nick Punto, whose really been good of late for the Cards. The edge still goes to Philadelphia, but I don't think this series will come to down to benches. It will come down to guys like Roy Oswalt choking (8-10 this year—his first losing season) and others, like Lee or Halladay, getting upset early on.
It goes without saying the offense favors Philadelphia, along with the intangibles, as they've won a World Series more recently, but the bullpen is up in the air. Philadelphia doesn't really use theirs because of those long starts out of their core, so could they be rusty if called upon in a big spot? The final stat and the biggest reason I am going with the upset is that St. Louis is 6-3 against Philadelphia this year.
St. Louis Cardinals in five.
Information and statistics from ESPN and ESPN.com directly contributed to the content of this article.