Week 4 Fantasy Football Waiver Wire: DeAngelo Williams Worth Dropping?
September 30, 2011
Streeter Lecka/Getty Images
Through the first three weeks of the NFL season, DeAngelo Williams' approval rating might be lower than that of our nation's President. The fact that Williams is 55th in rushing yards after three weeks is completely inexcusable in the minds of fantasy owners who likely surrendered a fourth round pick to get him.
But how can a running back that just got a monster five-year, $43 million contract be so bad?
Was the Panthers' brass that out of touch with reality, ruthlessly pursuing Williams during free agency and ultimately over-paying him? Maybe.  But the truth is, Williams received big interest from several teams, including the Giants, Broncos, and Dolphins, in addition to the Panthers. So obviously Williams' abilities were highly coveted from many other competitive teams. I doubt they all misjudged what he is capable of doing. And if you've been playing fantasy for very long, you actually know what Williams is capable of doing.
Why then is Williams getting dropped in fantasy leagues after just three weeks of bad performances? Is Week 3's breakout player Torrey Smith really that much better than Williams, justifying a drop (I mention this only because Smith is one of the players I have seen Williams dropped for)? Could Williams actually be worth holding onto in hopes that his initial performance in 2011 is a little unfortunate and likely to correct itself?
I believe that he might. Let's examine a bullish case for Williams:
1. 2011 wouldn't be the first time DeAngelo Williams had a slow start.  In fact, back in 2008, Williams averaged 3.7 yards per rush in his first four games, compiling only 198 rushing yards during that period. And he never made it in the end zone. That's an average of four fantasy points a week in standard leagues! Comparatively, through just three games this year, Williams has averaged three fantasy points a week. Sounds strikingly similar!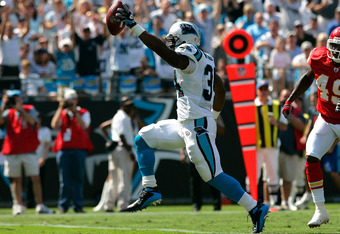 Kevin C. Cox/Getty Images
The key to focus on is what Williams ended up doing the rest of the 2008 season: He rushed for over 1,300 yards, scoring 20 total touchdowns, and eclipsing the century mark in eight of those 12 games. That is the quandary with Williams.  He can flat out stink for a period of several games, then come out of the woodwork to be the most dominating back in the NFL. For me, that sounds like a player worth holding onto.
2. I wouldn't call the Panthers' schedule an easy one when it comes to the rushing defenses they have faced so far in 2011. True, Carolina's Week 1 opponent, the Cardinals, are pretty bad and as such DeAngelo has no excuse for only gaining 30 rushing yards that week.  But the Packers and the Jaguars–Carolina's Week 2 and Week 3 opponents–are no slouches.  In fact, no back this year has rushed for more than 40 yards in a game against Green Bay, or more than 49 yards in a game against Jacksonville. Yes, these two teams have bottled up the likes of Chris Johnson, Shonn Greene, Matt Forte, and Mark Ingram, in addition to Williams.  So for me, DeAngelo gets a pass for not making it work two of the past three weeks, because other talented backs haven't been able to either.
3. With 13 games left to go in the season, the Panthers' rushing schedule gets a lot easier.  In fact, four of those games come against bottom ten defenses in terms of yards allowed per rush so far this year (Chicago, Washington, Detroit, and Houston).  It seems to me that DeAngelo should at least be worth a start in those games. 
Given this analysis, it would be silly to drop Williams for what could be a one-week-wonder in Torrey Smith (or insert any number of other players).  Williams is proven, Smith isn't. And while we only examined the Bull case (Williams obviously faces competition from Jonathan Stewart, has a new head coach, and his year-to-date performance is simply awful), sometimes that is all we need to realize that some guys just aren't worth dropping.
Of course, this is assuming that you don't already have a team of stud running backs and aren't hurting severely at other positions.  But instead of dropping Williams, why not at least try to find a trade partner who is willing to make some sort of investment?  I mean, come on, the Redskins got two draft picks out of the Vikings for Donovan McNabb.  Just think of what you could get for Williams then?
At the end of the day, I advocate holding onto Williams for at least a couple more weeks before you drop him. Chris Johnson has had an equally horrid start, yet his owners aren't dropping him "like Roy Williams drops passes." That's my two cents worth, it's all up to you now.
Follow Andrew McFadden on Twitter @andrewmcfadden
And on facebook at FantasyFootballersAnonymous
Please leave your feedback!