MLB Playoffs 2011: 10 Players Who Could Be Playoff X-Factors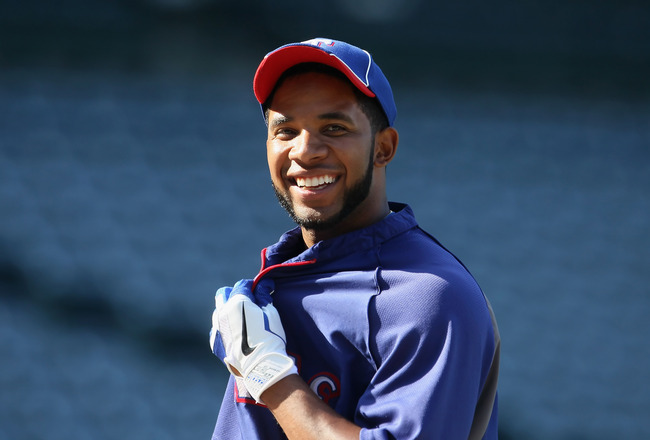 Jeff Gross/Getty Images
If Albert Pujols and Evan Longoria each have huge Division Series, good. They are well paid, and the St. Louis Cardinals and Tampa Bay Rays expect big production from their superstars.
In playoff baseball, though, it rarely comes down to superstars alone. Whether it's an extra base taken or a crucial hit stolen or a run prevented by a pitcher being available at just the right time, playoff games are decided by slim margins and well-timed contributions from role players and secondary stars. This year, that will be doubly true, because only one team (Philadelphia) has even a remote chance of dominating its opponents.
Realistically, there will be many opportunities for some unheralded players to make major impacts and become postseason heroes. Here are 10 such guys.
10. Placido Polanco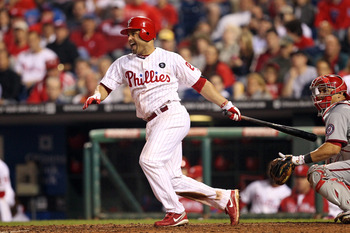 Hunter Martin/Getty Images
Polanco has two main skills, and although they are not premier skills, they come in very handy in October:
He does not strike out. In fact, over the past decade, only Juan Pierre has been harder to strike out than Polanco. He fans in just 6.5 percent of his plate appearances. That helps him drive in runs from third base with fewer than two outs, and it counteracts the plethora of whiff-centric hurlers upon whom so many teams rely in postseason play.
He is a sensational fielder. In fact, over the past decade, only Adrian Beltre, Andruw Jones, Carl Crawford and Ichiro Suzuki have saved more runs with their gloves. Whether it's saving a double down the third-base line or simply starting a key double play, defensive aptitude is magnified in the playoffs, and Polanco is an absolute wizard.
He will not be even one of the five most-discussed Phillies this October, but he could be one of the three most valuable.
9. Chris Narveson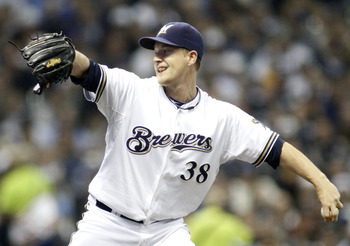 Darren Hauck/Getty Images
For most of the season, the Milwaukee Brewers carried not one single left-handed relief pitcher on their roster, and with good reason: They just didn't have anyone good enough to keep.
Now that the team has shortened its rotation for the NLDS, though, Narveson gains value by moving into either a long-relief or a specialist's role. With John Axford and Francisco Rodriguez already in place from the right side, adding Narveson could make this bullpen a force with which to be reckoned even in the NLCS. Against left-handed hitters, Narveson is an extreme ground-ball pitcher, which is a useful trait even with a miserable defensive infield at Narveson's back.
8. Phil Hughes
Otto Greule Jr/Getty Images
The Yankees seem to be planning on a three-man playoff rotation of CC Sabathia, Ivan Nova and Freddy Garcia. It may well be that those three can make all the starts needed in the ALDS, but beyond that, they are going to need another starter, and at some point, Nova and/or Garcia are going to get rocked by a good offense and very long relief help will be needed.
Here enters Hughes, whose turbulent 2011 landed him in the bullpen for the playoffs and probably has him buried a bit on Joe Girardi's depth chart. Still, when the summon comes during the third inning of some game against the Tigers or the Rangers or the Rays or the Phillies, Hughes might get a chance to shine the way he did as a reliever in 2009, and as a starter in 2010. He is the secret weapon of the Yankees' mediocre pitching staff; he has only to figure out his own secret.
7. Carlos Ruiz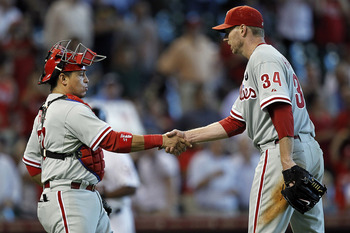 Bob Levey/Getty Images
If the Phillies pitchers are the driving force behind the team's success, Ruiz is the driving force behind the Phillies pitchers. He approaches calling games differently every night, and even tailors his personality to that day's starter. He is brilliant behind the dish and in the dugout alongside his battery mates.
He also brings something else to the table, something few realize he does as well as he does it. Carlos Ruiz knows how to get on base. In the last three years, Ruiz's OBPs have been .355, .400 and .371, respectively. That has huge value in the playoffs, where a power outage can get a team in trouble but a good on-base batter will struggle much less with inconsistency.
6. Ryan Roberts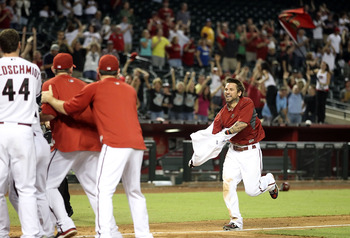 Christian Petersen/Getty Images
Roberts was good in 2009, and fully deserved to be the starting second baseman for Arizona in 2010. Instead, the team signed Kelly Johnson, and Roberts got just 71 plate appearances (bad ones) all year in the big leagues.
With a hole opening up at third base, though, the Diamondbacks gave Roberts a longer look in 2011, and he did not disappoint. He played solid defense, hit 19 home runs, stole 18 bases and finished the regular season with a .768 OPS. He is not a superstar, but he has energy, he defends well and he has good at-bats, and he could sneak up on the Brewers if they focus too much on Justin Upton and Chris Young.
5. Max Scherzer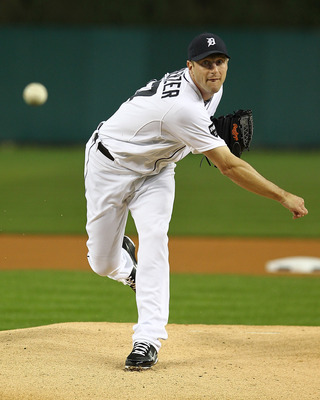 Dave Reginek/Getty Images
Although he has struggled to convert his good stuff and solid peripherals into true success, Scherzer is the second-best pitcher on the Tigers staff. He has the ability to miss bats, has limited his walks over the last year-and-a-half and enjoys pitching at Comerica Park. His home ERA has been a run-and-a-half better than his road ERA this season, and opponents register a modest .741 OPS against him there.
Scherzer stars Game 3 for Detroit in Detroit, which looks for all the world like a game the Tigers should win.
4. Edwin Jackson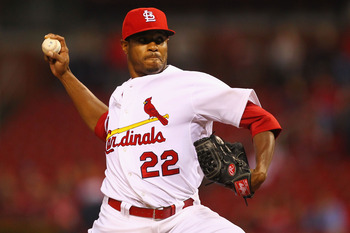 Dilip Vishwanat/Getty Images
Jackson fell one out short of pitching 200 innings this season, and it might well be his best season thus far. He posted a 3.79 ERA, struck out 148 and walked just 62, marking a career-best strikeout-to-walk ratio.
Jackson has the stuff to combat a very challenging Phillies attack, perhaps better than any Cardinals pitcher not named Chris Carpenter. He should get the ball in Game 2 for St. Louis, and although Cliff Lee has a decided edge in that matchup, Jackson should be able to keep the contest close.
3. Matt Moore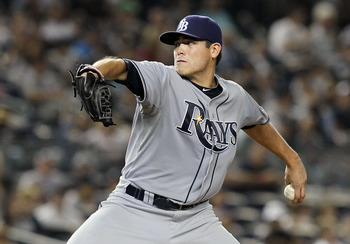 Jim McIsaac/Getty Images
Getting the ball in the first game of an ALDS is a heck of a way to undertake one's second career start, but so it will go for Moore on Friday. He fanned 11 Yankees in his first start, and the stuff and poise are as good as advertised so far. So long as he maintains command, he should do well against the Rangers, who do not like hitting in daylight.
Moore may not have a permanent home in the playoff rotation, so some long-relief outings could be in store, but for now, he profiles as the most exciting—if not the most confidence-inspiring—pitcher to get a Division Series start.
2. Jesus Montero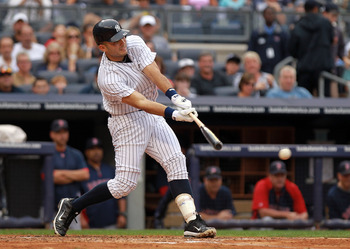 Nick Laham/Getty Images
The Yankees struggled all season to find consistent production from the designated-hitter slot, but Montero provided it down the stretch and should do so again in the playoffs. He can be as dangerous as any hitter in the Yankee lineup, but to even have a chance to do so, he needs to be in the Yankee lineup.
Joe Girardi's choices about when and how to deploy Montero will determine how much help the Yankees get from DH this October, and possibly, how far into October they go.
1. Elvis Andrus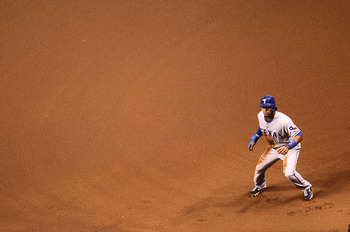 Mike Ehrmann/Getty Images
Conventional wisdom says it's not possible to do so, but Elvis Andrus took over the ALDS last season with a simple mixture of brilliant base-running and great defense.
In fairness to the Rays, Andrus is not merely a good baserunner. He is the best. He might be the best in 30 or 40 or 50 years. He has been 16 runs better than the average baserunner over the past two seasons, or four runs better than anyone else in baseball. He steals bases very efficiently, takes extra bases in utterly unlikely situations (like last year's ALDS, when he scored from second on a routine groundout) and puts extraordinary pressure on defenses.
Andrus is a deadly weapon the moment he reaches base, and last October, he reached base 25 times.
Keep Reading