Yankees' Teixeira, Not Who He Once Was, Must Produce for Team to Advance
September 30, 2011
Greg Fiume/Getty Images
When the Yankees brought Mark Teixeira to New York in the winter of 2008, there was every reason to believe that they were getting the exact player they needed to fill out their lineup.
Teixeira had displayed the kind of consistent offensive excellence through his first six years in the Majors that gets people talking about Hall of Fame consideration and defensively he was (and remains) considered in the top few first basemen in either league.
Three seasons into an eight-year contract, and two years removed from a stellar opening campaign with the Yankees, the Mark Teixeira at first base for the Yankees today is simply not the player he was upon his arrival in New York.
In some cases the statistical differences, taken alone, are not dramatic. As an example, Teixeira's batting average over the past two seasons, .252, is roughly 40 points below his career average through his first six seasons.
While this trend is not in and of itself cause for alarm, being that Teixeira's main responsibilities offensively are to hit for power and drive in runs, this dip in average, of course, is manifesting itself in two very critical statistical categories. It directly impacts his on base percentage (OBP) and on base plus slugging (OPS).
Adding to the concern is Teixeira's steep decline in doubles production, going from 43 in 2009 to just 26 this season. He is hitting home runs, 72 over the past two seasons, and he is driving in runs, roughly 110 per season over the past two.
However he has slowly shifted from a reliable stick in the middle of the order to an all-or-nothing kind of hitter.
Teixeira's RBI numbers for 2011 were as much a function of him hitting third or fourth in the order for much of the season as they were of his abilities, as evidenced by the fact that Nick Swisher, typically in the six spot, was able to drive in 85 runs despite following Robinson Cano and his 118 RBI in the lineup for most of the season.
As for his OBP and OPS numbers, Teixeira has gone from averaging .378 (OBP) and .922 (OPS) over his first seven seasons to .353 and .841 respectively over his last two. These are the categories that get you to stand up and take notice. These are the kind of numbers that have led to Teixeira being moved to the fifth spot in the order as the playoffs begin.
Yankees manager Joe Girardi can talk all he wants about wanting to give Robinson Cano more protection as the new three hole hitter, and there is some credibility to that, but remember that Cano has put up MVP like statistics two years running out of the fifth spot.
While Teixeira cannot be categorized as an overall liability, not by any means, he cannot be considered a No. 3 hitter any longer, and it's especially due to his rapid decline as a lefty batter vs. right pitching.
As a left-handed hitter the switch-hitting Teixeira has struggled tremendously over the course of 2011. There was a 55 point difference—.380 vs. LHP, .325 vs. RHP—in OBP and an almost 200 point difference in OPS, .967 vs. LHP to .779 vs. RHP. As for batting average, Teixeira was close to 80 points better from the right side, .302 to .224. These are significant gaps, and not indicative of Teixeira's career trends by any means.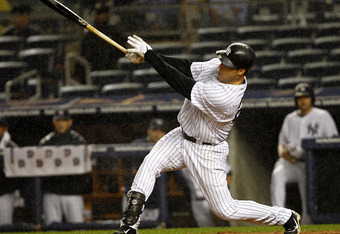 Jeff Zelevansky/Getty Images
There are any number of theories to account for Teixeira's decline as a lefty hitter. The most realistic, of course, is that he is simply another victim of the short right field fence in Yankee Stadium, having made an adjustment to his lefty swing to ensure that he drives and elevates the ball to right field more consistently.
All you have to do to vet this theory is watch Teixeira ceaselessly lunging for outside pitches as a lefty batter, releasing the top hand in the process and rendering his swing almost powerless. If a pitch is anywhere other than middle or middle-in Teixeira has no ability to handle it, and the irony is that this also makes him susceptible to being busted up high and inside.
It's a bad recipe, and considering Yankees hitting coach Kevin Long's miracle-worker reputation it's stunning that no measures have been taken to correct things.
So what does this all mean? Simply stated, it means that Teixeira becomes an even more important linchpin in the Yankees lineup out of the five spot than he was in the three spot.
It also means that the Yankees lineup, typically menacing, has a new hole in the middle of it as it heads into the playoffs vs. Detroit and all their right-handed starters and shut-down relievers. If you doubt that, when was the last time you got excited about having a .224 hitter with a .320 OBP in the five spot of your lineup? That's Teixeira vs. RHP's, and that's a problem.
The Yankees have other issues to contend with, of course, such as the serious doubts surrounding their starting pitching, including C.C. Sabathia, by the way, due to his second-half slide.
They also need to be concerned with Alex Rodriguez' ability to play every day and do more than merely collect at-bats. Additionally, Jorge Posada cannot be invisible as the DH, especially not with Eric Chavez on the bench collecting dust.
Above all, though, at least offensively, the Yankees need Mark Teixeira to produce. They need him to forget about his career .170 average in the playoffs and his troubles vs. RHP's and be the anchor of the middle of the lineup.
In other words, they need him to be the Mark Teixeira they brought here in the winter of 2008. Anything short of that, anything short of excellence, really, and the winter of 2011 will begin much to soon for the New York Yankees.