Buffalo Bills, Buffalo Sabres: Nobody Circles the Wagons Like Buffalo Expats
October 1, 2011
Kevin Winter/Getty Images
The story appeared in the Buffalo News the day after the historic Patriots game, that an expat in Missouri had wings flown in from Buffalo for his football party. He and his expat friends and a few invited non-believers watched the Bills historic victory together on the guy's big-screen. The article was primarily about the role the Bills surprise resurgence has played in connecting expats to each other and back to Buffalo.
I've written before, that being from Buffalo is a lot like being Jewish. That's because Buffalo isn't just a place, it's a state of mind, a religion, a cultural overlay that works like ethnicity even though it isn't exactly. The Jews are bonded to place, history and community by their unique rituals—the religious aspect of being Jewish. A big part of being Jewish is also the Diaspora. Most Jews still live in exile, as expats far from the Promised Land, as are, in these days of shrinking population, most Buffalonians.
Perhaps because Buffalonians feel the lack of respect the city gets from the rest of the world—being identified primarily with snow, rust and chicken wings even though we often get less snow than places like Baltimore, have world class gourmet restaurants where the word "wing" doesn't appear in any context, where a lot of the Rust-belt corrosion is being scrubbed away by numerous new initiatives and where there is a treasure trove of 19th and early 20th century architecture by the leading architects of their day—perhaps because of that lack of respect we have what psycho analysis used to call a "complex." And that complex is amplified when we move away and have to deal with stereotypes every time we answer the simple question, "Where are you from?"
Because of this, regardless of our differences and our diversity when we're in Buffalo, once we are away from Buffalo we're a tight and devout demographic.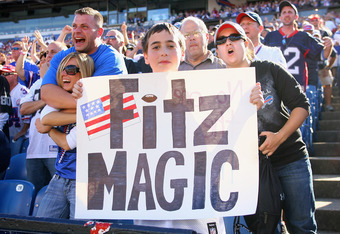 Rick Stewart/Getty Images
In just about any major city in America from Tampa to Charlotte to Chicago, Nashville to New York, the West Coast or even in Austin, Texas, where there were two Buffalo events in a single week this month, there are hundreds or thousands of people from Buffalo living, working, building careers, raising families, feeling homesick and—depending on the day—wishing there might be a way to move back.
Buffalo photographer Mark Donnelly, author of several pictorial coffee table books about the area, including "The Fine Art of Capturing Buffalo," says, "Everyone leaves a trail of breadcrumbs behind when they leave Buffalo." 
And they are all outstanding people. "It's a testament to the quality of people Buffalo produces, as high a caliber of people as you'd find anywhere," says Scott Morrison, an expat who teaches high school English in Brooklyn.
For Buffalonians, the unifying ritual—the religious aspect of being "Buffaloish" is sports and the temple is the arena. But for the expats, who can't go to temple every week or at all, their substitute temple, their equivalent of the tent the Children of Israel carried with them across the desert for ritual purposes, is the sports bar. 
Virtually everyone I interviewed for this story cited the sports bar as central to their experience of being an expat. Nearly everyone said they can't imagine watching Buffalo sports home alone. It is a communal ritual, just like any other religious ceremony.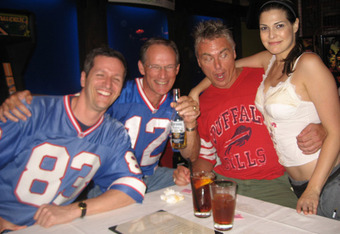 Morrison met most of his "best friends" at a bar where he went to watch a Sabres game one night at his girlfriend's urging. He and most of the rest of those "best friends" now collaborate on a Buffalo expat sports blog called "Dear God Why Us?" (http://deargodwhyussports.com)
One of those friends is Matt Weir. Weir, a City Honors alum, moved to New York to attend St. John's Law School and now works as an attorney for the city. He says he still feels very homesick at times, but it isn't so bad as it might be because of the tremendous expat community that comes together, around the Bills and Sabres, in sports bars like McFadden's in Mid-town.
With the phenomenon of sports bars, the trail of crumbs doesn't have to be so long. It only needs to lead to the nearest Bills Backers bar or Sabres bar in whatever god forsaken city one is currently exiled.
"Every Sunday it's a five hour party," Weir says, describing the scene at McFaddens. They open the doors at 9:30 or 10 and people stay until the game is long over."
It isn't just about sports or even primarily about sports, but sports provides the unifying ritual, the rallying point, a medium for celebrating connection to home, community and expressing one's pride of and love for all things Buffalo. And when the home team wins, it is a very religious experience. Buffalo and Buffalonians experience vindication, redemption, even retribution for all the lack of respect, distortions, insults and slights we or our city have suffered over the years.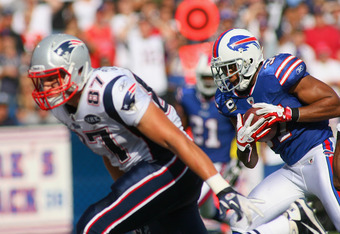 Rick Stewart/Getty Images
Returning to the Jewish metaphor, beating the Patriots is like David killing Goliath, winning a big game on the road is like Joshua bringing down the walls of Jericho. Buffalonians, especially expats, feel the underdog status deeply, wear it on our sleeves, as a chip on our shoulders. Any victory over the Philistines (which ever team may fit the metaphor best at any given moment) is worthy of high worship, festivals and celebrations.
"Last week when we beat the Pats nobody wanted to it to end. We ended up shutting down part of 2nd Avenue," Weir said.   
And this scene was repeated all over the country. P.J. Brown, a graduate of Hamburg High School and SUNY Brockport has been living in Nashville for several years. He watches most Bills games at the "Backers' bar, McNamara's in the Donelson neighborhood. "There are 300 members of 'Bills Backers' in Nashville. There were at least 85 at McNamara's last Sunday. Things got pretty rowdy."
John Wilson, a human resources executive living in Syracuse says that even though it's just Syracuse, it's still mostly Giants country. It's no country for Bills fans, especially in the past decade. Unlike our other interviewees, John watches the bills at home with his stepson rather than in a bar. But like the Jews who emphasize passing their salvation history down from generation to generation, John feels a religious obligation to teach his stepson that the Bills haven't always been the "terrible" team the young boy has grown up knowing them to be.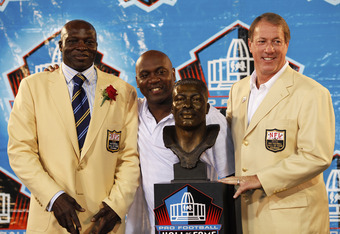 Joe Robbins/Getty Images
"The last time my stepson teased me about being a Bills fan I went to You-Tube and showed him the San Francisco game from the 90's. You know, the one where we never punted! After that, he was in awe."
And now, for three games at least, Wilson doesn't have to take his stepson's abuse. "These Bills remind me a lot of the 1990 team," he says. The Denver game that year was kind of like the Pats game. It was the game that convinced us that team might be special.
Just by observation, it seems that a disproportionate number of women are Buffalo sports fans, compared to other cities. That is certainly true of expats.
"When you grow up in Buffalo," says Jennifer Cox, a marketing director now living in Portland, "the Bills just become part of your life. Even my 81-year-old mom, who has never watched a football game in her life, is a Bills fan."
Cox is an active member of the Portland Bills Backers and is looking forward to going to the nearest Bills away game this year, as many expats do. "Did you see my posting about the San Diego game?" She asked. "I bought my tickets today; Alaska Airlines is offering 5% off.  We (the Portland Bills Backers) are so excited!"
Jessica Christ, exiled in Tampa for the time being, bragged, "I am a proud fan who will stay a Buffalo fan through thick and thin. I have been a Buffalo fan,… both football and hockey since before I can remember…"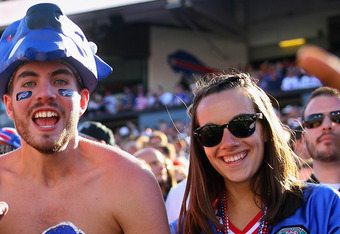 Rick Stewart/Getty Images
Christ, who moonlights on security detail at the "Pirate Ship" (Tampa Bay's stadium) went on to observe, "The views from the fields, the gates and the stands proves that women are taking over Buffalo sports. Females are taking a big step in becoming the No. 1 fans in Buffalo. Just look at all the women jerseys being sold,… While working the Bills games, I noticed each year an increasing amount of women entering the gates with fellow female friends and not a male in site. Women's night out is changing from gossip and wine, to Monday Night Football and 20 oz. beers!!! I couldn't be more happy!!!"
Attorney Maureen Kane has lived in Arizona for years. Most of her family has relocated there too, and she has many other expat friends in the area. She is finishing a book entitled, "Missing Buffalo." The book has a sports chapter.
Maureen goes to the games when the Bills come to town. The last time the Bills played the Cardinals, there were at least as many Bills jerseys in the crowd as Cardinals shirts, she reported.
I asked my subjects what else they could add to the expat fan experience. Most of them mentioned the fun they have annoying the local fans where they live, especially in places where there is a history of rivalry with Buffalo.
Wayne Salen, now living in South Florida says his aggressive Bills fandom "irritates my neighbors to distraction!" But although he is surrounded by Fins Fans, he is far from alone in his Bills worship. Wayne said he personally doesn't even get very homesick for Buffalo because there are so many Bills Backers around, it feels like home away from home.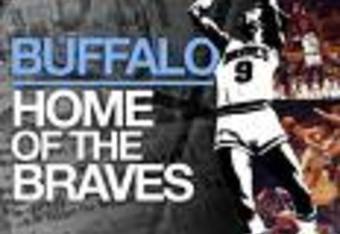 Many expats expressed the way in which Buffalo fans are never alone no matter where they are. "If you wear a Sabres jersey and walk around Manhattan long enough you will get high fives," Scott Morrison says.
And of course we now have social media to connect us to our home, our teams and to each other. I've recently become addicted to watching Bills and Sabres games while on Twitter. It's like sitting in a section with a bunch of friends commenting, cheering, moaning and high-fiving in real space and time. Anyone can be in the arena, in a bar or alone at home but can still comment, celebrate and commiserate with friends new and old in Buffalo and from Buffalo in real time if not in real space.
In fact, that's how I met the people I interviewed for this article. I put it out on Twitter and Linked In that I was looking for some expats to talk about the Bills and Buffalo sports in general from the expat perspective. Some of the people who responded were people I've known for years, via social media. Others, like Matt Weir and Scott Morrison of "Dear God Why Us?" I just met today.
No article about Buffalo expats and sports would be complete without a reference to Tim and Chris Wendel, the expats from Lockport who published a fantastic coffee table book, "Buffalo, Home of the Braves." Chris also publishes a great expat sports blog called, "BuffaloNation." The book and the blog are required reading for anyone over 45 or so, who are not only bonded by team loyalty but by Buffalo's rich sports history, including that great eight-year run of the beloved Buffalo Braves.
And while we Buffalo fans are often accused of living in the past (for good reason) there is a new twist on expats and sports. Yesterday I had an exchange on Twitter with Western New York Flash (Women's Professional Soccer) super-sub McCall Zerboni, who just in her six-month stay during the season (March through August) has become a big fan of the Bills and all Western New York sports. I'm calling Zerboni Buffalo's newest (part-time) expat, and welcome her to the practice of our religion.
It looks like our newest part time Buffalonian, part time expat is already learning what we all know, what Maureen Kane so eloquently expressed: "Just because you leave Buffalo, doesn't mean you leave Buffalo."
And then, at the end of almost every interview, came the final blessing: "Go Bills!"