Minnesota Vikings: Trading for Aaron Curry Would Give Defense a Nice Boost
September 30, 2011
Jonathan Ferrey/Getty Images
Pro Football Talk's Mike Florio reports that Seattle linebacker Aaron Curry could be on the trading block and that the Minnesota Vikings could be a possible suitor.
Curry, a first round pick in 2009, hasn't fit well in the Seahawks defensive scheme despite being considered one of the most NFL ready prospects of his draft class.
After two mediocre seasons in Seattle, Curry has already been labeled a "bust" and seems to have lost all support from the Seattle 12th man.
Curry's comments after being benched for the Seahawk's Week 3 win over the Arizona Cardinals truly indicate that he may be on his way out of Seattle.
If Curry was to land in Minnesota via a trade, he would land in a situation where he could make an immediate and long-lasting impact on the Vikings defense.
The Vikings achilles heel this season seems to be their inability to hang on to the respectable leads they consistently have at halftime. The roots of this issue are too numerous to discuss entirely, but a lack of offensive production and a lack of defensive depth seem to have the most impact on the games—at least from a broad perspective.
Since the Vikings offense can't stay on the field long enough for the defense to get a rest, the lack of depth at linebacker and on the defensive line is allowing QBs to become comfortable in the pocket and make plays down field.
With a season-ending injury for LB Jasper Brinkley and the release of veteran OLB Heath Farwell, Erin Henderson was handed the starting job without having to fight anybody for the starting position. While this is great for a LB that has worked his way up through the ranks of being an undrafted free agent, it is not the most desirable situation for a coaching staff that knows that internal competition leads to success.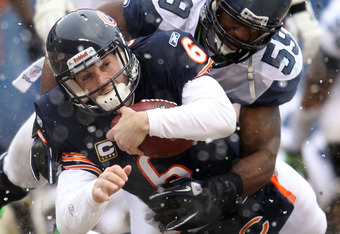 Andy Lyons/Getty Images
Not only does this leave a relatively weak starter in what could be an elite defense, it leaves the Vikings linebackers with very little depth in case of an injury or just plain fatigue. This lack of depth wears down the whole defense because players have to step up in areas that they aren't used to.
This is where Aaron Curry comes in.
Though Curry's stats have been less than encouraging from a fan's perspective, one really has to keep in mind that the Seahawks asked a lot of things from him that he wasn't used to doing coming out of Wake Forrest.
Curry was expected to be a pass-rusher, when in reality his skill sets allowed him to excel in coverage at the Sam linebacker position. This is exactly the area that the Vikings could use some help in—especially given the fact that they are so easily beaten by underneath routes.
Putting Curry into a linebacker core that also features Pro Bowlers E.J. Henderson and Chad Greenway could mean great things for this 25-year-old. Linebackers coach Mike Singletary could mold an excellent NFL linebacker out of this misunderstood talent.
This would also allow the Vikings to move Erin Henderson back into a supporting role, which would create some much needed depth at the OLB position. If some depth can be created on this defense, the Vikings could be confident that they wouldn't blow anymore 20 point halftime leads.
Aaron Curry is widely considered a bust, because after being selected 4th overall in 2009, he has not shown much statistically. He would fit better in the Vikings system immediately and a trade would just make sense for both teams.
What do you think?
Follow me on Twitter @MCNick92