Cleveland Browns: How Good Is the Team Heading into Week 4?
September 30, 2011
Matt Sullivan/Getty Images
It's really nice to be 2-1 and sitting tied for the lead in the division.
But just how good are the Cleveland Browns right now heading into a Week 4 matchup with the Titans?
For starters, the team should be 3-0...we all know that. The three opponents thus far have a combined record of 1-8 (should be 0-9). What does that mean? Nothing. You play the team that is on your schedule and win. This isn't the BCS, strength of schedule does not matter.
In various power rankings around the Internet, the Browns sit at No. 21 on ESPN.com, No. 22 on NationalFootballAuthority.com, but only No. 26 on ProFootballTalk.com where they say "Beating two of the worst teams in the league doesn't make the Browns a good team."
Ouch.
But are they right?
I, just as much as any Browns fan, want to get excited about rooting for a winning football team. But we're only a drive away from being 1-2 and feeling like crap.
For much of the game this past Sunday against the Dolphins, the offense was completely inept. They only had three good drives and they scored on all three. The final drive to win the game was great and very impressive. But where is that all game? Where is that when we're going three-and-out in the first quarter every game?
A couple things are for sure...
The offense needs a lot of work. Greg Little is going to get more involved in the offense. It was only a matter of time before he started to come up big. The Browns are starting to get the production out of him that they thought they would be getting when they drafted Mohamed Massaquoi and Brian Robiskie in the second round a couple years ago.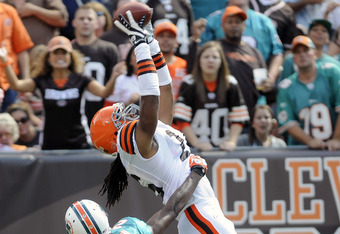 Jason Miller/Getty Images
Colt McCoy, despite looking All-World in the preseason, clearly needs more time to refine his game. Remember, he's still basically a rookie at this point not having played a full 16 games yet.
But what he showed on that final drive was awesome. Enough to get a fan who spent the past four years watching Brady Quinn, Derek Anderson, and Jake Delhomme get trotted out there excited. Okay, just about anybody could get us excited after watching those guys.
But McCoy showed poise and calm under pressure. He looked just like he was orchestrating an opening drive in a preseason game. And those two touchdown throws were great throws. He put the ball where only his guy could catch it.
Speaking of those touchdown catches, I really like what I'm seeing from Joshua Cribbs. He improves every week as a receiver, and it's noticeable.
The pass defense is great (ranks third in the league). Joe Haden is the real deal. I don't think there's any way that doesn't go to the Pro Bowl this year. Teams are going to start throwing away from him pretty soon.
I wish I could say the same for the run defense, which ranks 29th the league. But somehow D'Qwell Jackson still managed to win Defensive Player of the Month? Don't get me wrong, I love how he's playing. But the run defense needs to be a lot better...especially when Chris Johnson is coming to town.
How good are Browns right now? About middle of the league in my opinion. They need time and they need to win some big games. This weekend will be the biggest test so far.
Time to prove what you are.
You can follow me on Twitter @ClevelandFlack.