MLB Playoff Predictions: Who'll Win Every Series, Including LCS and World Series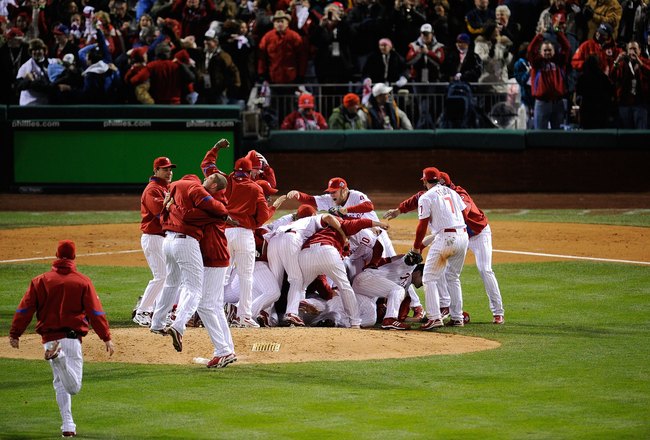 Jeff Zelevansky/Getty Images
Predictions are supposed to be based on a gathering of facts and then attempting to forecast a result based on those facts. However, in baseball, there are definitely many other intangibles that enter into the art of predicting an outcome as well.
Take, for instance, the Tampa Bay Rays. Back on Sept. 3, they were a full nine games behind the Boston Red Sox in the race for the American League Wild Card. Baseball Prospectus at the time gave Boston a 99.6 percent of making the playoffs, meaning that the chances of Tampa Bay making the playoffs were less than one half of one percent.
Now, one could have accurately predicted that the Red Sox would have made the playoffs, correct?
That's how fickle prediction-making can be. It doesn't take into account anomalies like winning only seven games in a month (see Red Sox epic collapse), and it certainly doesn't take into consideration heart and passion.
With all of that in mind, how do we properly assess each team's chances of winning the World Series? Well, it's guesswork, my friend, guesswork.
Here is our stab at which MLB team we believe will win each playoff series, including the League Championship Series and World Series.
ALDS: Tampa Bay Rays vs. Texas Rangers
Al Messerschmidt/Getty Images
Here we go again.
As the Texas Rangers ready themselves for their American League Division Series matchup with the Tampa Bay Rays, they will be trying not to look back at last year, when the Rays took the Rangers to the limit in a grueling five-game series.
This year, the Rangers have home-field advantage and are coming off six straight victories to clinch the second seed in the AL. Their 96 victories overall are the best in franchise history, and they are healthy.
The Rays aren't exactly limping into the playoffs either, having won their last five games of the season in their highly improbable run into the postseason. While they may be a tired group, getting into Texas late Thursday afternoon, both teams clearly have momentum on their side.
C.J. Wilson and Derek Holland will start the first two games in Texas, while the Rays will counter with Jeff Niemann in the opener, with the rest of the rotation not yet released.
Holland has been outstanding for the past month, with a 4-0 record and 2.28 ERA in September. Holland also gained valuable experience last season in the playoffs, throwing 3.2 scoreless innings of relief and earning the victory in Game 4 of the ALCS at Yankee Stadium.
Niemann started two games against the Rangers this season, losing both of them, allowing 12 runs on 15 hits in 9.2 innings of work.
The Rangers will have the advantage of home field this year, and with a lineup that had the best batting average in the AL (.283) and second in home runs (210), the Rangers will indeed be potent.
As much as the Rays should be applauded for their seemingly improbable comeback, we're guessing the Tampa Bay Express grinds to a halt.
Prediction: Rangers in four
ALDS: Detroit Tigers vs. New York Yankees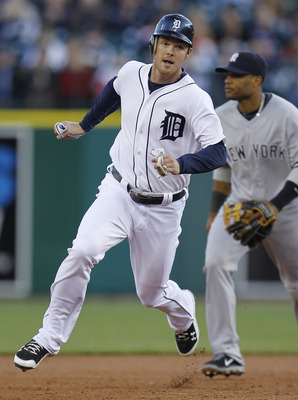 Gregory Shamus/Getty Images
This one starts out Friday night with a dream matchup—Justin Verlander, the probable American League Cy Young Award winner, versus former AL Cy Young Award winner CC Sabathia. But there is much more to this particular series than the opening night matchup.
Beyond Sabathia for the Yankees, there are certainly question marks for the starting rotation. Ivan Nova, who put together a terrific rookie season with a 16-4 record and 3.70 ERA in 27 starts, will get the ball for Game 2, followed by Freddy Garcia for Game 3 at Detroit.
Despite Nova's fabulous season, this is his first postseason appearance, so the baseball world will have a chance to see if the kid can get it done under pressure.
On the flip side, Verlander and Doug Fister will be the starters for the Tigers in Games 1 and 2. Verlander is the clear choice for AL Cy Young Award honors, while Fister is coming off a month during which he went 5-0 with a 0.53 ERA, earning him Player of the Month honors for September.
I am a big believer in going with the hot hand. Verlander and Fister are clearly the hot hands right now.
Prediction: Tigers in five
NLDS: Arizona Diamondbacks vs. Milwaukee Brewers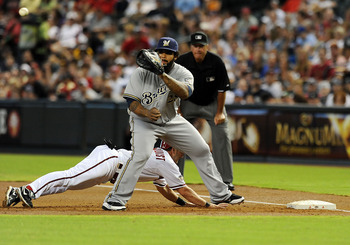 Norm Hall/Getty Images
The Milwaukee Brewers had a lot to play for in their last game on Wednesday, and they weren't about to let it get away. A win on Wednesday gave Milwaukee a first-round home-field advantage, and considering it was a major-league-best 57-24 at home, it was an important game.
The game was important enough to start Zack Greinke on three days' rest. It was a big risk for manager Ron Roenicke, who could have used Greinke to start Game 2 of the NLDS. However, he was not about to give away home-field advantage.
Greinke only threw 74 pitches during his six-inning outing; therefore, he should be available to start Game 2 at home, where he is 11-0 at Miller Park.
Yovani Gallardo will start Game 1 for the Brewers, with Roenicke not committing to his Game 2 starter just yet. Indications are that it will be Shaun Marcum, considering Greinke would be pitching on three days' rest for the second consecutive time. No doubt Roenicke would love to go with Greinke considering his great success at home. The Diamondbacks are going with Ian Kennedy and Daniel Hudson, respectively, in Games 1 and 2.
Gallardo was 2-0 with a 1.38 ERA against Arizona this season and was 10-2 at home with a 3.00 ERA.
As improbable as Tampa was to be in the playoffs this year, the same could certainly be said for the Diamondbacks, who were nobody's pick to win the NL West at the start of the season. Yet here they are, ready to tackle the Brewers.
However, the road stops here for the Diamondbacks. The Brewers' home-field advantage will be a huge factor, and the team has rallied behind Prince Fielder, who is likely to be gone at the end of the season. Look for a huge postseason from Fielder.
Not to mention the fact that Fielder and Ryan Braun in the middle of the lineup is about as good a hitting tandem as you can find. Throw in the bats of Rickie Weeks, Corey Hart and Casey McGehee, and the D-Backs will have all they can handle.
Prediction: Brewers in three
NLDS: St. Louis Cardinals vs. Philadelphia Phillies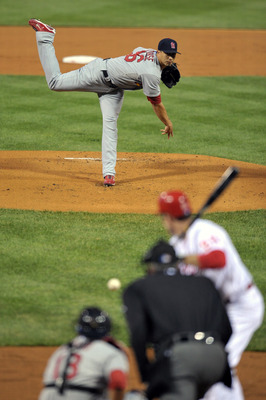 Drew Hallowell/Getty Images
The St. Louis Cardinals won 23 of their final 31 games to overtake the Atlanta Braves in the race for the National League Wild Card, and as euphoric as they are to get to this point, they clearly have their work cut out for them from here on out.
First stop, Philadelphia. Ironically, this is the first time these two ancient NL franchises, both well over a century old, have ever faced each other in the postseason.
The Phillies put together the best regular season record in franchise history with 102 wins, and their vaunted starting rotation was as good as advertised. Going with Roy Halladay, Cliff Lee and Cole Hamels would seem insurmountable for any team, let alone the Cardinals.
Kyle Lohse gets the nod for Game 1 on Saturday, and Chris Carpenter, coming off his complete-game gem to capture the wild card for St. Louis on Wednesday, could possibly go in Game 2 on three days' rest. If not, Jaime Garcia will start.
The Cardinals certainly showed plenty of offense, especially with the addition of Lance Berkman. However, the Phillies will neutralize Cardinals hitters and move on.
Prediction: Phillies in four
American League Championship Series: Texas Rangers vs. Detroit Tigers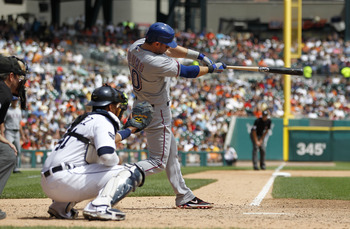 Leon Halip/Getty Images
One of the unique things about the Texas Rangers roster is that they feature three left-handed pitchers in their rotation. However, for the Detroit Tigers, that shouldn't be much of a problem. They hit lefties at a .280 clip this season, and left-handed batters fared well against southpaw pitching as well, hitting at a .280 clip.
The Tigers took six of nine games from the Rangers this season, and their .317 team batting average against Texas was their highest average against any team in 2011.
Verlander lost his only start against the Rangers this season; however, it was a complete-game effort, allowing only two runs on six hits.
We have to go with the Tigers here. Looking at things purely from a matchup standpoint, the Tigers match up well all the way around, and with Verlander and Fister pitching as well as they are at this point in the season, facing them four times will be a huge obstacle to overcome.
Prediction: Tigers in six
National League Championship Series: Milwaukee Brewers vs. Philadelphia Phillies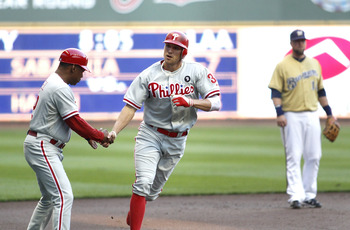 Mark Hirsch/Getty Images
This series has the potential to be a knock-down, drag-out affair. Power versus pitching, personified.
You could almost dub this one brains vs. Braun. Well, never mind.
I will always believe that good pitching beats good hitting. The Phillies were assembled to be a pitching marvel, and it would be hard to say they weren't this season. The Brewers feature great hitting along with solid pitching, but not spectacular.
If the Brewers can get the ball handed off to Francisco Rodriguez and John Axford on a regular basis in this series, they'll have a decent shot. The problem just might be that Halladay, Lee, Hamels and co. just won't allow the Brewers to mount enough offense to worry about even having a lead.
As much as I believe that the Brewers want this badly for Prince in his last year in Milwaukee, they're just not going to be able to solve Philly's Big Three.
Prediction: Phillies in six
World Series: Detroit Tigers vs. Philadelphia Phillies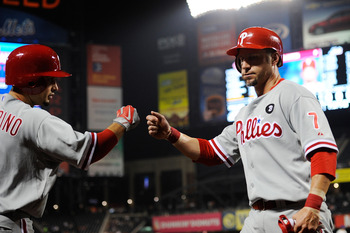 Patrick McDermott/Getty Images
I admit it—I absolutely LOVE a well-pitched game. I'll take a well-pitched game over an offensive explosion any day of the week and twice on Sundays.
Both of these teams feature phenomenal pitching, both at the front of their rotations and in their bullpen. Jose Valverde converted all 49 of his save opportunities for the Tigers this season, and Ryan Madson, Brad Lidge, Antonio Bastardo and Kyle Kendrick have been terrific for the Phillies as well.
I believe this is the Phillies' year. The 102 wins were certainly no fluke, their top three of Halladay, Lee and Hamels have continued pitching well deep into the season and they are completely healthy. The postseason experience that Ryan Howard, Jimmy Rollins, Shane Victorino, Carlos Ruiz and Chase Utley all bring to the table will be a huge factor as well.
For the Tigers, Miguel Cabrera will be a factor and is dangerous with each at-bat. If they can get decent postseason performances from Max Scherzer and Rick Porcello, it will certainly take pressure off Verlander and Fister to be the main guys all the time. I'm just not sure if either is capable of stepping up and shutting down.
Prediction: Phillies in seven
Doug Mead is a featured columnist with Bleacher Report. His work has been featured on the Seattle Post-Intelligencer, SF Gate, CBS Sports, the Los Angeles Times and the Houston Chronicle. Follow Doug on Twitter @Sports_A_Holic.
Keep Reading