Broncos vs. Packers: 8 Predictions for Green Bay's Week 4 Matchup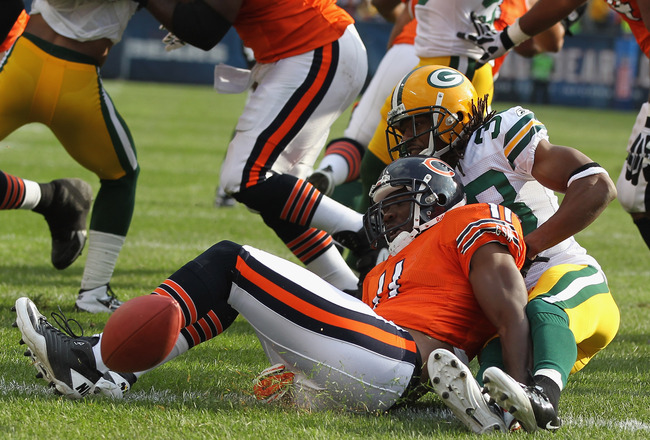 Jonathan Daniel/Getty Images
With only three undefeated teams left in the NFL, the Packers want to be the last of the three to suffer a defeat.
That journey starts on Sunday at home against the Denver Broncos, who may or may not have their leader in the secondary, Champ Bailey.
With a few injuries that have yet to be decided on, those key injuries could have an impact on the game.
Nonetheless, predictions are predictions, and here are eight of them for the Green Bay Packers' Week 4 matchup against the Denver Broncos.
Elvis Dumervil and Von Miller Will Combine for Three Sacks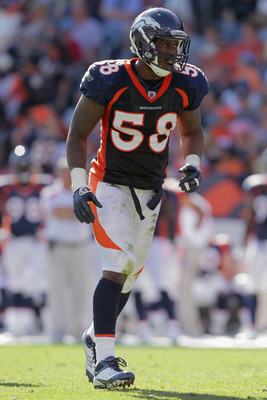 Doug Pensinger/Getty Images
Some people thought that Denver should have taken Marcell Dareus over Von Miller due to the fact that Miller fits best in a 3-4 defense.
As it turns out, both are going to be fine players.
Miller and Dumervil are both strong pass-rushers although one must consider the fact that Dumervil is just coming off of an injury.
Green Bay's offensive line may hold its own for much of the game, but in the end Dumervil winds up with one sack while Miller gets two.
Aaron Rodgers Throws for at Least 325 Yards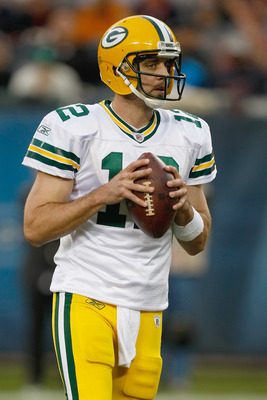 Scott Boehm/Getty Images
As compared to other QBs in the passing yards department, Rodgers hasn't been stellar. He's been good, throwing for around 300 yards in each of his contests.
If Champ Bailey doesn't play, Rodgers should have a fun time torching the Broncos secondary while distributing the ball to his many weapons.
Aaron Rodgers Throws Two Back-Shoulder TDs
The back-shoulder throw is a throw that Rodgers knows he needs to use sparingly. If he doesn't it won't become as much of a weapon as it has been for him.
No. 12 will use it scarcely, but will have two perfectly timed back-shoulder throws in the red zone.
Kind of like the one in the video to Greg Jennings.
The Defense Will Rebound and Won't Have a Hard Time Stopping Denver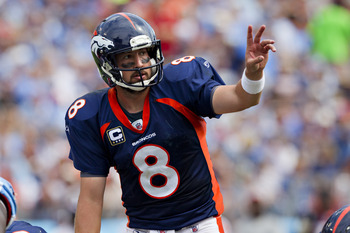 Wesley Hitt/Getty Images
Though I don't agree that the Broncos should put Tim Tebow in over Orton, Denver fans will be chanting his name (at their houses, I guess).
Anyway, neither Knowshon Moreno nor Orton will be able to get much done in the game.
This isn't to say that the Broncos won't put up a few points—we'll get to that later.
Jermichael Finley Will Have Another Multi-TD Game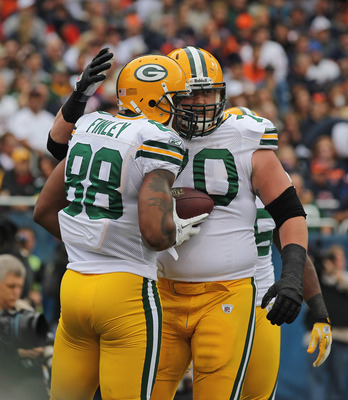 Jonathan Daniel/Getty Images
It's simple. Finley is a massive, athletic tight end that is a big target in the end zone.
What part of this equation doesn't add up to Finley getting TDs?
Mike McCarthy Makes at Least One Questionable Play Call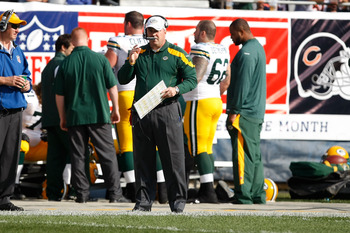 Scott Boehm/Getty Images
Don't get me wrong, I think Mike McCarthy is a great head coach.
However, there sometimes seems to be some plays called that make absolutely no sense whatsoever.
Here's to continuing that trend.
Tim Tebow Gets Lined Up at Wide Receiver in the Red Zone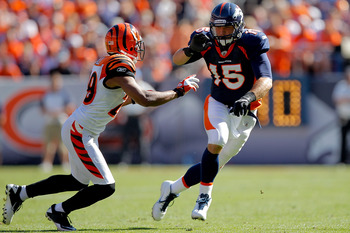 Justin Edmonds/Getty Images
It came as a shock to the nation to see Tebow lined up at wide receiver during an NFL game and many speculated whether the Broncos would move him there permanently.
While he isn't going to be moved there permanently, Denver has depth issues at WR.
This will lead Tebow to play one or two snaps in the red zone and use his 6'3", 236-pound frame to get a shot at a jump ball.
Green Bay Wins 38-7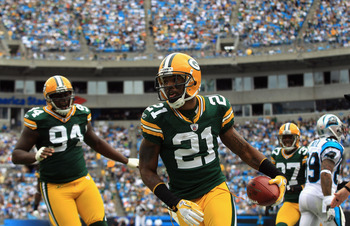 Streeter Lecka/Getty Images
The Green Bay defense doesn't have a problem keeping points off the board, and the offense rolls as Rodgers throws for four touchdowns.
The Denver offense has trouble putting points on the board although they put up their fair share of yards, and the defense just can't keep Rodgers and Co. off the field.
On paper, this game is a complete mismatch.
Keep Reading

Green Bay Packers: Like this team?