Baylor's Robert Griffin III Is the Cam Newton of the 2012 NFL Draft
September 29, 2011
Robert Griffin III has taken college football by storm this season. Through four games this year, Griffin has been unstoppable as a passer and a runner, but will that game translate to the NFL?
In this week's player breakdown, I'll take on the Heisman Trophy favorite and grade Baylor's star quarterback as an NFL quarterback. 

Griffin has the skill set and unique talent that will drive many to compare him to 2011 No. 1 overall pick Cam Newton. Griffin could make a similar rise leading up to the draft. Forget Landry Jones and Matt Barkley as the second quarterback behind Andrew Luck. Griffin is your man.

The No. 1 requirement for a quarterback entering the NFL on my scouting reports is accuracy, and no quarterback in college football has been better this season than Griffin.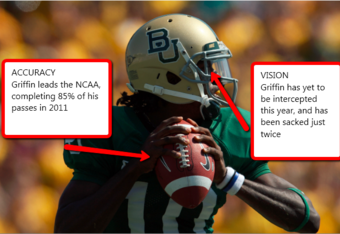 Doubters will point to Griffin playing in a scheme that favors the short, safe pass, but that's not true. Baylor is attacking the deep thirds, and letting Griffin air-out the ball early and often. While statistics should be held with a grain of salt, one telling number to focus on is Griffin's yards per attempt.
Currently he's averaging almost 12 yards per attempt. Compare that to Andrew Luck's 9.25 yards per attempt, and you see that Griffin is making plays downfield while also putting the ball in a position that allows his receivers to make plays.

The major strength to Griffin's game is his ability to make plays inside and out of the pocket. Griffin will inevitably be compared to Michael Vick, Cam Newton and Vince Young but he's more a combination of the three with a little Steve Young thrown in.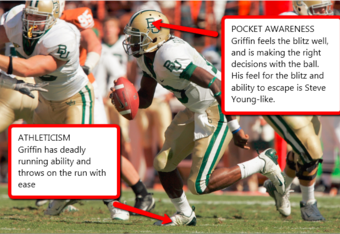 While Griffin is great at making plays with his feet, he also has an underrated ability to use his speed and agility to slide up in the pocket to get away from the blitz. Tom Brady gets credit for being so great at feeling the blitz, and that's what Griffin is showing too. His innate ability to feel pressure and then his natural ability to make plays once all hell breaks loose is what makes him so valuable as an NFL quarterback.

Athletic quarterbacks entering the NFL draft over the past 10 years have largely had question marks when it comes to mechanics. Vick, Tim Tebow, Vince Young...the list goes on and on. This is where Robert Griffin stands apart from the pack. Even with the speed of a running back, Griffin passes the test as a quarterback.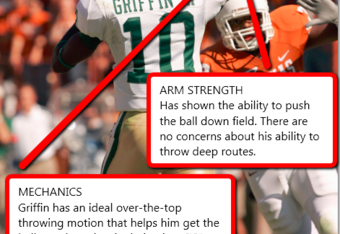 Griffin may be on the verge of undersized at 6'2", but he has a strong over-the-top motion that allows him to deliver the ball over the heads of offensive linemen and oncoming blitzers. His delivery is fast and clean. Unlike Tim Tebow who was excellent at running but a mechanical nightmare, Griffin's release and motion will require no extra work at the next level.
And then there's his speed. Even with a picture-perfect motion and next-level arm strength, where Griffin can do the most damage on a single play is with his legs. Timed at a legitimate 4.4 seconds in the 40-yard dash, Griffin is a nightmare in space. Given a run-pass option when rolling to his right, Griffin is damn-near impossible to stop with just one man.
What's the definitive word on Griffin as an NFL quarterback? Put it all together and forget what you think you know about athletic quarterbacks. Griffin is a more complete quarterback than Cam Newton, has better mechanics than Tim Tebow, is a more agile runner than Vince Young and has the accuracy that killed Michael Vick early in his career.
When you put that together you get a quarterback who is on the verge of being a top 5 pick in the 2012 draft.

For more NFL draft analysis, follow Matt on Twitter  @nfldraftscout