Steelers vs Texans: 5 Keys to a Houston Victory This Sunday
September 29, 2011
Ronald Martinez/Getty Images
With the bad taste from the Saints game starting to get out of the fans' mouths, their attention has begun to shift to the matchup with the Pittsburgh Steelers. 
Regardless of where these two teams finished last season, they are in different places at the moment. Both have strengths and weaknesses, but both meet up with identical 2-1 records this Sunday at Reliant.
Let's take a look now at some of those factors and five battles Houston will have to win to go to 3-1 for the second consecutive season.
Consistent Pressure on Ben Roethlisberger
Yes, it's true that Big Ben takes a lot of sacks. But it is also true that he gets away from a ton of them due to his ability to scramble and turn a busted play into a huge gain. With all the bad luck Pittsburgh has had with injuries on their offensive line, the Houston pass rush must exploit this weakness to make it challenging for Roethlisberger. If not, he will carve up the Texans' secondary like Drew Brees did last Sunday.
More guys besides just Antonio Smith need to be raising hell in the backfield this week.
Run The Ball
The Steelers have always been good against the run but are struggling with it so far this season. When the Texans are running the ball well, good things then open up for their passing game. With the consistent improvement of Ben Tate combined with the return of Arian Foster, there is no excuse not to pound the rock and wear the Pittsburgh defense down.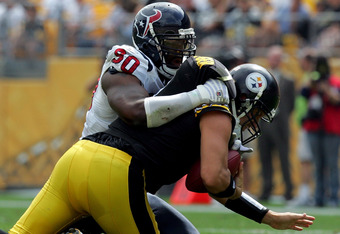 Ronald Martinez/Getty Images
The Steelers are allowing just a clip under 100 yards per game against the run right now. This is a matchup that must be taken advantage of.
Better Secondary Play
I'm willing to give the Texans secondary a little slack for last week since Drew Brees performed equally well against defenses better than Houston's. But there must be some kind of improvement this week, especially from the corners.
Johnathan Joseph looked as bad on some plays as he looked good on others. Kareem Jackson continues to prove that he was a mistake of epic proportions by being selected in the first round and Jason Allen seems to be an afterthought since Brandon Marshall abused him in Week 2. This group has to get better this week to slow down the quick Pittsburgh wide receiving group.
Kareem Jackson is still yet to defend a pass this season. If he performs like that this week, he could be benched.
Stop The Run
While the Steelers don't have anyone on their roster that is as big of a problem as Darren Sproles was last week, they are known as a power running team. It's a formula that has won them some hardware on quite a few occasions. However, they're only averaging 85.7 yards per game running the ball in 2011. This is something that the Texans' defense, which is still weak up the middle, can't allow Pittsburgh to figure out this Sunday if they want to get off the field. 
Leading rusher Rashard Mendenhall is averaging only 3.0 yards per carry for the Steelers thus far. If Houston can hold him to similar production, they'll have to feel good about their chances.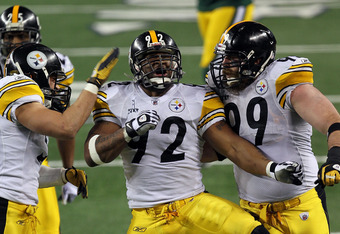 Mike Ehrmann/Getty Images
Protect Matt Schaub
While the Texans likely have one of, if not the best offensive line in football, the Steelers defensive line gets the same kind of accolades. Their pass rush is one of the best in the game and, I won't lie, James Harrison scares me.
Farrior, Woodley and Polamalu are no slouches either and that is quite an intimidating group. With the way Schaub crumbled under pressure late in the game against the Saints when they started to get consistent pressure on him, don't think a defensive genius like Dick LeBeau doesn't have some good blitz packages planned for the Texans quarterback this Sunday.
Houston needs to have some hot reads ready and bootleg a lot to keep this group honest and to keep Schaub upright.
Through three games, the Steelers have seven sacks and nine tackles for a loss. They'll be bringing the pressure on Sunday, but the offensive line needs to eat their Wheaties before the game if they want Matt Schaub to play in Week 5.
It's a pretty simple list of objectives that I think the team can achieve this Sunday. They simply need to execute on the field and they should be able to secure the victory at home. Either way, it should be a great game featuring two teams that I think could meet a second time this season.
For further analysis of both the Week 3 loss and a preview of the Steelers game, be sure and check out our podcast.