Dear Bud Selig: Don't Ruin MLB Playoffs by Adding Teams. Signed, Yesterday
September 29, 2011
J. Meric/Getty Images
There was a walk-off grand slam on Tuesday night, capping an epic comeback that saw the winning team down five runs with one out to go. A walk-off grand slam (!!!) and that wasn't even CLOSE to the most improbable thing to happen in baseball this week.
Wednesday night was the greatest display of everything that is right with the current playoff system in Major League Baseball. Commissioner Selig, if you're reading this, please don't ruin what we have.
We. Do. Not. Need. More. Playoff. Teams.
I cannot say this any more clearly. We do not need more Wild Card teams. We do not need to add another playoff team in each league.
Back in April, Bud Selig said that Major League Baseball is leaning toward adding a fifth playoff team to each league, making the two Wild Card spots play-in to the League Divisional Series. It was a bad idea when he said it. Wednesday night's incredible finale to the regular season cemented that.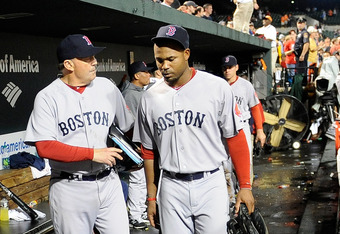 Greg Fiume/Getty Images
It's a million-to-one chance that both the Red Sox and Braves would have the worst collapses in either franchise's history (and two of the worst collapses in Major League Baseball history), but it happened.
It's a million-to-one shot that Tampa would come from seven runs back on Wednesday night to tie the game in the bottom of the ninth on a two-out, two-strike home run by Dan Johnson. It's a million-to-one that Marco Scutaro would get thrown out at the plate trying to score an insurance run for Boston a half inning before Jonathan Papelbon would blow his third save of the entire season, then lose the game with help from (former Ray) Carl Crawford's lackluster defense. It's a million-to-one shot that Evan Longoria would be up to bat just minutes after word spread through the (sparse) Tampa crowd that the Orioles had beaten the Red Sox then hit a walk-off home run of his own to get Tampa into the playoffs. 
"I knew they had tied the game, and I had to step out because everybody was cheering," Longoria said. "And there was nothing going on, so I figured at that point the Orioles had won. And then it's a matter of getting back into that at-bat and re-focusing."
A million-to-one. But it happened. It all happened.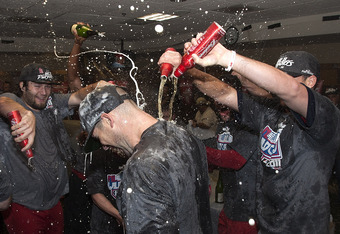 Bob Levey/Getty Images
In the National League, it was certain enough that Chris Carpenter would beat the Astros, and that game was ostensibly over early on Wednesday after St. Louis put a five-spot on Brett Myers in the first inning. The rest was up to the Braves, with the Phillies knowing if they beat Atlanta they would get the Cardinals in the first round. Tank? Force a one-game playoff? Nope. The Phillies wanted to get to 102 victories and break the franchise record for wins in a season. Yes, the Phillies pitched a bullpen game, but there was no doubt Charlie Manuel and company wanted to knock the Braves out right then. And knock them out they did. 
After getting out of a bases-loaded jam in the eighth inning, the Braves had two bases-loaded situations in the ninth inning. Rookie closer Craig Kimbrel had been lights out all season, but with 77 IP on the year, his arm looked like it was about to fall off. Maybe it wasn't a million-to-one shot that the Phillies got a ninth-inning run off the Braves' vaunted back-end, but it sure was surprising under the circumstances.
Scott Cunningham/Getty Images
It was certainly a million-to-one shot the Phillies would use Vance Worley, Brad Lidge, Ryan Madson Michael Stutes, Michael Schwimer, Justin De Fratus and David Herndon to pitch eight shutout innings to hold off Atlanta and win that game. And it certainly was a million-to-one shot that with two outs in the top of the 13th inning and a base open, Braves manager Fredi Gonzalez opted to pitch to Hunter Pence instead of facing Michael Martinez.
A million-to-one. But it happened. It happened in the AL, it happened in the NL, and it happened to the Red Sox fans, the Rays fans, the Cardinals fans and the Braves fans. It all happened, and it was a million-to-one.
Bud Selig will get asked about the expanded playoffs this week and he'll undoubtedly throw the company line of "things like this don't happen every year, and as exciting as the games on the final day were, imagine how exciting a one-game or three-game playoff series would be."
I can imagine it, surely. And it would be pretty exciting, albeit in a manufactured way. But what happens when the first Wild Card team has a five-game lead on the second only to lose a one-game playoff to get to the LDS? If the first round becomes a three-game set, what about the other teams, getting off regular rotation and having to wait a week to figure out who they're even going to be playing. What kind of advantage is that?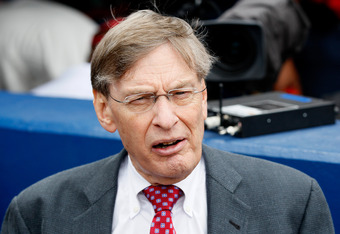 Kevin C. Cox/Getty Images
Most importantly, the last six years have proven that in 162 (and sometimes 163) regular season games, every one truly does matter. Every inning matters. Every out matters. Every pitch matters. Adding more teams to the playoffs marginalizes the importance of the regular season that much more.
Commissioner Selig, please listen. The playoffs are fine how they are. And if last night is any indication, we think the regular season is pretty awesome too.