Atlanta Braves: Looking Forward After a September Wild-Card Collapse
September 29, 2011
Scott Cunningham/Getty Images
The Atlanta Braves went through a downward spiral in the month of September that was extremely difficult to watch. The Braves are obviously feeling lower than anyone in the sports world right now. Well, maybe, the Boston Red Sox, who also experienced a September collapse, are right there with the Braves.
However, the Braves fans are feeling down and beaten up. Hopes were high this entire season and then suddenly, in one month and one terrible night, those hopes were shattered.
Baseball, our past time, is a game that lives inside of the fans.
Roger Hornsby once said, "People ask me what I do in winter when there's no baseball. I'll tell you what I do. I stare out the window and wait for spring."
I'm sure that's how the Atlanta Braves fans are feeling right now. With no October baseball to watch with passion, fans are trapped inside a cold winter.
Sure, it's depressing. However, it isn't too early to start looking ahead. The 2012 season could potentially bring great success for the Braves.
The Braves currently house some of the best young talent in the MLB. Two of the top contenders for rookie of the year both call Atlanta home.
Those two young players, Craig Kimbrel and Freddie Freeman, are surely going to do great things in their careers. They will only get better next season.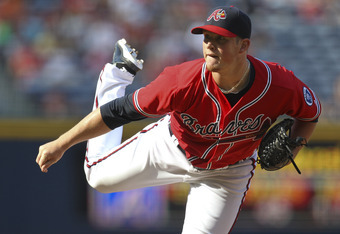 Daniel Shirey/Getty Images
Brandon Beachy, another great rookie pitcher, is also a Brave.
On top of that, the young talent the Braves have runs even deeper into their bullpen. The young hurlers Julio Teheran and Randall Delgado are just a couple rising stars to mention.
Then add Jonny Venters and Eric O'Flaherty to that list and it gets your baseball heart pounding.
I've already seen articles about how the ending to this season will affect the Braves for years to come. I don't think the fans and the Braves will ever forget this year, but I do have a more optimistic outlook on the situation.
Suffering such an ugly collapse is only going to motivate the Braves next season. The Braves will learn from this collapse and do everything they can do make next season completely different.
For example, Brian McCann played awful in the final month of this season. He won't let that happen again.
After the Braves season ended Wednesday night, McCann said, "This is one of the worst feelings I've ever had coming off a baseball field."
Also, the Braves hit .195 with runners in scoring position  in the final 26 games this season. That's something a player will never forget. They may forget the specific stat, but not the feeling of failure that came with it. Call me overly optimistic, but I see motivation here.
The Braves are building up an offense that can do some damage in 2012. The team has Brian McCann and Dan Uggla providing power in the lineup. Then they have Michael Bourn speeding around the bases and young batters like Freddie Freeman and Jason Heyward maturing, the Braves are set to perform well next year.
I use the word maturing when referring to Heyward and Freeman simply because I believe they both can.
Heyward obviously needs to develop his mechanics. Getting better and more consistent at the plate  is something he will do. Freeman now has a season under his belt and after seeing what he did his rookie year, I can't wait to see what he does next year.
Freeman hit .282 with 21 home runs his rookie year. That's nothing to shake your head at. 
I know it's early to talk about next year, but why not? If the core Braves players know they still have the support of their loyal fans, they will come out guns blazing in 2012. Stick with the team Braves' fans because if we do, the Braves will too.